Eddie Murphy Says He's Doing A Stand-Up Comedy Tour in 2020
Prepare to get "Delirious."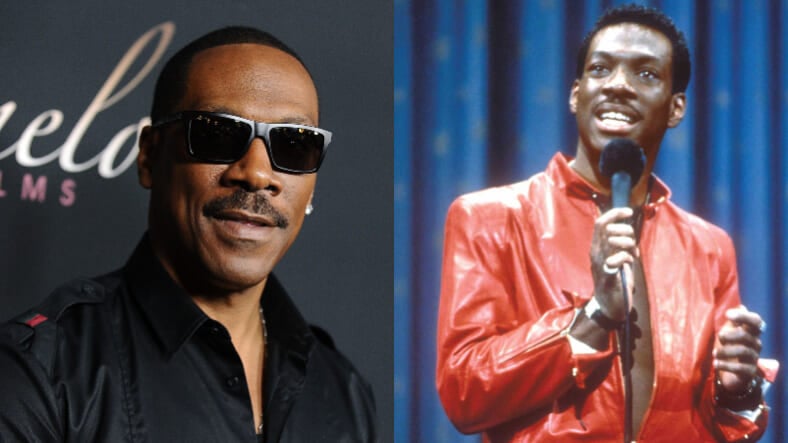 Left: Getty Images
Eddie Murphy's comeback just got even more awesome, now that the comedy legend has confirmed that he will embark on a stand-up tour next year. 
"Next year, in 2020, I'm going to go on the road and do some stand-up," Murphy said on a recent episode of the Netflix podcast Present Company With Krista Smith. He didn't reveal further details, but it's just Murphy's move back into the comedy world, which he ruled in the 1980s with iconic stand-up specials like 1983's Delirious and 1987's Raw.
Murphy was recently announced to host Saturday Night Live on Dec. 21, which would mark the first time he's hosted the show since 1984. He's also starring in the upcoming Netflix biopic Dolemite Is My Name, as "Blaxploitation" movie pioneer Rudy Ray Moore, best known for his wild and raunchy character Dolemite. 
And to make things even more exciting for Murphy fans, the 58-year-old is reprising his role as Prince Akeem in Coming 2 America, slated for release in December 2020.
News of Murphy's upcoming stand-up tour comes on the heels of his reported $70 million deal to do a series of stand-up specials for Netflix, which has similarly thrown bucketloads of cash at Dave Chapelle, another comic well-known for his politically incorrect routines. 
Murphy was always a massive stand-up draw. His blockbuster 1987 movie Eddie Murphy Raw grossed $50.5 million on an $8 million budget, making it the most financially successful stand-up film of all time.
The former Saturday Night Live standout recently stoked speculation of his return to the stand-up stage on Jerry Seinfeld's Comedians in Cars Getting Coffee on Netflix.
You know that you not doing stand-up drives people crazy — you know that, right?" Seinfeld asked Murphy.
Murphy admitted that the "last time he saw" Don Rickles shortly before his death in 2017, the iconic insult comic pushed him to do stand-up comedy again.
"I'm gonna do it again. It's just, you know, everything has to be right," Murphy told Seinfeld. "The only way I can get, like, an act is I gotta go to the clubs and work out."
Looks like we'll see how "Raw" Murphy will get when he hits the road in 2020.