There's an Ultra High-End Cocktail Bar Hidden In a Philadelphia Bowling Alley
Sip between your strikes.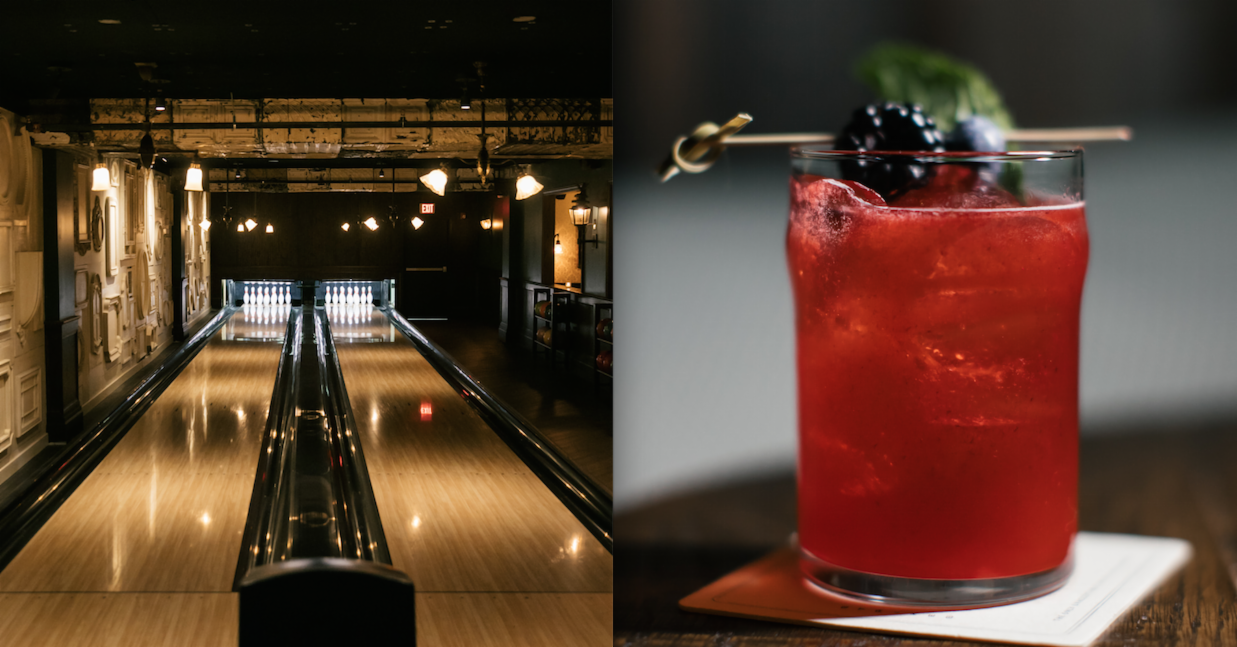 Drinking and bowling go together like—actually, there might not be any better pairing than getting sloshed and heaving heavy balls. The typical offering at the local bowling alley, however, is pitcher after pitcher of watery, lukewarm beer. That's why the top-notch cocktail bar/bowling alley Elbow Lane in Philly caught our attention.
Hidden deep in the basement of Harp & Crown restaurant off Rittenhouse Square, Elbow Lane is a two-lane, reservations-only alley that also happens to serve some of the tastiest cocktails we've had the pleasure to sip. (Our favorite was the Meridian Peak, a spicy concoction made of tequila, chili, and blood orange soda.)
Add in the thrill rolling on private lanes in a dimly lit, old-school mancave—think vintage books, trophies and plush velvet couches—and it's a one-stop-shop of masculine awesomeness. You'll feel like an eccentric, bowling-obsessed dictator.
Oh, and if you require some food to soak up the high-end booze, you won't need to rely on greasy chicken fingers. Harp & Crown, located right upstairs, has an incredibly decadent and delicious kitchen that churns out dishes like lamb meatballs and spicy soppressata pizza. (Beats the Styrofoam slices at most bowling alleys.)
Check it out next time you're in Philadelphia (we recommend staying and the ultra-hip Palomar right around the corner) and tell them Maxim sent you; there's a decent chance they won't punch you in the face.