This Stunning Erotic Photo Book Is a Sexy Tribute To Bavarian Beauties
Venerated photographer Ellen von Unwerth expertly blends Germany's serene Alpine countryside with a hint of eroticism.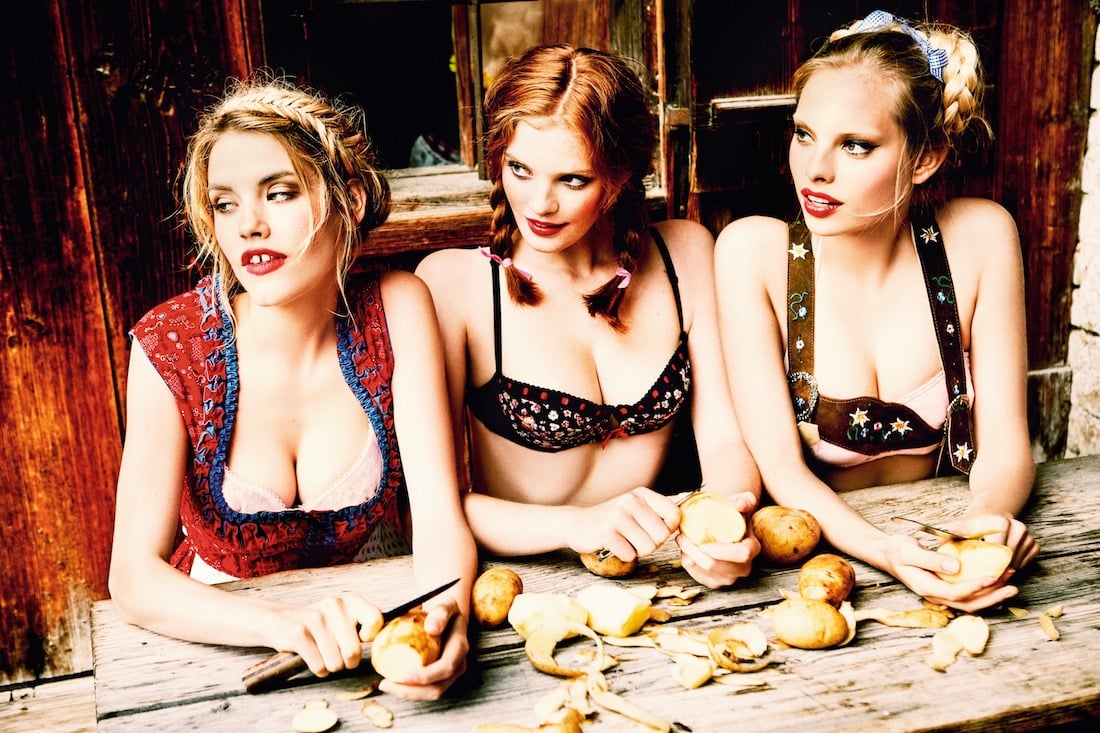 To capture the essence of her homeland, German photographer Ellen von Unwerth didn't venture into the dim warehouse raves of Berlin or the colorful Bratwurst stalls that line the River Spree.
Instead, the famed photog traversed the Alpine countryside of Bavaria, in the South of Germany, where one might imagine that beautiful milk maidens still toil away on rolling, verdant fields, just as they've done for eons.
The result is a stunning, oversized photo book endearingly named Heimat, an untranslatable German word meaning a deep connection to and love of one's homeland.
The undulating hills, green fields and traditions of Southern Germany provide a timeless context for these NSFW shots, which are decidedly modern in their ribald nature.
Brilliantly subverting old-timey stereotypes of Bavarians, the book provides an R-rated glimpse into country life not shown on kitschy postcards. But the sexually-charged images certainly play to Germany's reputation as the world capital of kink.
Heimat will be available through Taschen in April for $850. (Hey, we never said high-quality German erotica comes cheap.)
For more of Ellen von Unwerth's work, check out some highlights from her similarly risqué Instagram account below.
" tml-render-layout="inline
" tml-render-layout="inline
" tml-render-layout="inline
" tml-render-layout="inline
" tml-render-layout="inline
" tml-render-layout="inline
" tml-render-layout="inline
" tml-render-layout="inline
" tml-render-layout="inline
" tml-render-layout="inline