Emilia Clarke Dropped Major Hints About Her Insane Final Scenes in 'Game of Thrones'
"You'll know what I mean when you see it."
HBO
In a wide-ranging interview with Vanity Fair, Emilia Clarke—the Mother of Dragons herself—revealed she's completed her work for Game of Thrones. Daenerys's last scenes, apparently, are pretty messed up. In Clarke's words, "Weird shit."
Clarke clarified to VF that she has no idea how Thrones ends, but whatever Daenerys is up to will be at the edge of whatever the audience has come to expect from her character. One thing is sure, Clarke was surprised. She said, "It fucked me up, knowing that is going to be a lasting flavor in someone's mouth of what Daenerys is . . ."
Clarke also said she was "doing all this weird shit" in Daenerys's final moments. "You'll know what I mean when you see it."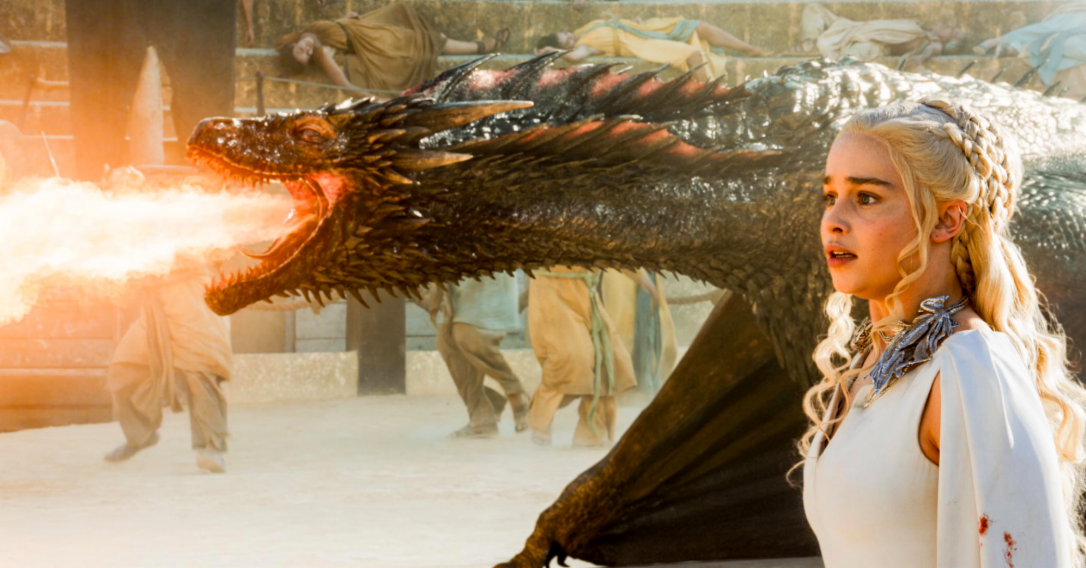 What the hell? Is she breathing fire like her dragons? That'd be cool. 
In the same interview, Clarke and Kit Harington (her character's nephew Jon Snow in GoT) also discussed their freaky, incestuous love scene from Season 7. However hot it was on screen, they basically thought it was hugely awkward and were "pissing ourselves" with laughter during filming.
Clarke has a teasing relationship with Harington. "I'll tell him, 'Kit, stop being a dick—stop being so grumpy.' Like I would with my brother." And as the two transition in these final seasons from real-life friends to partners in TV's biggest romance (albeit one complicated by incest), the ribbing has only increased… 

"If you've known someone for six years, and they're best friends with your girlfriend, and you're best friends with them," Harington says, "there is something unnatural and strange about doing a love scene. We'll end up kissing and then we're just pissing ourselves with laughter because it's so ridiculous."
One thing that comes through in the article—and on her Instagram—is that Clarke is a lot of fun.
" tml-render-layout="inline
" tml-render-layout="inline
Also, it goes without saying, beautiful, in and out of character.
" tml-render-layout="inline
In the end, you don't really learn anything too detailed about the end of Game of Thrones, but Clarke certainly stokes the intrigue that always surrounds the notoriously secretive production.
Go see Solo: A Star Wars Story if you need more Emilia Clarke in your life before Thrones returns. Otherwise, wait till the stabby, sexy, dragon-filled show returns sometime in 2019.