Check Out Emilia Clarke's Sexy Topless Photo Shoot
The Mother of Dragons is on fire.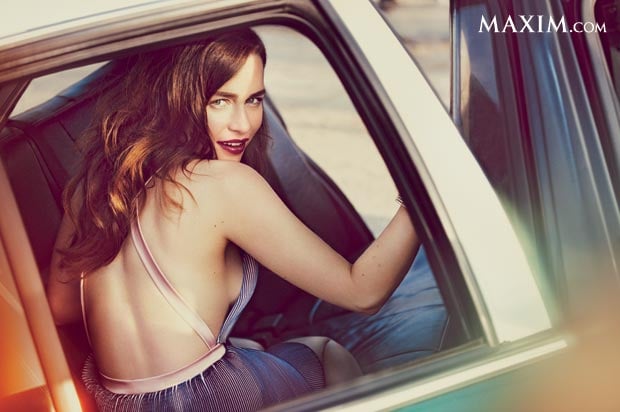 (Photo: Maxim)
Emilia Clarke has always been good at making headlines. The Game of Thrones queen has opined that she'd like to be the first female 007, boasted that her recent fiery nude scene did not require a body double, and has repeatedly requested more male nudity on her HBO fantasy hit, which airs its final episode May 19, 2019. 
In 2016 Clarke posed topless sans Daenerys Targaryen's blonde wig for a beauty site called Violet Grey. While she only bared her beautiful back, it was still a classic Khaleesi power move.
https://www.instagram.com/p/BGUb0EcuR6Ehttps://www.instagram.com/p/BGUbYKAP2H2https://www.instagram.com/p/BGUc6hZOR8l
Clarke also told Violet Grey about her favorite drink, hangover remedy and, um, "bathtime routine" here:
Favorite cocktail?
A vodka martini straight up, with a twist. Like James Bond.
Hangover recovery secret?
Sleep, sleep, and a lot more sleep. And then some sugar.
You're a confirmed bath enthusiast—what's your bathtime routine?
Bathtime is a ritual! You've got to get the right temperature, you must have good bath salts or Epsom salts and dissolve them properly, and you need bath oils to get some scents going. I don't do bubble bath—it makes me feel too much like a kid. I have to soak for at least half an hour. If I had time I could be in that bath for three hours, although me having three hours to take a bath is like finding a leprechaun at the end of the rainbow.
Coffee order: cream or sugar?
I take my coffee with nut milk, and made by a handsome bearded man.
What do you like most about yourself?
That given half the chance, I will see the lighter, funnier side of a situation.