Eminem Just Celebrated 10 Years of Sobriety, Remember His Legacy of Pill-Inspired Hits
"Purple Pills" and "My Dad's Gone Crazy" both reference the pill habit that nearly killed him.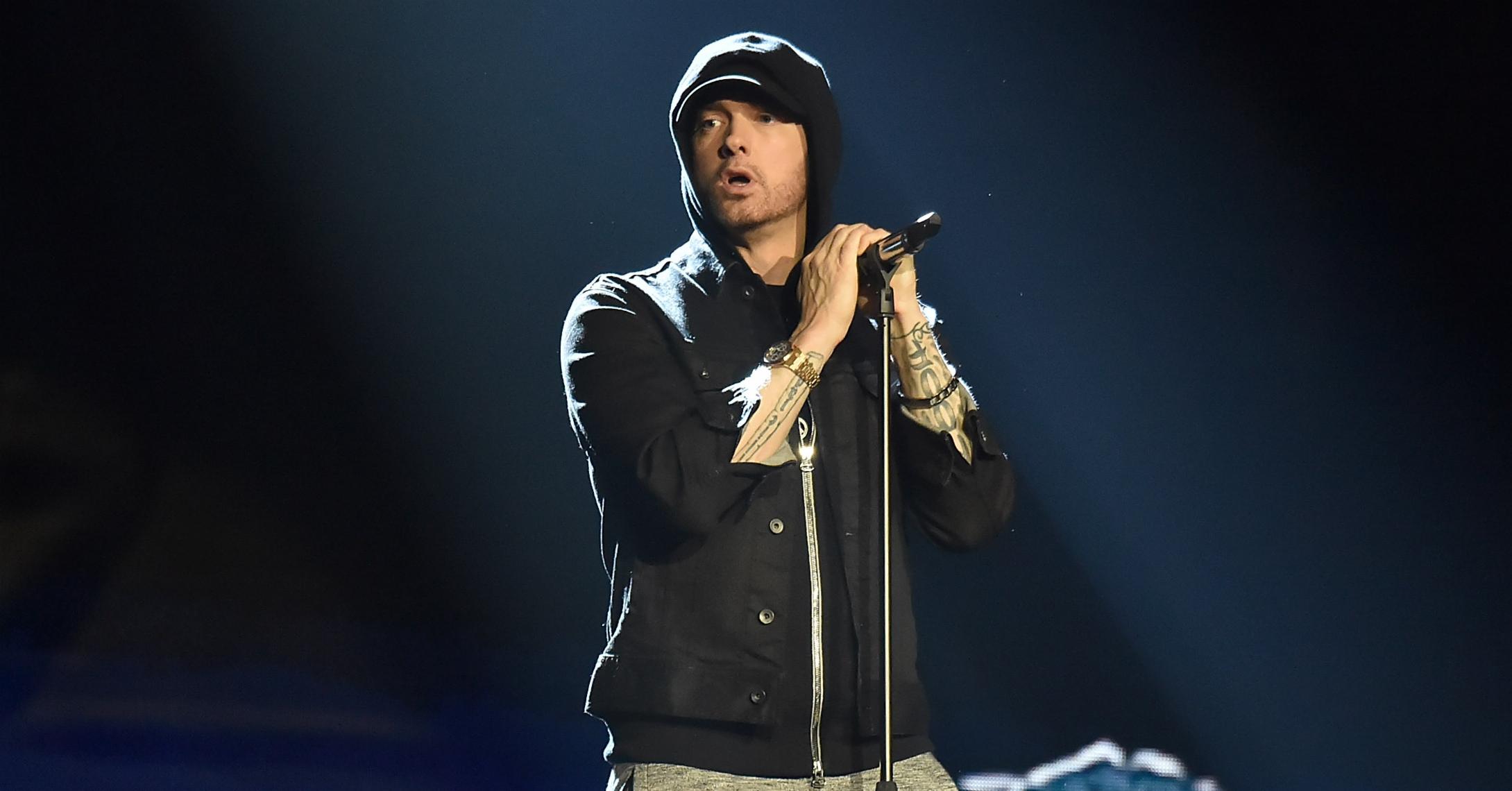 Getty Images
Shortly after delivering a stellar Coachella performance, Eminem celebrated 10 years of sobriety from drugs and alcohol. 
In the throes of his drug addiction, the Detroit-based rapper was popping up to 20 pills a day. 
"Xanax, Valium, tomato, tomatoe, it's same thing … Fuck it, take it," he recalled in the 2012 documentary How to Make Money Selling Drugs, per The Fix.
Em's habit worked its way into his music, most notably on the 2001 track "Purple Pills" recorded with his band, D-12. 
Another reference comes from his chart-topping record The Eminem Show. The lyrics to "My Dad's Gone Crazy" don't contain direct nods his drug use, but the ambient noise in the song's intro is clearly meant to sound like someone chopping and snorting powder. 
Eminem's addiction yielded a harrowing low point. He nearly died in 2007 after overdosing on the prescription opioid methadone.
"Had I got to the hospital about two hours later, I would have died. My organs were shutting down, " he said in How to Make Money Selling Drugs. 
"My liver, kidneys, everything. They didn't think I was gonna make it. My bottom was gonna be death."
He used that dark moment as inspiration for lyrics in the last two songs on his latest album, Revival. 
https://www.youtube.com/watch?v=YTrHssHl__E
People has further details: 
On the 18th track, titled "Castle" featuring Skylar Grey, Eminem — born Marshall Mathers — writes letters to his 21-year-old daughter Hailie Jade, with the third verse talking about her 12th birthday and recalling how he overdosed on methadone and nearly died.  

"Your dad's at the end of his rope/ I'm sliding down a slippery slope/ Anyway, sweetie, I better go, I'm getting sleepy … Love, Dad, s—, I don't know," he raps.

https://www.youtube.com/watch?v=sBHlbuWM720
Then on the 19th and final track of Revival, titled "Arose," Eminem continues the narrative of "Castle" by speaking directly to his daughter again, this time as final apologies from his deathbed.

"Arose" begins with a sample of "The Rose," the song from Bette Midler's 1979 album and film of the same name. Four minutes into his song, Eminem says, "To rewrite a mistake, I'm rewinding the tape," referencing every drug he's taken and the realization that he might not make it out of the hospital.
Eminem entered rehab facility following the near-fatal experience. He relapsed a month later, but chose to detoxe in a hospital to avoid unwanted attention that distracted him from getting clean. 
"People at rehab were stealing my hats and pens and notebooks and asking for autographs," he told the New York Times in 2010. "I couldn't concentrate on my problem."
Ten years later, the 45-year-old "Rap God" is totally clean. Congratulations, Slim!