Eminem Gave an All-Time Great Performance on a Chance the Rapper-Hosted 'Saturday Night Live'
Instant classic.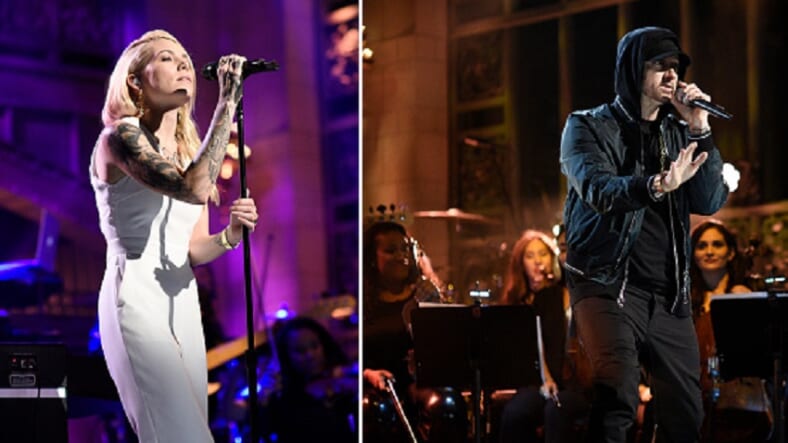 Getty Images
Chance the Rapper hosted a great SNL Saturday, with a big assist from Eminem and his longtime collaborator, singer-songwriter Skylar Grey. 
Chance was the first big surprise of the night. He's made his name in hip-hop, carving out a niche as a positive and uplifting rapper whose music never shies away from his Christian faith. 
His hosting gig on Saturday Night Live, however, revealed he's a seriously well-rounded performer with killer comic timing—the digital short above in which he played one-third of an old-school 70s rapping crew who liked their music with a little bit of crack was plenty of proof he fit right in with the regular cast. 
https://www.youtube.com/watch?v=_H1vcldAsP0
While Eminem has made several guest appearances on the long-running sketch comedy, his three-song medley with Grey was striking for its intensity as well as for featuring his new single "Walk on Water." The rapper followed that up with classics "Stan" and "Love the Way You Lie." Grey took on vocal roles in the songs originally performed by Beyonce and Dido and nailed it. 
While Chance's overall performance was hilarious enough to make viewers hope he returns for another hosting gig one day, the comedy highlight from the show's cast was easily the SNL Update segment in which Pete Davidson and Colin Jost skewered their own press coverage as well as the borough of Staten Island. 
It was easily one of the funniest segments this season, even if may have made it impossible for Davidson to ever safely go back to Staten Island.
Saoirse Ronan will host the next new SNL on Dec. 2.