Here's Everything Coming to Netflix in September
'Luke Cage' makes his streaming debut.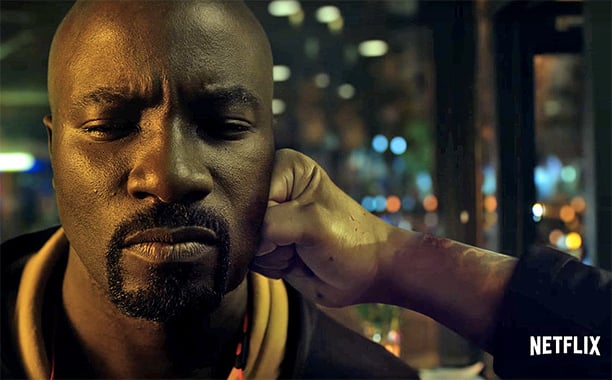 Netflix's monthly announcement of new additions to the streaming service is Christmas morning come early for dedicated binge-watchers. While you know what's waiting for you under the tree, you never know if they'll be exactly what you wanted, or things you'll end up chucking in the trash.
September sees big-time flicks like Jaws, Top Gun, and Saving Private Ryan making their way to your TV screens, as well as the most recent seasons of The Walking Dead, Gotham, and New Girl for your bingewatching pleasure.
Check out the full list of new arrivals below, and mark off some more reasons not to leave your couch:
Available Sept. 1
The Amityville Horror (2005)
Babel (2006)
Bayou Maharajah: The Tragic Genius of James Booker (2013)
Bill & Ted's Bogus Journey (1991)
Bratz: The Movie (2007)
Burn, Burn, Burn (2015)
Cats & Dogs (2001)
Crashing: Season 1
Defiance (2008)
Easy Fortune Happy Life (2009)
Europe's Last Great Wilderness (2015)
The Fierce Wife (2010)
Footloose (1984)
Full Out (2015)
Game Winning Hit: Season 1
Heartland: Season 7
Hellevator: Season 1
Hoot (2006)
Hope Floats (1998)
I Am the Ambassador: Season 1 ­ NETFLIX EXCLUSIVE
Indochina's Wild Heart (2015)
The IT Crowd: Series 5
Jaws (1975)
Jaws 2 (1978)
Jaws 3 (1983)
Jaws: The Revenge (1987)
Joyful Noise (2012)
Keepers of the Game (2016)
Last Holiday (2006)
Lucky Days: Season 1
Man on Wire (2008)
Milk Money (1994)
Practical Magic (1998)
Road Trip (2000)
Sam Kinison: Breaking the Rules (2000)
Saving Private Ryan (1998)
Scary Movie 2 (2001)
Shameless (U.S.): Season 5­/6
Stomp the Yard (2007)
Sweeney Todd (2007)
Top Gun (1986)
True Grit (1969)
U­571 (2000)
The Wicker Man (2006)
Wild Madagascar (2015)
The Womanizer: Season 1
The Year of Happiness and Love: Season 1
Available Sept. 2
Baby Daddy: Season 5 Chef's Table: France ­ NETFLIX ORIGINAL
Kazoops!: Season 1 ­ NETFLIX ORIGINAL
Kulipari: An Army of Frogs ­ NETFLIX ORIGINAL
Narcos: Season 2 ­ NETFLIX ORIGINAL
Young & Hungry: Season 4
Available Sept. 6
Crash (2004)
The Finest Hours (2015)
Hard Target 2 (2016)
Honey 3 (2016)
R.L. Stine's Mostly Ghostly: One Night in Doom House (2016)
Available Sept. 7
The Blacklist: Season 3
Galavant: Seasons 1­2
Available Sept. 10
Supergirl: Season 1
Available Sept. 13
Extremis (2016) ­ NETFLIX ORIGINAL
Hawaii Five­-0: Season 6
London Has Fallen (2015)
Available Sept. 14
Goldie & Bear: Season 1
Available Sept. 15
Sample This (2012)
The Walking Dead: Season 6
Available Sept. 16
Cedric The Entertainer: Live from the Ville ­ NETFLIX ORIGINAL
Raiders!: The Story of the Greatest Fan Film Ever Made (2015)
The White Helmets (2016) ­ NETFLIX ORIGINAL
Available Sept. 17
3 Days to Kill (2014)
Luther: Season 4
Penny Dreadful: Season 3
Available Sept. 19
Call the Midwife: Series 5
Gotham: Season 2
Available Sept. 20
Colliding Dreams (2016)
New Girl: Season 5
Zootopia (2016)
Available Sept. 22
Bones: Season 11
Easy: Season 1 ­ NETFLIX ORIGINAL Wallander: Series 4
Available Sept. 23
Audrie & Daisy (2016) ­ NETFLIX ORIGINAL
Iliza Shlesinger: Confirmed Kills ­ NETFLIX ORIGINAL
Last Man Standing: Season 5
Longmire: Season 5 ­ NETFLIX ORIGINAL VeggieTales in the House: Season 4 ­ NETFLIX ORIGINAL
Available Sept. 24
Portlandia: Season 6
River (2016)
Available Sept. 25
Family Guy: Season 14
Margaret Cho: PsyCHO (2015)
Available Sept. 28
The Fosters: Season 4 (Part A)
The Imitation Game (2014)
Available Sept. 30
Amanda Knox (2016) ­ NETFLIX ORIGINAL
Marvel's Luke Cage: Season 1 ­ NETFLIX ORIGINAL
Scream: Season 2