Here's Everything Coming To Netflix, Hulu, and Amazon In February
From "Blade Runner: The Final Cut" on Netflix to Amazon's Shia LaBeouf production "Honey Boy," there's something to binge on for everyone.
Warner Bros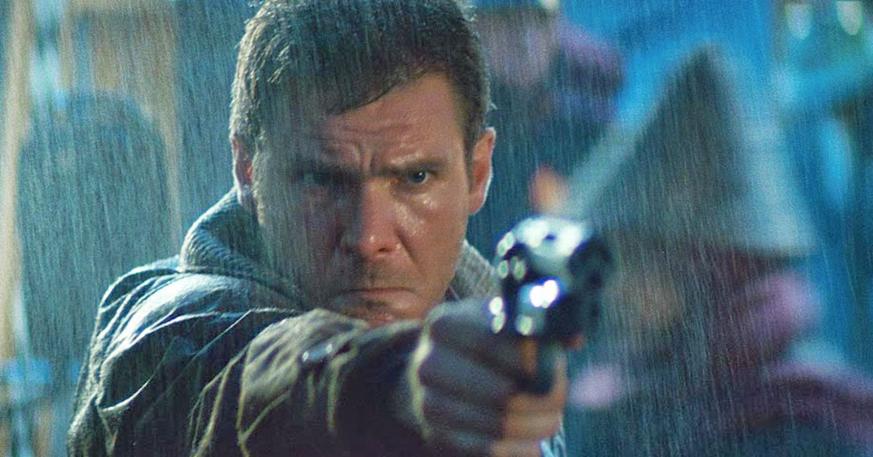 February may be the shortest month of the year, but in some places, it's also one of the coldest and nastiest. So yes, we're going to make the argument that even above and beyond winter holidays like Christmas, February is the best month of the year to huddle on the sofa or in bed and binge-watch everything. After all, it also tends to be the time many of the big studios dump flicks they're not so sure about in theaters.
Netflix, Hulu, and Amazon know this, and they have subscribers covered. 
Highlights from Netflix include  Blade Runner: The Final Cut, available as of February 1st, the original series Locke & Key from horror novelist (and Stephen King progeny) Joe Hill, which premieries February 7th.
As of February 1st, Hulu brings viewers 2007 hit graphic novel-inspired 300, starring Gerard Butler's abs, and five National Lampoon movies of admittedly varying quality.
Amazon Prime has several of the same selections coming to Hulu, but will premiere originals like Shia LaBeouf's critically-acclaimed Honey Boy as well as Tom Hanks's touching 2019 ode to Mr. Rogers,  A Beautiful Day in the Neighborhood.
Below, check out what else is already available or hitting the service of your choice before the end of the month.
Netflix
Feb. 1
A Bad Moms Christmas
A Little Princess
Back to the Future Part III
Blade Runner: The Final Cut
Center Stage
Cookie's Fortune
Dear John
The Dirty Dozen
Dirty Harry
Driving Miss Daisy
Elizabeth
Elizabeth: The Golden Age
Fools Rush In
Hancock
Love Jacked
The Notebook
The Other Guys
The Pianist
Police Academy
Police Academy 2: Their First Assignment
Police Academy 3: Back in Training
Police Academy 4: Citizens on Patrol
Police Academy 5: Assignment: Miami Beach
Police Academy 6: City Under Siege
Police Academy 7: Mission to Moscow
Purple Rain
Robin Hood: Prince of Thieves
Scary Movie 2
Sex and the City 2
Feb. 3
Sordo (Netflix Film)
Team Kaylie: Part 3 (Netflix Family)
Feb. 4
Faith, Hope & Love
She Did That
Tom Papa: You're Doing Great! (Netflix Original)
Feb. 5
Black Hollywood: 'They've Gotta Have Us'
#cats_the_mewvie
The Pharmacist (Netflix Documentary)
Uppity: The Willy T. Ribbs Story
Feb. 6
Cagaster of an Insect Cage (Netflix Anime)
Feb. 7
The Ballad of Lefty Brown
Dragons: Rescue Riders : Season 2 (Netflix Family)
Horse Girl (Netflix Film)
Locke & Key (Netflix Original)
My Holo Love (Netflix Original)
Who Killed Malcolm X?
Feb. 8
The Coldest Game (Netflix Film)
Feb. 9
Better Call Saul: Season 4
Captain Underpants Epic Choice-o-Rama (Netflix Family)
Polaroid
Feb. 11
Good Time
CAMINO A ROMA (Netflix Documentary)
Q Ball
Feb. 12
Anna Karenina
To All the Boys: P.S. I Still Love You (Netflix Film)
Feb. 13
Dragon Quest Your Story (Netflix Anime)
Love is Blind (Netflix Original)
Narcos: Mexico: Season 2 (Netflix Original)
Feb. 14
Cable Girls: Final Season (Netflix Original)
Isi & Ossi (Netflix Film)
A Shaun the Sheep Movie: Farmageddon (Netflix Family)
Feb. 15
Starship Troopers
Feb. 17
The Expanding Universe of Ashley Garcia (Netflix Family)
Feb. 19
Chef Show: Volume 3 (Netflix Original)
Feb. 20
Spectros (Netflix Original)
Feb. 21
A Haunted House
Babies (Netflix Documentary)
Gentefied (Netflix Original)
Glitch Techs (Netflix Family)
Puerta 7 (Netflix Original)
System Crasher (Netflix Film)
Feb. 22
Girl On The Third Floor
Feb. 23
Full Count
Feb. 25
Every Time I Die
Feb. 26
I Am Not Okay With This (Netflix Original)
Feb. 27
Altered Carbon: Season 2 (Netflix Original)
The Angry Birds Movie 2
Followers (Netflix Original)
Pokémon: Mewtwo Strikes Back–Evolution (Netflix Family)
Feb. 28
All The Bright Places (Netflix Film)
Babylon Berlin: Season 3 (Netflix Original)
Formula 1: Drive to Survive: Season 2 (Netflix Original)
Jeopardy!: Celebrate Alex Collection
Jeopardy!: Cindy Stowell Collection
Jeopardy!: Seth Wilson Collection
La trinchera infinita (Netflix Film)
Queen Sono (Netflix Original)
Restaurants on the Edge (Netflix Original)
Unstoppable (Netflix Original)
Feb. 29
Jerry Maguire
Hulu
Feb. 1
300 (2007)
28 Days Later (2003)
Adam (2019)
All About E (2015)
Bridget Jones's Diary (2001)
Bridget Jones: The Edge of Reason (2004)
Bridget Jones's Baby (2016)
Buffalo 66 (1998)
Captain Kronos: Vampire Hunter (1974)
Cheech & Chong's Still Smokin' (1983)
Cherry Pop (2017)
Earth Girls Are Easy (1988)
For Colored Girls (2010)
The Fugitive (1993)
Getting Go: The Doc Project (2013)
Ghost (1990)
The Girl King (2015)
Hitch (2005)
Henry Gamble's Birthday Party (2015)
Hot Guys With Guns (2013)
John Q (2002)
Judgment Day (1999)
The Last Stand (2013)
The Last Warrior (2000)
Liz in September (2014)
Lord of War (2005)
The Man Who Could Cheat Death (1959)
Margarita with a Straw (2014)
Ms. Purple (2019)
Menace II Society (1993)
Mimic (1997)
National Lampoon's Christmas Vacation (1989)
National Lampoon's Dirty Movie (2011)
National Lampoon's Dorm Daze 2: College @ Sea (2006)
National Lampoon's European Vacation (1985)
National Lampoon's Vacation (1983)
Naz and Maalik (2015)
The Phantom of the Opera (2004)
Precious (2009)
Robin Hood (1991)
Say Anything (1989)
Southie (1999)
The Spy Next Door (2010)
Those People (2015)
Touched with Fire (2016)
Vegas Vacation (1997)
When Harry Met Sally (1989)
Where We Go From Here (2019)
Feb. 2
A Madea Family Funeral (2019)
Feb. 3
The Masked Singer:Season 3 Premiere (FOX)
The Cabin in the Woods (2012)
Feb. 5
Warrior (2011)
Feb. 6
Lego Masters: Series Premiere (FOX)
Angel of Mine (2019)
David Crosby: Remember My Name (2019)
Disaster Movie (2008)
Wrinkles the Clown (2019)
Feb. 7
Into the Dark: My Valentine: Episode Premiere (Hulu Original)
Brooklyn Nine-Nine: Season 7 Mid-Season Premiere (NBC)
Indebted: Season 1 Mid-Season Premiere (NBC)
Feb. 9
Alive (2019)
Feb. 10
The Oscars: Special (ABC)
Feb. 12
The Real Housewives of Beverly Hills: Complete Season 9 (Bravo)
For Life: Series Premiere (ABC)
Where'd You Go, Bernadette (2019)
High Fidelity: Complete Season 1 Premiere (Hulu Original)
The Other Guy: Complete Season 2 (eOne)
Utopia Falls: Complete Season 1 (Hulu Original)
Beverly Hills Ninja (1997)
From Hell (2001)
Racetime (2019)
Radioflash (2019)
Villains (2019)
Feb. 15
28 Hotel Rooms (2012)
American Ultra (2015)
Anchor and Hope (2017)
Monogamy (2010)
Princess Cyd (2017)
Feb. 17
American Idol: Season 3 Premiere (ABC)
Duncanville: Series Premiere (FOX)
Good Girls: Season 3 Midseason Premiere (NBC)
Feb. 18
Super 8 (2011)
Feb. 19
Getaway (2013)The Voice: Season 18 Midseason Premiere (NBC)
Run the Race (2019)
Feb. 28
After the Wedding (2019)
Amazon
Feb. 1
Counterpart (Seasons 1 and 2)
Escape at Dannemora (Season 1)
Beat the Devil (1953)
Bridget Jones's Diary (2001)
Buffalo '66 (1998)
Captain Kronos – Vampire Hunter (1974)
Cheech & Chong's Still Smokin' (1983)
Crashing Through Danger (2016)
Dick Tracy (1990)
Earth Girls Are Easy (1989)
Emergency Landing (2018)
Father Steps Out (1941)
Ghost (1990)
Guess What We Learned In School Today? (1970)
High Voltage (2018)
Judgment Day (1999)
Little Tough Guy (1938)
Lord of War (2005)
Magic Mike (2012)
National Lampoon's Dirty Movie (2011)
National Lampoon's Dorm Daze 2 (2006)
North of The Border (2009)
People Are Funny (1946)
Posledniy Bogatyr (2017)
Precious (2009)
Southie (1999)
Taken Heart (2016)
The Big Lift (1950)
The Fabulous Dorseys (1947)
The Last Stand (2013)
The Little Princess (1995)
The Man Who Could Cheat Death (1959)
The Spy Next Door (2010)
Touched with Fire (2016)
Feb. 2
Tyler Perry's A Madea Family Funeral (2019)
Feb. 3
The Cabin in The Woods (2012)
Feb. 4
Jallikattu (2019)
Feb. 5
Warrior (2011)
Feb. 6
Disaster Movie (2008)
Feb. 7
Honey Boy (2019, Amazon Original)
All or Nothing: The Philadelphia Eagles (Amazon Original)
Clifford (Season 1B, Amazon Original)
If You Give a Mouse a Cookie Valentine's Day Special (Amazon Original)
Pete the Cat Valentine's Day Special (Amazon Original)
Feb. 9
Alive (2019)
Feb. 12
The Farewell (2019)
Feb. 15
American Ultra (2015)
Danger Close (2019)
Feb. 16
47 Meters Down: Uncaged (2019)
Feb. 18
Super 8 (2011)
Feb. 21
Ice Princess Lily (2019)
Hunters (Season 1, Amazon Original)
Feb. 25
Run the Race (2019)
Grantchester (Season 4)
Feb. 4
A Beautiful Day in the Neighborhood (2019)
Midway (2019)
Jojo Rabbit (2019)
Feb. 6
AT&T Pebble Beach Pro-AM (PGA Tour Live)
Feb. 9
Independent Spirit Awards (IFC Films Unlimited)
Homeland (Season 8, Showtime)
Kidding (Season 2, Showtime)
Feb. 10
Dinosaur Train (PBS Kids)
Agatha Raisin (Season 3, Acorn TV)
Feb. 12
Survivor (Season 40, CBS All Access)
Feb. 13
The Genesis Invitational (PGA Tour Live) Interrogation (Season 1, CBS All Access)
Stuck with You (Season 1, Urban Movie Chanel)
Feb. 16
Outlander (Season 5, STARZ)
Feb. 20
WGC-Mexico Championship (PGA Tour Live)
Feb. 17
The Honda Classic (PGA Tour Live)