Everything We Know About 'Red Dead Redemption 2'
Behold the new western from the team behind 'Grand Theft Auto'.
Credit: Rockstar Games
It doesn't matter if you're an avid GTA player, a fan of Rockstar's open-world games, or just itching to play cowboy—the upcoming Red Dead Redemption 2 will be your favorite game of 2018. 
Here are the details you need to know as we countdown to RDR2's October 26th launch date.
1. The Era
Set before the events of Red Dead Redemption, RDR2 is taking us back to 1899 and the final years of the wild west being tamed, where outlaws and gunslingers are being hunted by lawmen. The earlier setting means characters we know well from RDR1's 1911 setting will be present and, potentially, have a youthful bounce to their step that fans of the franchise may not find familiar. 
We're excited at the prospect, since it adds an exciting bit of potential to deepen our relationship with folks like John Marston and Dutch Van Der Linde, even if we know their trajectory and even if we're playing as a new character.
2. The World
Rockstar is often tight-lipped about the size of their worlds until much closer to launch but they also, somewhat famously, always manage to push the envelope for each of their games. We may not be getting a sandbox that's bigger than, say, GTA San Andreas, but we do expect an evolved approach to the world, one that's denser, livelier and more interactive than earlier Rockstar games. It's also been confirmed that, like RDR1, how you act in the world of the game will directly influence the way NPCs react to you.
3. The Characters
Stepping away from RDR1's protagonist, John Marston, this time you'll take on the role of Arthur Morgan, a member of Dutch's gang. Rockstar has a particular skill for storytelling in their games and, if the trailer's cut-scenes are any indication, RDR2's story will be fleshed out equally through gorgeous cinematics and exposition during gameplay itself. That leaves plenty of space to both meet new characters and acquaint yourself with the younger versions of characters you already know from the Red Dead universe.
4. The Promise of Online
Rockstar has confirmed their continued support for Grand Theft Auto Online—a goose that laid the golden video game egg if there ever was one—but it's obvious that they're hoping for similar success when it comes to online play in RDR2. We're actually expecting a very similar approach to the persistent online world Rockstar has in store for us: Forming your own band of outlaws among friends, teaming up to pull off multi-stage heists and robberies for big payouts, using stockpiled cash to buy and run shady businesses like casinos, bars or brothels. 
Much remains to be seen regarding Rockstar's approach to the online world of RDR2, but we know it's coming and, if the studio didn't approach it as the second of two pillars to keep gamers returning for years, we'd be mightily surprised.
5. The Special Editions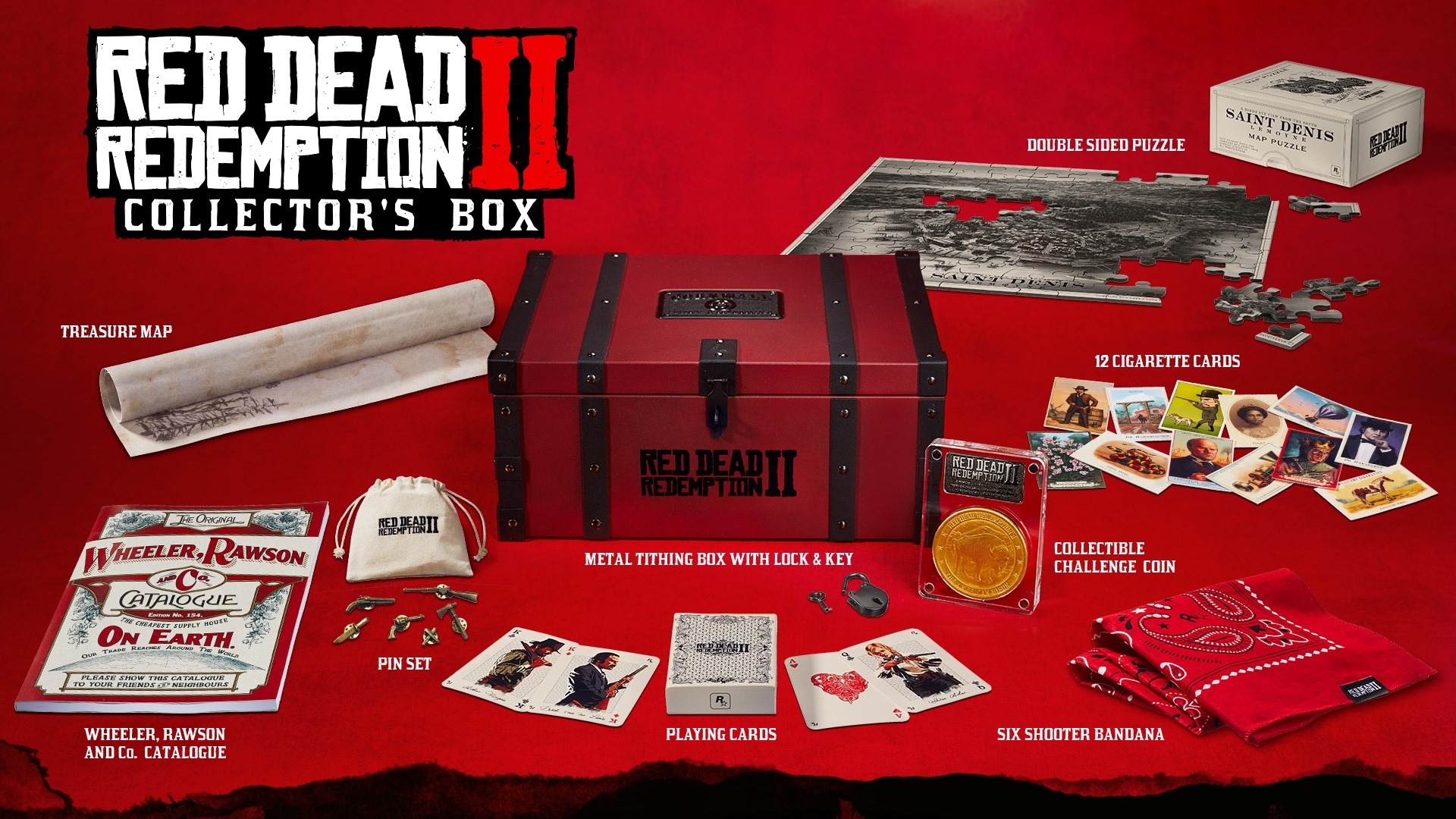 Pre-orders for the game have begun, and that means details of each special edition. The actual RDR2 Special Edition will come with bonuses that effect the single-player campaign only by adding extra missions, a gang hideout, gameplay bonuses and extra weapons. The Ultimate Edition takes everything from the special edition and adds bonuses to the online portion of the game, a special horse, a survivor camp theme and ranking bonuses, which may or may not take the form of boosts for ranking up. Finally, the Collector's Box adds collectible items outside of the in-game perks of the prior two. Those collectibles will take the form of treasure maps, bandanas, playing cards, a puzzle, a collectible coin and a branded lockbox. In terms of editions, Rockstar is going bigger for RDR2 than we've ever seen before.
6. The GTA Tie-In
Here's where Rockstar is actually flexing their muscle. Knowing they still have a wildly popular game on their hands with GTAV's online community, they're leveraging both the GTA community and the Red Dead fanbase with cross-game bonuses that make each game even more enticing. Months ago, GTA players found a scavenger hunt item turn up in their inboxes, asking them to track down clues from pictures that ultimately led them to a double action revolver that looks straight out of the old west. Finding that gun in GTA will open up a similar one in RDR2 if your account is linked to both games.
Similarly, pre-order bonuses for digital copies of RDR2 will also stuff your GTA bank account with 500K, 1 Million or 2 Million bucks depending on which edition you pre-ordered. If Rockstar doesn't take this opportunity to tie GTA and Red Dead together in a Tarantino-esque way, we'll be really disappointed. 
Red Dead Redemption 2 launches on October 26th, 2018 and you can pre-order any of the editions for Xbox One or PS4 right now.