Exclusive: Bushmills Toasts Bourbon Drinkers With Bold New Irish Whiskey
Red Bush is a heartfelt hat tip to bourbon lovers from the venerable Irish distillery.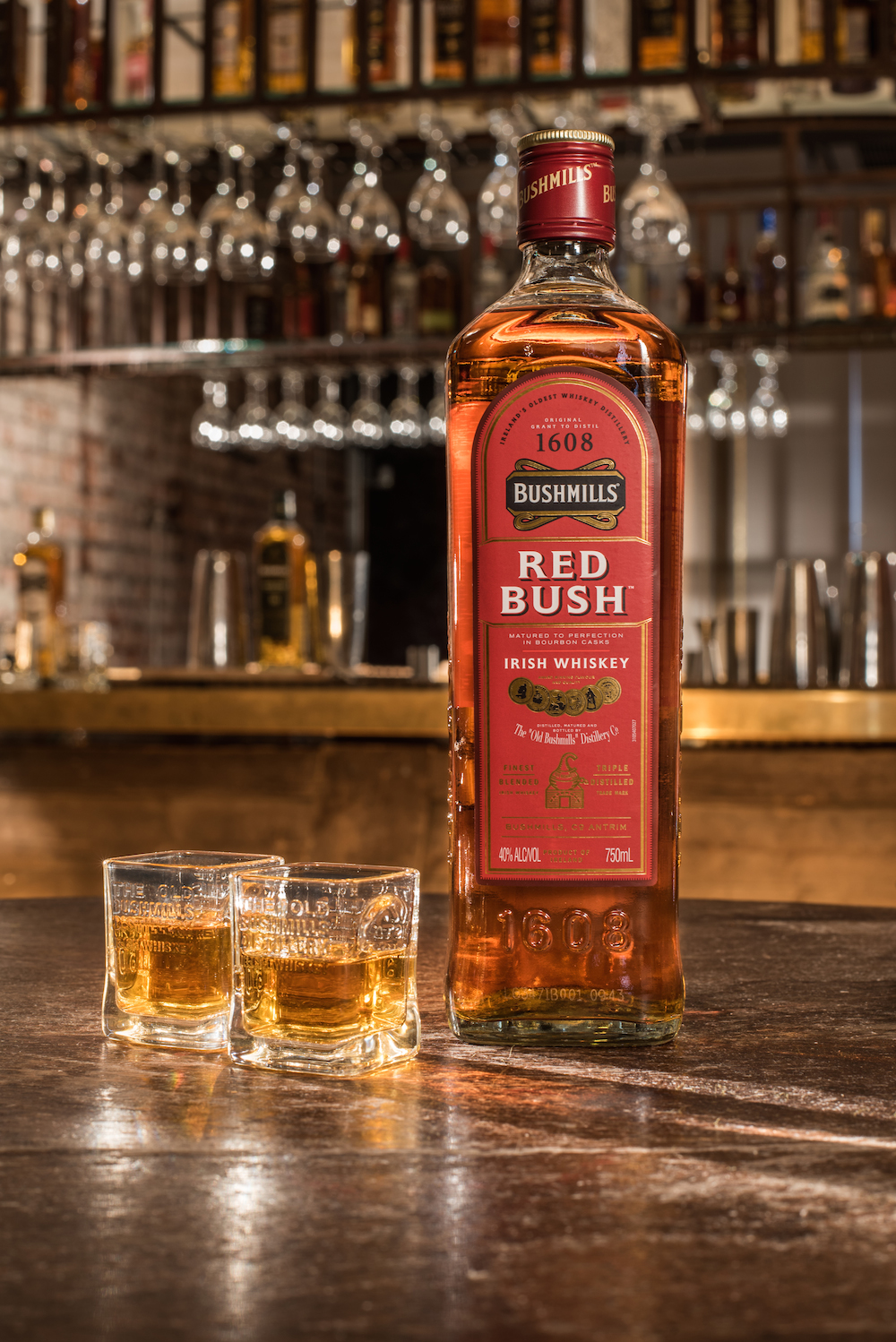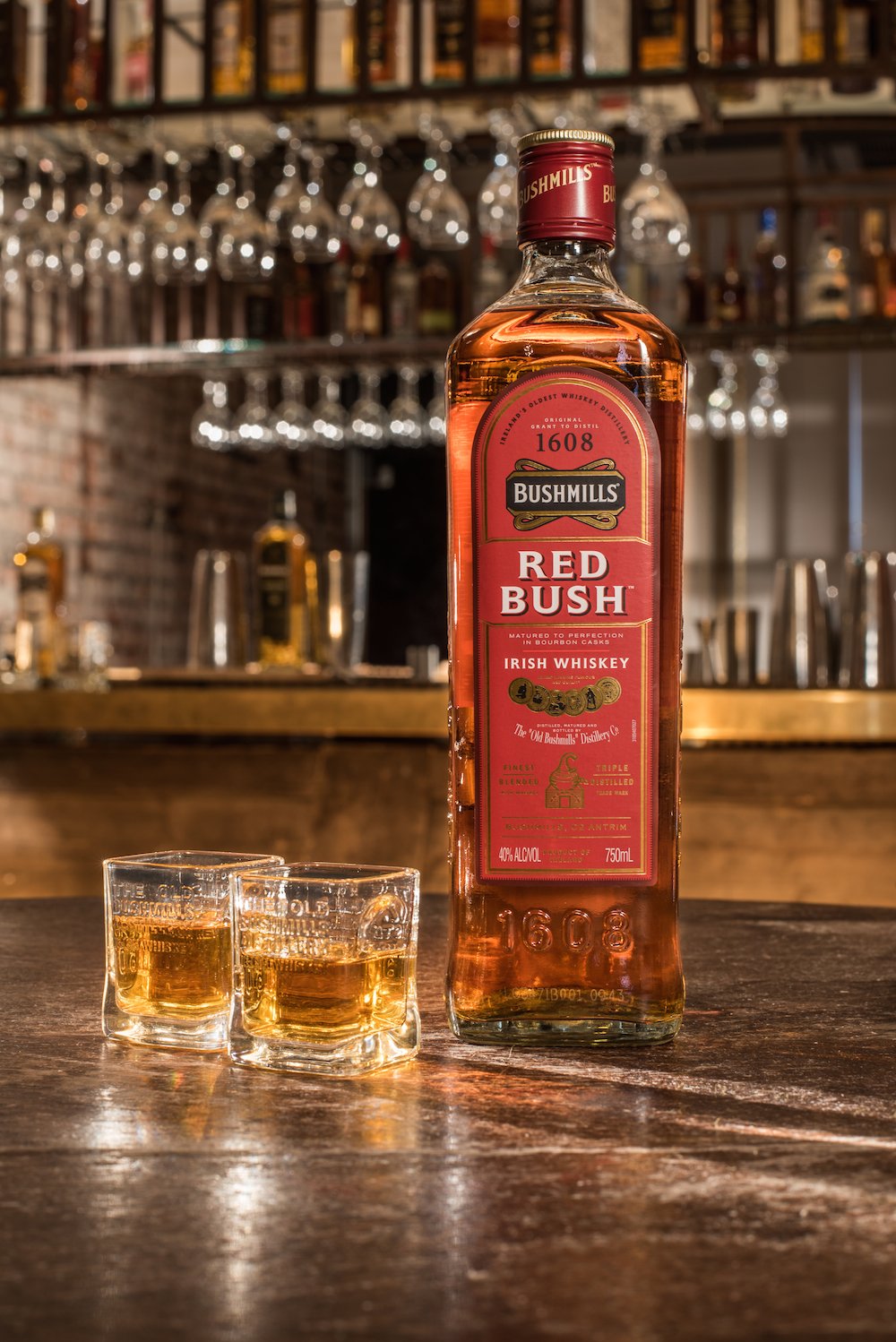 Bushmills is launching a brand-new Irish whiskey inspired by the American bourbon boom and aimed at millennial drinkers who are at least as likely to down shots as they are to sip it neat, on the rocks, or in cocktails.
Red Bush, which is exclusively matured in American white oak bourbon casks, blends Bushmills' trademark fiery finish with smoother, sweeter flavors of oak, vanilla and caramel. The triple-distilled blended whiskey is aged for three years and caters to drinkers already besotted with bourbon flavor notes. And at just $23 a bottle, it's definitely not going to break the bank, either.
The latest spirit from Ireland's iconic, 409-year-old Old Bushmills Distillery is a logical outgrowth of the brand's "Since Way Back" ad campaign featuring former Breaking Bad star Aaron Paul and other rough-and-tumble dudes hoisting glasses in posters and branded videos.
But Red Bush is Bushmills' most aggressive attempt yet to capture the whiskey-swilling millennial male demographic those ads sought to channel, while spiking the brand's rock-solid Irish identity with a splash of distinctly American mojo.
Maxim got an exclusive first taste of Red Bush at Old Bushmills Distillery on Ireland's North Coast, famed for ruggedly gorgeous Game of Thrones locations like Giant's Causeway and The Dark Hedges, as well as for being a scenic hour-long drive from the infectiously lively, whiskey-crazed city of Belfast.
Colum Egan, the Master Distiller at Old Bushmills, says he specifically aimed Red Bush—which will only be available in the United States—squarely at the palates of American bourbon drinkers.
"We're not trying to make bourbon, but we wanted to make a whiskey for a bourbon drinker," he explains. "People like bourbon, so why not match Irish whiskey with that bourbon twist?"
"If we were to go back in time, the whole bourbon thing started in the mid-1800s," says Egan. "We would have been shipping Bushmills to the U.S. from the late 1700s, we go back that far. I think it's kind of nice as a distiller to have a link with those guys. It's a tip of the hat to say, 'Yeah, bourbon is nice.'"
"When you nose it, you don't have the fiery character that you do with other Bushmills. It's much more delicate and much smoother. It's a whiskey for bourbon drinkers."
While Egan personally prefers to drink his whiskey with a tiny splash of water, he sees Red Bush as a future barroom favorite when it comes to ordering a round of shots.
"It's really to bring your buddies together. When you're all sitting across the bar and you say, 'Hey boys, let's do a Red Bush.' It's really a nice shot. You've got smoothness, the toasted wood character and a sweet finish."
https://www.youtube.com/watch?v=uRgewG3ySB8
"A lot of the things they like in bourbon they'll recognize here," adds Egan, who names Four Roses, Michter's and Maker's Mark as some of his favorite bourbons. "If you're new to whiskey, this a perfect way to get in. It's full of flavor. The vanilla, the wood, there's a ruggedness to it. I think of the Coast, the Causeway, the rural nation as well."
But the veteran Bushmills distiller kept the whiskey world's longest rivalry intact by saying that he vastly prefers all manner of Irish whiskey to the smokier, peatier stuff made in nearby Scotland. "I take pride in what I do," he says with a laugh.
Egan also hinted that Red Bush won't be the last new bottle that Bushmills plans to roll out.
"Hopefully, this is just the start. There's gonna be a whole range of high-end, niche, targeted whiskies in the future. I think you'll see a lot more activity from Bushmills. We have a lot of things maturing in barrels."
Red Bush by Bushmills will be available beginning this month at bars and liquor stores nationwide.