The Fall of Lenny Dykstra Part 2
He won the World Series with the Mets, was a three-time All-Star with the Phillies, and then turned himself into a multimillionaire and financial guru. But it all fell apart in a pool of debt and drugs. How did the grittiest player in baseball end up bankrupt, friendless, and rotting in jail?
He won the World Series with the Mets, was a three-time All-Star with the Phillies, and then turned himself into a multimillionaire and financial guru. But it all fell apart in a pool of debt and drugs. How did the grittiest player in baseball end up bankrupt, friendless, and rotting in jail?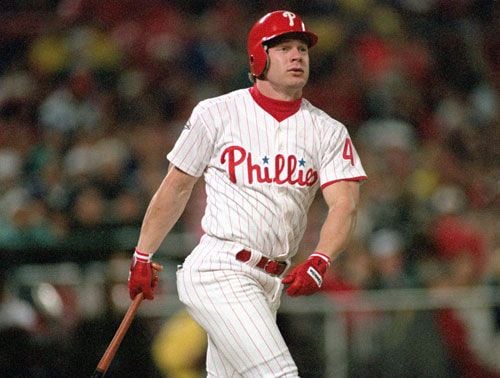 Was Lenny Dykstra right, or was Lenny Dykstra paranoid?


That's the $100 million question, the one that, five years later, remains unanswered.


Back when the car washes were rolling and business was booming and life couldn't possibly be much better, Lenny Dykstra made certain all his relatives had jobs. Both brothers, Brian and Kevin, worked at the car washes, as did Wayne Neilsen, his mother's brother. Lenny treated his family members to Las Vegas vacations, pricey meals, and all-night parties. "Family was really important to Lenny," says Brian, who was a manager of the Corona-based facility. "He wanted to have people around him whom he trusted."


In 2006, however, something in Dykstra snapped. He turned increasingly paranoid and, some say, delusional. He became convinced that Kevin and Wayne were stealing from him (charges both men vehemently deny) and fired both. Employees came and went like the wind. Having undergone treatment for alcoholism in 1999, Dykstra insisted to people that he was clean. According to many who know him, however, this was a lie. "He was definitely using drugs—that was no secret," says Brian. "I'm not sure exactly what stuff was entering his body when. But he wasn't clean. I mean, I even know who was getting him his pills."


In March 2006, Dykstra hired Van Kalsbeek as his new accountant. A 49-year-old mother of three, she had spent most of her adult life self-employed, helping people learn accounting software. She knew little of Dykstra other than that he was a supposed financial savant with a Midas touch. "And he was," she says. "Lenny was very good at making money."


With one giant problem: Lenny was even better at spending money. "He wanted to know, on a daily basis, how much money the car washes were bringing in," says Van Kalsbeek. "But he didn't pay attention to the amount he was spending, and Lenny only wanted the best. If he was installing marble floors, and there were two samples, and both samples looked exactly the same, without fail he'd pick the more expensive one. Just because it was more expensive."


Finally Dykstra decided he wanted out. In 2006 he sold his North Corona car wash for $11 million, then a year later peddled the two remaining car washes to seven partners for $43 million. "Lenny had debts, so about $20 million went to paying off loans," Van Kalsbeek says. "But he still made millions."



In other words, Dykstra was set. He had more than $4 million invested; owned a breathtaking 9,000-square-foot home on the first fairway of the exclusive Sherwood Country Club (estimated value: $5.4 million); had a fancy car (a $160,000 Maybach), a loving wife (Terri , whom he met in Jackson, Mississippi during his days in the minors), and two kids—Cutter, 22, and Luke, 16. "Anyone else in the world would have been thrilled," says Brian Dykstra. "But Lenny doesn't know what it is to say, 'I have enough.'¿"


That's because, as far as Dykstra was concerned, he didn't have enough. Although the house he and Terri shared was large enough to board an extended family of elephants, it paled in comparison to the mansion located some 500 yards away—the one owned by Wayne Gretzky. The one that was, in 2007, on the market for $17.5 million.


In August 2007, Dykstra became the owner of the 12,000-plus-square-foot Gretzky estate, complete with a tennis court, three outside guesthouses, and an enormous pool. His monthly payments would be $120,000. "Money," Van Kalsbeek says, "that he didn't really have." Shortly thereafter, Dykstra spent $2 million on a Gulfstream jet and unloaded another $500,000 on upgrades to have the inside of the plane look identical to the interior of his Maybach—drapes and all. "It was breathtaking," says Van Kalsbeek. "But really unwise. The whole jet thing was a bad idea. Lenny's justification was that he flew so much for business, it was a worthy expense. But it wasn't. It was just crazy."
Van Kalsbeek says she warned her boss that he was spending too much. Dykstra, however, didn't see it that way. He was in possession of an idea, after all, that would make him, in his words, "a billionaire." In 2008, at a time when nobody in his right mind would start up a print magazine, Dykstra started a print magazine titled The Players Club. Dykstra's vision was to produce a monthly publication catering specifically to the wants and needs of professional athletes. It would feature investment strategies, high-priced toys, home and automobile tips, luxury vacations—everything geared toward the rich and famous.


And here's the odd thing: Like the car washes, it was a brilliant concept.


"The idea itself was great," says Kevin Coughlin, the magazine's director of photography. "You were guaranteed a circulation of millionaires because it would go straight into the locker rooms of Major League Baseball, the NBA, the NFL, the NHL, tennis, golf… I mean, it had the potential to be huge. Bigger than huge."


But Dykstra faced two major problems: Although the magazine's tag line was "Keep Living the Dream," Dykstra was running out of money to live the dream. And he hadn't the remotest idea how to run a magazine.


The first Players Club, featuring Derek Jeter on the cover, came out on April 1, 2008. Yet while his staff viewed the magazine as an editorial opportunity, Dykstra seemed to see it, first and foremost, as a chance to prove how successful he was. Each issue began with an Ode to Lenny column (ghost­written for the grammatically challenged Dykstra by a staffer), and Dykstra insisted the publication be based out of an office at 245 Park Avenue in Manhattan—the same building that housed Major League Baseball. "The rent was about $17,000 per month," says Van Kalsbeek. "Way too high. But he loved the status."


By this point Dykstra's behavior was more erratic than ever. He used the Gretzky house and the plane to secure multiple loans and began crossing the line from merely unethical to, well, criminal. Dykstra borrowed credit cards and money from seemingly everyone—his employees, Van Kalsbeek, his mother—always with unfulfilled promises of great reward. "I never actually loaned Lenny a credit card," says Chris Frankie, a senior editor at the magazine. "But I still wound up with credit card charges related to Lenny."


Dykstra had high expectations for the magazine and placed unrealistic demands on his employees. Based out of California, he would call his New York staff at all hours of the night, screaming, babbling, yelling. With the help, Van Kalsbeek says, of Adderall, he could stay up for days on end, never sleeping, never resting.


A victim of poor leadership, a poor economy, and mediocre ad sales, The Players Club died in the winter of 2008, after a mere seven issues, and by the time Van Kalsbeek brought home the black duffel bag a year later, Dykstra was in ruins. His wife had filed for divorce, and Lenny—a nondrinker since 1999—again regularly imbibed. That, coupled with his alleged drug use, rendered him a stumbling, mumbling Xerox of his former self. "He's not the same guy," says Brian. "Not even close."


Dykstra filed for Chapter 11 bankruptcy, listing less than $50,000 in assets against $10 million to $50 million in liabilities. In the fall of 2009, the case was converted to a Chapter 7 bankruptcy to liquidate the estate and pay creditors. The mansion—gone. The Maybach—gone. The jet—gone. His 1986 World Series ring—gone, auctioned off for $56,762. More than two dozen lawsuits have been filed against Dykstra, most still pending. He spent one week in jail earlier this year on embezzlement charges, then fell into the insane orbit of Charlie Sheen, whom the former ballplayer befriended during alcohol rehab back in the day. (Rumors that Sheen bailed his fellow warlock out of jail proved false, however.) He has since been accused of —but not charged with—stiffing a female escort with a bad check, sexually assaulting a housekeeper, and charged with exposing himself to women he met through Craigslist job listings. (Dykstra denies the charges.) "But at least he wasn't going to jail [for a lengthy stay]," says Brian. "Somehow he managed to avoid that."


Not quite. As he sits in his cell, Dykstra's bail is set at $455,000—a staggering amount for a man accused of drug possession and automobile theft. (The latest alleged mis­deed is a particularly odd one: According to prosecutors, Dykstra and two other men ran a scheme to lease high-end automobiles from dealerships using phony information and claiming credit through a fictitious business.) But with Lenny Dykstra, nothing is as simple as it seems.


"He never admits he's wrong," says Van Kalsbeek, who despite Dykstra's record remains strangely loyal. "Lenny can be a wonderful man, but that's a big flaw. He's in jail right now, but I'm sure he's not looking inward or feeling responsible. That's not in his nature." Van Kalsbeek pauses.


"That's not," she says, "the way Lenny Dykstra operates."

Back to Part I.