'Starship Troopers' Is Being Remade, And Here's What You Should Know
The '90s sci-fi hit is being completely reimagined…
When it hit theaters in 1997, Paul Verhoeven's Starship Troopers didn't knock the socks off critics, and viewers weren't that passionate either. However, the movie—based on Robert Heinlein's 1959 novel of the same title—eventually became a true cult hit with the help of DVD distribution, one that spawned a cottage industry of direct-to-DVD followups. 
By 2011 there was talk in Hollywood of bringing back the original, but The Hollywood Reporter indicates that reboot is only truly getting off the ground now:
Columbia Pictures is rebooting Starship Troopers, the 1997 sci-fi film directed by Paul Verhoeven.

The studio has tapped Mark Swift and Damian Shannon, the writing duo behind the upcoming Baywatch movie, to pen the script for a new theatrical feature film that would relaunch a potential franchise.
Even better, THR reports Fast & Furious producer Neal H. Moritz will team with Toby Jaffe to make this happen. The pair last worked together on the 2012 Colin Farrell remake of Total Recall, which didn't set US box offices on fire but did just fine overseas. 
Paul Verhoeven's Troopers, starring Casper Van Dien, Denise Richards, Neil Patrick Harris, and Jake Busey,  was a strange hybrid film with an unsettling blend of sex, humor and total alien bug destruction at every turn. All of this was wrapped in an unsettling World War II-era fascist propaganda film vibe. THR reports that writers Swift and Shannon will ignore the original script and go back to the original Heinlein novel for the reboot. 
So we're not likely to get any exact remakes of the shower scenes or shot-for-shot human versus bug battles.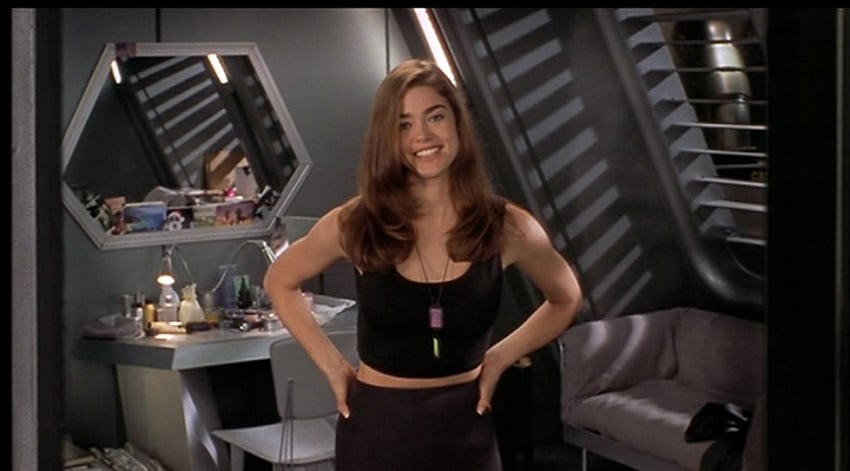 If they can come up with another role like Denise Richards's Carmen Ibanez, we'll take whatever they've got.