Why Lewis Hamilton Is More Than Just the Greatest Formula 1 Driver Ever
The Formula 1 icon is finding new gears in fashion, music and business.
What started as a Formula 1 race ended as a lovefest. At the British Grand Prix on the famous Silverstone circuit, Lewis Hamilton, England's best driver, led flag-to-flag over a rain-splotched course that turned the surface into a skating rink. Within 10 laps of the soggy start, though, Hamilton had gained a five-second advantage—an eternity in F1—leaving rivals in the rearview of his rooster-tailing Mercedes W07 Hybrid Silver Arrow.
The 37-year-old champion from the south of England demonstrated once again why he is the top race car driver in the world. "It was a pretty unreal weekend," he tells me on his ride back to London from a meeting at Mercedes team headquarters in the Northamptonshire countryside. "Very tricky conditions, and it was the biggest race of the year for me. Pressure was as high as it can be: huge. I needed to perform at my best."
Hamilton is a seven-time Formula 1 world champion who, for the past eight seasons, has driven for the Mercedes AMG Petronas team. The FI circuit consists of 21 races worldwide, from Baku, Azerbaijan, to Austin, Texas, including such legendary courses as Monte Carlo, Monza, Italy, and Spa-Francorchamps in Belgium but also races in Russia, Canada, China, Singapore, Australia and Brazil. 
F1 is auto racing's most popular circuit, featuring the most sophisticated cars, technology and fan appeal— the cultured European cousin to NASCAR's fender-banging, paint-trading Americans. F1's cars, not to mention its drivers, are exquisite, expensive and glamorous.
And there are few more glamorous F1 stars than Hamilton. Sponsored by Hugo Boss and Puma, and the new global spokesperson for L'Oréal Men, he's already a familiar figure at runway shows. "I'm doing a lot of fashion events. I like designing, creating things," he says, hinting at what could someday become a post-racing career.
Hamilton has always been multitalented, equally at home behind his Bösendorfer grand piano as he is a 900-horsepower F1 Mercedes. He plays guitar, too, and has written songs, and he hangs out with Kanye, Justin Bieber and Drake. "Music is what I love most after racing," he says. If Hamilton played his Bösendorfer as fast as he drives his Silver Arrow, he'd run through Chopin's Minute Waltz in about a second flat.
For the crowd of more than 100,000 at Silverstone, the British Grand Prix became a coronation for the local kid from Stevenage as Britain's reigning sporting champion—and on the same day Andy Murray won Wimbledon.
They had shown him love and support during the race, and now he was going to give it back. Usually, he would head for the podium and spray the crowd with Champagne. This time, he raced down the grandstand steps, walked to the waiting throng and shouted, "I'm going to come jump on top of you guys, so let's go!" They lifted him up and he crowd-surfed among his faithful, drenched in the noise and adulation.
"I grew up in a small town in the U.K. and always wanted to be a racing driver," he says. "I hadn't even thought about what would come along, that fans would support you. I wanted to say, 'I love you' and I appreciate that they are all from where I came from. The energy was electrifying."
That win brought Hamilton within a point of first place in the F1 standings, just behind his teammate Nico Rosberg, although teammate is a relative term. The only thing Hamilton wanted to lose at Silverstone was Rosberg, then the F1 leader and his biggest rival. Rosberg, the son of F1 legend Keke Rosberg, is known as a cool, technical driving machine. But the German nevertheless tried to run Hamilton off the road twice this year, even wrecking his own car in the Austrian Grand Prix in an unsuccessful attempt to deny the podium to the Englishman.
In Monte Carlo, Rosberg started ahead of Hamilton and blocked him for most of the race until ordered by Mercedes team boss Toto Wol to get the hell out of the way. Hamilton made the pass in short order. "He has a tremendous ability to feel the car as it moves around and correct with minute moves of the steering wheel," says former F1 driver and current NBC racing analyst David Hobbs. "He's blessed with a sort of subconscious ability. It's just in there."
Hamilton has been single-mindedly focused on racing since grade school. He showed an early aptitude for radio-controlled cars. But when he was eight, his father, who immigrated to England from Grenada, scraped together enough money to buy Lewis a beat-up kart racer. "It was something for us to do together," says Hamilton. "And I was really good at it."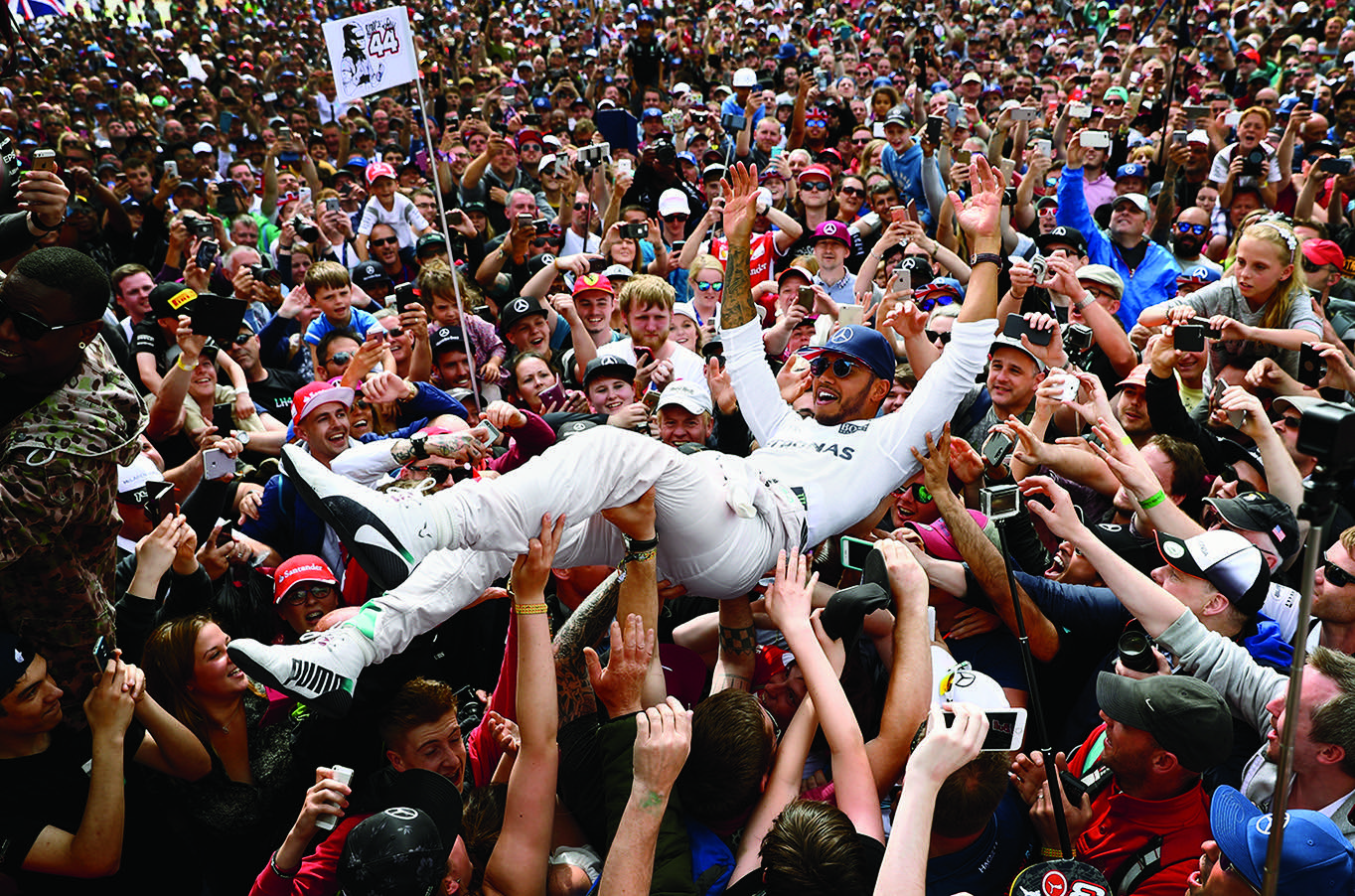 That's not quite right. He was great at it. Hamilton roared up racing's learning curve, winning championships from the get-go and beating more experienced kids (including Rosberg), who had better equipment. With his dad working a couple of jobs, he was able to move into better vehicles. When he won his age group's British championship as a nine-year-old, the head of McLaren, Ron Dennis, was on hand to award the trophy. "Hi. I'm Lewis Hamilton. I won the British Championship, and one day I want to be racing your cars," Hamilton informed him. Dennis kept an eye on the kid, and when Hamilton turned 13, Dennis made him part of the McLaren stable.
The teenager quickly dropped it into gear, winning early and often in ever more advanced competitions. He won at F3, a minor-league circuit, and he won in 2006 in his first year at the all-important Grand Prix 2 circuit, the undercard and stepping-stone to F1. In fact, he won the GP2 championship easily.
The next year McLaren moved him up to the ultimate show, F1, where as a rookie he was expected to be buried by more experienced pilots. Yet he nearly won the world's top circuit in his first year, losing the championship to Kimi Räikkönen by a single point and outshining his more famous, two-time-champion teammate, Fernando Alonso. "Everyone expected Lewis to flounder," says Hobbs. "As the season progressed it became clear that he was just as quick, if not quicker, than Alonso."
And, it turned out, quicker than everyone else. In his second year, Hamilton won the championship and, in the process, demonstrated some prodigious driving feats. In his second F1 appearance at Silverstone in 2008, he nearly lapped the field on the 3.2-mile race course—an astounding result. In F1, with its winged racers generating enormous downforce and brakes that can slow cars from 200 to 90 mph in 100 yards, it's extremely difficult to pass anyone. Hamilton is a killer passer. "When it comes to overtaking, he's brilliant," says Hobbs. "It's another thing you can't teach. You've got to know what you're doing. And get your balls up."
While Hamilton has always demonstrated plenty of guts, it's his gear-head brain that's often overlooked. "I don't have an engineering degree," he says, "but I have earned a degree in engineering through my experience." In F1, unlike NASCAR, the pilot has a huge amount of information at his fingertips—literally, on the steering wheel—about how the car is performing: the tires, the suspension, the fuel mixture, the torque pedal map.
Hamilton is capable, in communicating with his team, of making the subtlest of adjustments to coax more out of his vehicle. And not just on race day. He spends days at a time at the Mercedes factory tinkering alongside the team. "Understanding the tools to set my car up better than the guy next to me—that's also what enables me to gain the advantage," he says. "And I don't seem to get the credit for that. They think that I drive by the seat of my pants."
As successful a racer as he is, Hamilton is the kind of guy who is going to make a mark in whatever he does beyond the track—and he's got plenty of ambition in the garage, ready for when that time comes. Already keenly focused on design elements, he's created a customized motorcycle for Italy's MV Augusta.
He is, no surprise, an adrenaline junkie who also loves rock climbing and waterskiing. And he plans to create a variety of custom vehicles for Mercedes. But he's even more drawn to fashion and music. "At the moment, I'm focusing on my own fashion and hoping to do something," he says, just before flying to Zurich for yet another sponsor event. "I'm inspired by what Kanye does."
Hamilton plans to do what he does, win auto races, for another five years and then "leave the sport for good and do something completely different, whether in fashion or in another business," he says. "That's my ultimate goal, but I haven't figured it out." He's encouraged by the ability of superstars such as Magic Johnson and Michael Jordan to translate their athletic prowess into entrepreneurial success.
The first order of business, though, is snatching the F1 championship from his Mercedes frenemy, Rosberg. The German won the first four F1 races this season as Hamilton was dogged by breakdowns, including one maddeningly frustrating moment that left him frantically trying to analyze his wonky engine while driving at 200 mph. Hamilton faces penalties on the starting grid if he has to go to backup engine elements.
There are six races this fall, including the season ender in Abu Dhabi. Next month's showdown at the U.S. Grand Prix in Austin figures to be pivotal. And with 25 points to the winner of each race and 18 points for second place, runner-up is truly first loser. "Winning the title is going to take more performances like Silverstone," he says. "Consistency, confidence, no mistakes and out- and-out focus."
Which means it's pretty much going to look a lot like Lewis Hamilton.