First Look at 'Peaky Blinders' Star Cillian Murphy as Atomic Bomb Inventor in Christopher Nolan's 'Oppenheimer'
The $100 million movie about the physicist behind the atomic bomb co-stars Matt Damon, Robert Downey Jr., Emily Blunt and Kenneth Branagh.
Cillian Murphy is J. Robert Oppenheimer in the first photo from director Christopher Nolan's Oppenheimer–$100 million epic focused on the famed physicist credited with developing the Word War II atomic bombs that the U.S. dropped on Hiroshima and Nagasaki.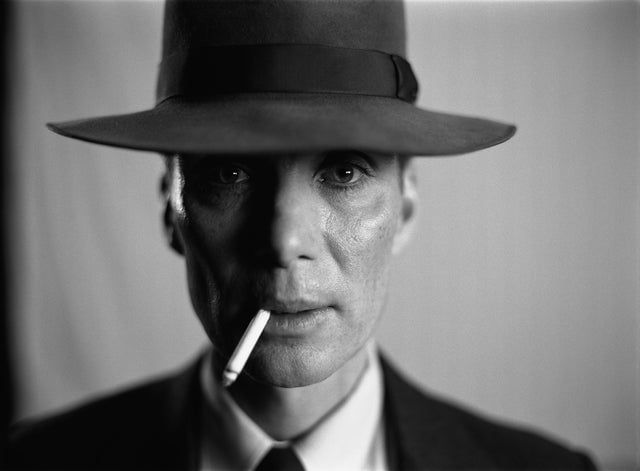 Murphy, the already-slender Peaky Blinders star, appears borderline frail with a cigarette dangling from his lips in a moody black-and-white photo. The real-life Oppenheimer was a lifelong chain smoker who died of throat cancer in 1967.
Alongside the movie's first pic of Murphy, Universal Pictures announced Kenneth Branagh as an unspecified cast member. The Irish actor/director recently received Oscar nominations for directing, producing and writing Belfast and starred in Death on the Nile. Oppenheimer marks the third collaboration between Branagh and Nolan, following Dunkirk and Tenet.
Variety has more details here on Oppenheimer's plot and star-studded cast:

Oppenheimer stars Emily Blunt as biologist and botanist Katherine "Kitty" Oppenheimer, Matt Damon as Gen. Leslie Groves Jr., director of the Manhattan Project, and Robert Downey, Jr. as Lewis Strauss, a founding commissioner of the U.S. Atomic Energy Commission. Florence Pugh plays psychiatrist Jean Tatlock, Benny Safdie plays theoretical physicist Edward Teller, Michael Angarano plays Robert Serber and Josh Hartnett plays pioneering American nuclear scientist Ernest Lawrence.

Oppenheimer also stars Rami Malek, Dane DeHaan, Dylan Arnold , David Krumholtz, Alden Ehrenreich and Matthew Modine. Nolan likes to use a stock company of actors, with not only Branagh, but Murphy, Damon and Modine serving as return collaborators.
Oppenheimer is based on the Pulitzer Prize-winning book American Prometheus: The Triumph and Tragedy of J. Robert Oppenheimer by Kai Bird and the late Martin J. Sherwin. The movie is scheduled to arrive in theaters on July 21, 2023.