Watch the First Trailer For HBO's Absolutely Epic André the Giant Documentary
"He was a God."
Wrestling underwent a sea change in the late 1980s. It began throwing off its shabby cloak and acquired a slick, show business gloss — it jumped out of raucous local arenas and onto the national TV. 
If there was one wrestling legend who managed to easily bridge the invisible boundary between those eras, it was 7'4″ André René Roussimoff, a.k.a. André the Giant. Naturally, he's worth the documentary treatment he'll receive in André the Giant, teased above. 
André had charisma to match his size, and I can tell you from personal experience that TV never truly captured the experience of watching him stride into an arena. His size and presence were almost supernatural, as if he was some kind of mythical creature.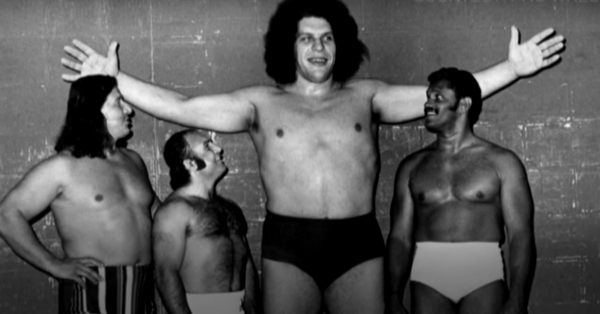 Legend that he was, it's only natural that HBO Sports, the WWE, and the Bill Simmons Media Group got together to make this documentary about "one of wrestling's most beloved characters." 
The tease isn't that long, but it begins with a voice stating that the Giant "was a god." And in what he did, that wasn't far from the truth.
André the Giant premieres on HBO in spring, 2018. 
[FTW]