Floyd Mayweather Hints He May Be Ready For a Comeback
Retirement with his fine cars and pet tiger must be boring.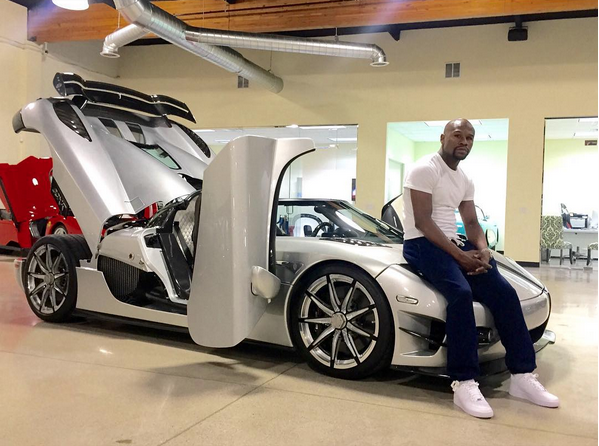 Great boxers rarely seem very comfortable in retirement. Which is odd when we're talking about athletes whose job involves getting their heads pounded nearly as often as they do the pounding themselves. But like Sugar Ray Leonard and Evander Holyfield, Floyd Mayweather has recently hinted that he may still have a few rounds left in him after all. 
In a Saturday Showtime interview reported by ESPN, Mayweather seemed to contradict himself, stating that he was happy in retirement but indicating he'd discussed a comeback with broadcasters such as CBS:
"Everyone is asking me, 'Is Floyd Mayweather coming back?'" Mayweather said in Washington, where one of his Mayweather Promotions fighters, super middleweight titleholder Badou Jack, fought to a majority draw against Lucian Bute at the DC Armory. "Right now, I'm happy being on this side, but I've been talking with CBS and Showtime, and you just never know. But right now, I'm just happy on this side."
Pressed as to what could lead him to putting the gloves on again, Mayweather indicated it was all about the money, honey. He said "some crazy numbers" had been mentioned by broadcasters. "[Upwards], of course, of nine figures," said the boxer.
Still, big money aside, Mayweather was far from convinced. "But right now," he told Showtime, "I'm really happy being on this side helping our fighters."
Mayweather retired with a 49-0 record, and — as ESPN noted — he's been pretty firm up to this point on staying out of the ring. This marked the first time he's wavered even a little on the subject. 
We're just saying: Nine figures worth of comeback money could buy  lot of new pet tigers.
h/t ESPN