These Freaky Fan Theories Expertly Connect Stephen King's 'IT' to 'Stranger Things'
This is scary.
Netflix/New Line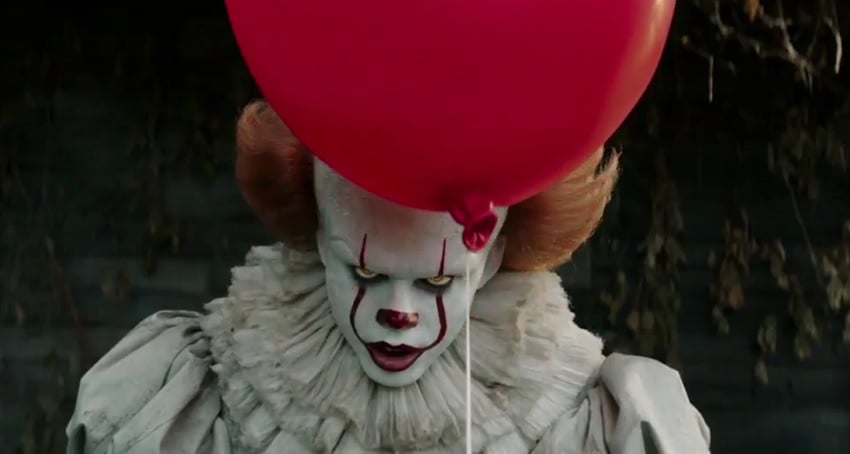 It's not a secret to anyone devoted to Netflix mega-hit Stranger Things (seasons 1 and 2) that the retro '80s-style horror series owes a huge debt to Stephen King. 
Hell, King himself is totally aware of it, and it pleases him.
Watching STRANGER THINGS is looking watching Steve King's Greatest Hits. I mean that in a good way.

— Stephen King (@StephenKing) July 17, 2016
Uproxx's Hitfix points out to anyone who hasn't noticed, however, that season 2 of Stranger Things just straight-up owns the King connection. And naturally—given the structural similarities between the show and the novel—the tie-in is clearly to Stephen King's IT.
If you're among the millions who flocked to see the new, well-reviewed movie version of IT, you know it's the tale of a group of kids who call themselves the Losers fighting an unearthly evil clown named Pennywise in the fictional town of Derry, Maine. 
Already the ways Stranger Things creators the Duffer brothers have boldly imitated the master are obvious. The whole series is about a group of semi-outcast kids in a smallish town battling nameless evil from beyond. 
This all could've been chalked up to the Netflix show being an homage, but with Sean Astin's nerdy hero Bob Newby, Stranger Things explicitly tied itself to Pennywise. It's called a fan theory, but it's so blatant it feels like fact. Tweets from—and in reply to—a Things-themed Twitter account explain.
The novel IT occurs in the 1950s. And the way Bob Newby describes defeating the evil clown in his dreams—by saying he's not afraid—is precisely the way the Losers in IT defeat Pennywise. 
Not convinced yet?
Then there's the fact that the Duffer brothers have pretty much owned the influence King and IT in particular had on them. From Hitfix:
"That's probably the biggest," Ross [Duffer] explained, "I think just because we're the age of those characters when we're reading it, so it's not that his other books aren't amazing, they were." But, Matt continued, "That made probably the biggest impact on us." It's easy to imagine Will, Dustin, Mike, Lucas, Max, and Eleven forming a Losers Club, and not just because the actor who plays Mike (the wonderfully-named Finn Wolfhard) is also in It.
Cue dancing Pennywise.
https://twitter.com/PPENNYWISEDANCE/status/924671359917154305
Of course no one in Stranger Things' Hawkins, Indiana, ever floats unless Eleven, the mysterious girl at the center of the story, uses her telekinetic powers to pick them up. And the IT-like advice Bob gives Will Byers (Noah Schnapp) doesn't exactly work the way Bob hoped it might.
Hell, next the Duffers should just collaborate with King. We have no doubt some epically scary shit would ensue.