From Cocktails to Cockfights, Here's How To Have a Wild Weekend in San Juan
Puerto Rico's crown jewel has never been hotter.
San Juan has something for just about everyone. Puerto Rico's steamy island capital boasts beautiful beaches and sultry hotel pools, lush rainforests and stunning bioluminescent bays, vibrant nightlife and old-timey tradition…not to mention some excellent rum (75 percent of the stuff we drink in the U.S. comes from Puerto Rico) and, of course, that starchy, garlicky delicacy known as mofongo.

San Juan may no longer possess the same dangerous allure that Hunter S. Thompson chronicled in The Rum Diaries, but this port city's enduring tropical appeal has never really waned among tourists and troublemakers alike. It's favored by the fanny-packed cruise ship set who stroll the cobblestoned streets of Old San Juan (home of the world's first Piña Colada) just as much as the stylish locals sipping craft cocktails at chic nightspots.

Here's some tips for a fun-filled weekend in Puerto Rico's crown jewel:
Stay:
https://www.instagram.com/p/BT1pYqbFTeI
It may no longer have a casino, but the recently relaunched El San Juan Hotel is still a solid bet for a weekend stay. It's a one-stop shop with 15 bars, nine restaurants and a nightclub, though its gambling tables were jettisoned when the venerable hotel got a makeover earlier this year due to financial pressures on the local gaming industry.  
https://www.instagram.com/p/BR7Q4Behlec
The El San Juan still boasts an impressively retro cool vibe befitting the Rat Pack-era roots of a spot that once hosted gigs by Frank Sinatra, Sammy Davis Jr. and Liza Minnelli. A massive crystal chandelier hangs over the main lobby bar lined with smartly dressed locals bending elbows alongside sunburned tourists as a house band slinks through Nancy Sinatra's "Bang Bang" in between salsa standards. For kicking off (or winding down) a night out in San Juan, you really can't go wrong here.
https://www.instagram.com/p/BUUsC9plNXc
But the real appeal of the El San Juan is that it's situated on Isla Verde Beach, a two-mile stretch of pristine sand that was anointed the Best Urban Beach in America by USA Today. Guests also chill out at the property's four pools, where bikini beauties sip cocktails and order snacks as piped-in beats tastefully set the mood. 
The newly relaunched El San Juan Beach Club offers luxe cabanas with VIP bottle service, WiFi, flatscreens, minibars and even safes, so you can heedlessly day-drink without worry. Book a suite with a beach view, and if gambling is a must, the tables at the Ritz-Carlton are just a short walk away, ya degenerate. 
Do:
https://www.instagram.com/p/2Za0RGiPRd
Make like a tourist and "hike" the paved trail that winds through El Yunque National Rainforest, even if it's just to inhale some gloriously fresh air, splash around in waterfalls and hear the unmistakable call of the island's everpresent Coqui frog. 
Take a nighttime kayak tour of one of Puerto Rico's bioluminescent bays, where you paddle through narrow mangroves into a body of water twinkling with glowing plankton in Laguna Grande. Or book a day trip to Vieques, where you can hit the beach and go snorkeling with sea turtles, starfish, manta rays and all manner of tropical fish, as well paddling through Mosquito Bay, that some say is the best and brightest bio-bay in the world. 
If you have the stomach to sit through a a feathery death match or two, hit up Club Gallistico de Puerto Rico, San Juan's undisputed hub of cockfighting. Puerto Rico's controversial national bloodsport has a home in an actual mini-stadium in the Isla Verde neighborhood, less than a five minute walk from the El San Juan. 
For about $12 a ticket, you can swill a local Medalla Light and watch as many cockfights as your bloodthirsty heart desires (which honestly, won't be many unless you're intent on betting on the winners). The fights happen continuously throughout the day on Thursdays and Saturdays during cockfighting season.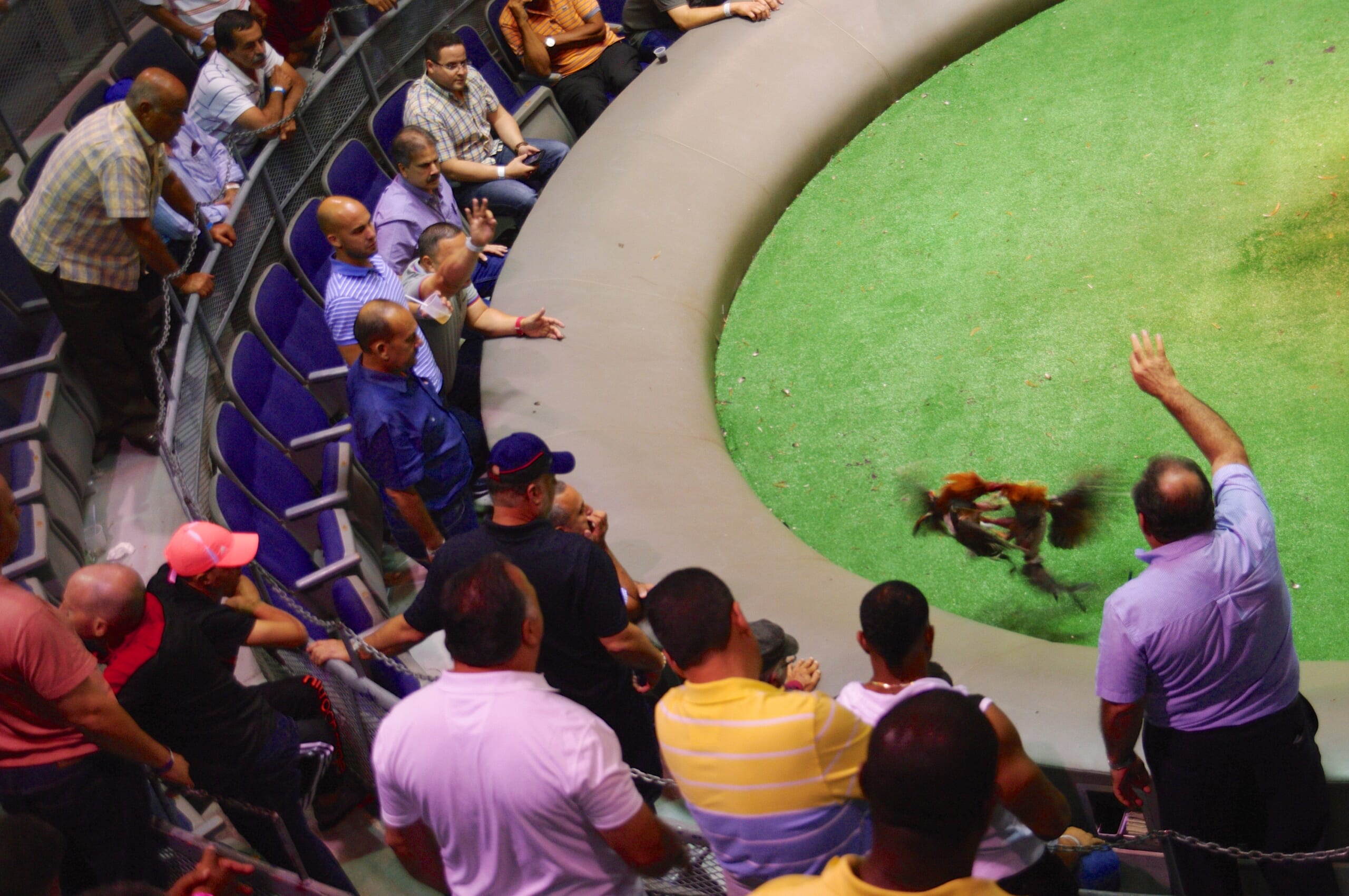 Boxing-style ring girls amp up the screaming crowd of gamblers who bet on either red or blue-tagged roosters in fights that don't last more than a few minutes, and usually don't end well for the loser. It's definitely not for the squeamish, but at least these birds have a fighting chance, unlike that plate of buffalo wings you devoured at the bar the other night. 
Eat/Drink:
https://www.instagram.com/p/BT9vhOgjOu4
Speaking of eating! A single weekend in San Juan wasn't nearly enough time to sample everything worth devouring, but there were definitely some standouts. Santaella is an upscale power lunch spot and dinner destination that's a must for fried whole local red snapper, roast suckling pig, and Spanish octopus, among other winners. Nab a table near the lush, glassed-in tropical garden that dramatically cuts through the dining room.
https://www.instagram.com/p/BTMxnXKAGdD
On your way back from El Yunque, grab a bite at the Luquillo Kiosks in Luquillo Beach, which features a long strip of food stalls dishing out all manner of fried and fatty snacks. My favorite was the "seafood special" at Wepa Arepa, a gloriously deep-fried fist of octopus, shrimp and mofongo topped with ceviche and cilantro and served between two fried plantains. I mean, what more do you really need?


https://www.instagram.com/p/BTuIA3pA5TF
When in Old San Juan, order a beer and a shot of rum at El Batey, an ancient, graffiti-scarred dive bar with a totally respectable rock 'n roll jukebox and a cave-like interior. Skip the Piña Colada at Barrachina, which claims to have poured the world's first version of the demonically popular vacation drink, and now serves tourists mediocre frozen numbers mixed up in an industrial-sized vat. 
Back at the El San Juan, sample the Boricua-centric tapas dishes at the hotel's newest restaurant, Caña By Juliana Gonzalez. (Try the crispy rabbit with sweet pepper sauce and the head-on prawns.) And don't forget to hit local favorite Metropol, right next to the cockfighting stadium, for traditional Puerto Rican/Cuban classics like smoked half-chicken with rice and beans, pork hock and ropa vieja. Let's just say you won't be leaving on an empty stomach.