Give It Up For The Woman Who'll Be Damned If Obama Sees 'Game of Thones' Before You Do
Not so fast, Mr. President.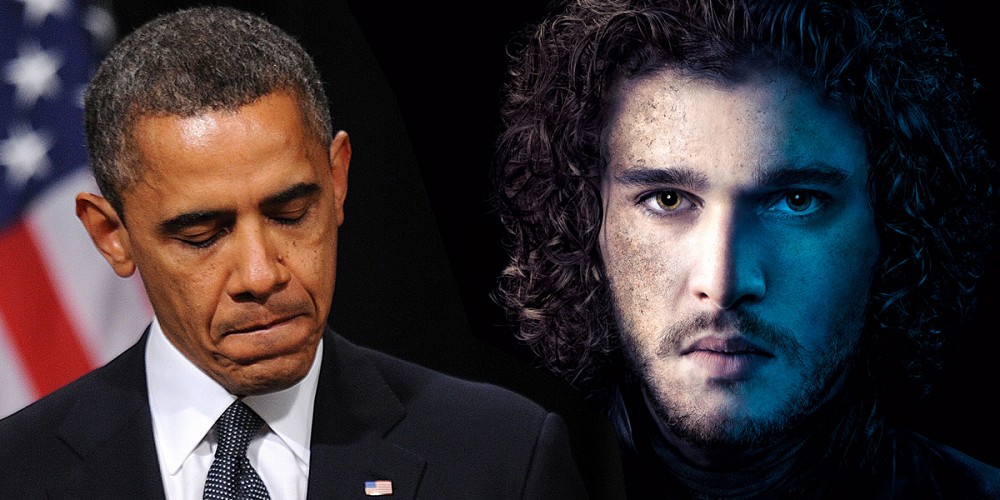 We imagine there are a few perks to being president of the United States, but we didn't expect this. According to Entertainment Weekly, Game of Thones showrunners David Benioff and Dan Weiss confirmed last week that President Obama will see the first episodes of the highly-anticipated sixth season of the show.
"He's the leader of the free world," Weiss told the crowd. "When the commander-in-chief says, 'I want to see advanced episodes,' what are you gonna do?"
That's right: President Obama will know the fate of Jon Snow before you. And that's a load of shit.
Look, being president comes with its own unique constitutional privileges, like Secret Service protection and access to the nuclear launch codes and whatnot. But when it comes to pop culture, nobody gets to cut in line, especially for something like Game of Thones. We've been sitting here waiting for months, poring over every morsel of plot that's trickled out in trailer after trailer, and we'll be damned if President Obama gets to stroll in and binge-watch the first few seasons before the rest of us.

That's where Vanessa Golembewski comes in. The Refinery29 reporter decided that now would be the perfect time to deploy the Freedom of Information Act (FOIA), the legal instrument that compels the federal government to released information or documents under its control. If President Obama has a file or even a DVD (lol) of Game of Thrones season six floating around, the government will have to release it — although Golembewski sees some potential obstacles ahead:
Firstly, I'm not entirely sure where the Game of Thrones screeners fall in the grey area that is personal property of a government figure. Secondly, there's a bunch of red tape around the kinds of things you can request in a FOIA. Okay, fine. There are just nine exemptions — and all of them seem like really fair calls. For example, it's off limits if the information in question would threaten our national security. I felt confident that even with these rules, TV episodes were still fair game.
Here's to you, Vanessa. Even if your FOIA doesn't go through before season six premieres (or at all, because come on), we applaud your use of federal transparency laws to solve this godawful Jon Snow business once and for all.