Check Out This Absolutely Insane 'Game of Thrones' Ice Hotel in Finland
Winter is coming… and it has room service.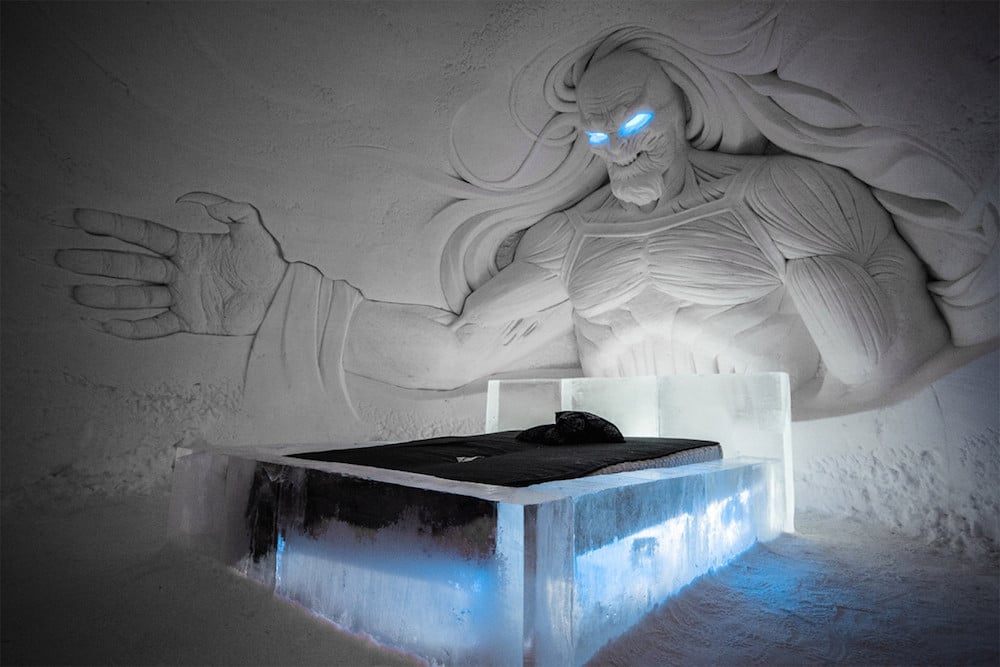 Anyone who wants to live out the Game of Thrones fantasy—but with less bloodshed, incest and Ed Sheeran—should book a flight to Finland… posthaste!
A new ice hotel has opened its frigid doors in Lapland, Finland, and it is inspired by Westeros, the mythical kingdom first envisioned by George R.R. Martin in his A Song of Ice and Fire series.
Born from a partnership between HBO Nordic and Lapland Hotels SnowVillage, the "snow village" is located in the resort Kittilä, which is 125 miles above the Arctic Circle but just a 90 minute drive from Helsinki.
Each of the 24 rooms is designed by "professional ice sculptors from around the world," according to CNN, but only 10 of the rooms are suites for guests.
The designs include recognizable characters and visual motifs from the HBO show. Standouts include a recreation of the "Hall of Faces," an ice Iron Throne guarded by Gregor "The Mountain" Clegane and a giant "white walker" carving, complete with glowing blue eyes.
Do not expect to camp out and proclaim yourself "Khaleesi of the Snow Village." Because temperatures are kept at just 23 degrees Fahrenheit, guests can only stay one night and are provided thermal sleeping bags.
The hotel was opened in December and will remain so until April 30, 2018, when summer eventually wreaks havoc. Rooms start at $200 and are going fast (book here).
But anyone can casually drop in. The entry cost is $17, and guided tours are around $78. Stop by on your way to check out the Northern Lights.
https://www.instagram.com/p/BdxB6h0HlqY