5 Things We Know So Far About HBO's 'Game of Thrones' Prequels
There's a "Blood Moon" on the rise…
HBO/Game of Thrones
Game of Thrones is gone, but definitely not forgotten. HBO is already filming one of the prequels in Northern Ireland, and of course that means set leaks anew. That's why we know the likely name of the series, once assumed to be titled The Long Night. It's alleged real title: Blood Moon.
De acordo com o site Watchers on the Wall esse é o logo oficial do piloto, Blood Moon, do prequel de Game Of Thrones produzido pela HBO. O piloto está sob controle de Jane Goldman e ainda terá que ser aprovado pela HBO para que a série, ou minissérie, possa continuar as gravações pic.twitter.com/ZRX7v4hvd7

— Game Of Thrones Brasil (@br_got) June 28, 2019
Watchers on the Wall, a fan site that passionately tracks all things Thrones, reports that this is the logo for the pilot episode of Blood Moon. That means we may never see it again after that blurry image, or it will be omnipresent once the series is off and running. HBO, after all, could send the pilot episode back to be recast, renamed, or whatever before it makes it to air.
The same site has had some other intriguing glimpses at what's happening with the prequel.
But Blood Moon (or whatever it's ultimately called) isn't the only Thrones-related work in progress. With info collected by Vulture, among others, here's what we know.
1. There Are Up to 5 Shows in Development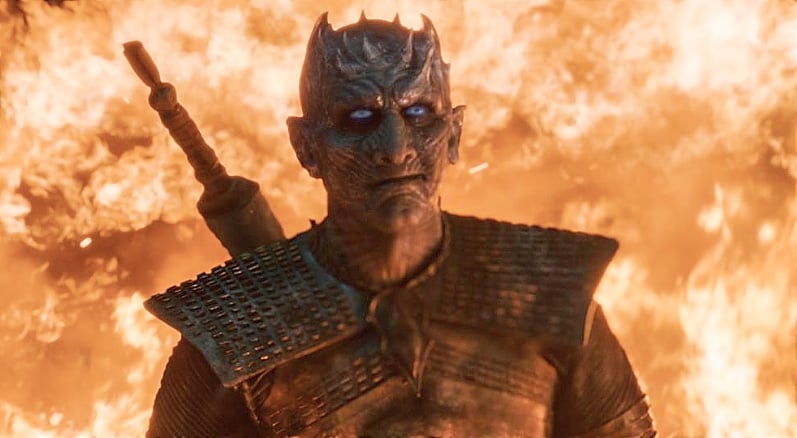 As noted by Vulture, HBO stated in 2017 that there were several "spinoffs" in development, ultimately totaling five. In May 2019 George R.R. Martin elaborated in his blog, writing that three "are still moving forward nicely."
2. Everything is Coming Up Prequels
From Vulture:
George R.R. Martin remains deeply interested in the fictional history of Westeros, and it seems as though all of the television prequels will take place before the events of Thrones. So this is almost certainly the end of the Kingsroad for the show's characters.
This is unlikely to satisfy all fans, but Maisie Williams has many years to hang around waiting for the Arya Stark spinoff she deserves.
3. There Are Plenty of Stories to Go Around
Author George R.R. Martin gets a lot of grief for not finishing the novel series on which Thrones was based, but the truth is, he's been pretty prolific, regardless — as Vulture notes, he's written a series of shorter works, Tales of Dunk and Egg, as well as The World of Ice & Fire, a 2014 history of Westeros. Plenty of rights for the novelist to sign away there, if he hasn't already done so.
4. Many Questions Will Be Answered
We're certain to get answers to dangling mysteries from the just-ended series. Screen Rant published predictions as to what will be revealed, and they include learning a lot more about the creepy and mysterious White Walkers and about the rise of the various houses — Targaryens, Starks, and the rest. 
5. George R.R. Martin Doesn't Like the Word 'Prequels'
Back when the author was hinting the new show would be called The Long Night (that ended up the title of the episode in the final season of Thrones featuring the Battle of Winterfell and the destruction of the White Walkers), he had something to say about the word prequels in his blog:
Internet reports are notoriously unreliable. We have had five different GAME OF THRONES successor shows in development (I mislike the term "spinoffs") at HBO, and three of them are still moving forward nicely. The one I am not supposed to call THE LONG NIGHT will be shooting later this year, and two other shows remain in the script stage, but are edging closer. What are they about? I cannot say.
Martin seems to believe "successor shows" is more precise, and it probably is, but it just doesn't roll off the tongue like "prequels." 
Of course there will be plenty more to come as the Thrones train barrels forward in the future. We're sure there will be tons of sex, blood, and probably dragons to go around.