Jack Daniel's 'Give a Jack' Concert Series Pairs Killer Cocktails With Great Live Music
The 10-show #giveajack concert series combines New York City's coolest live music venues with premium Jack Daniel's cocktails.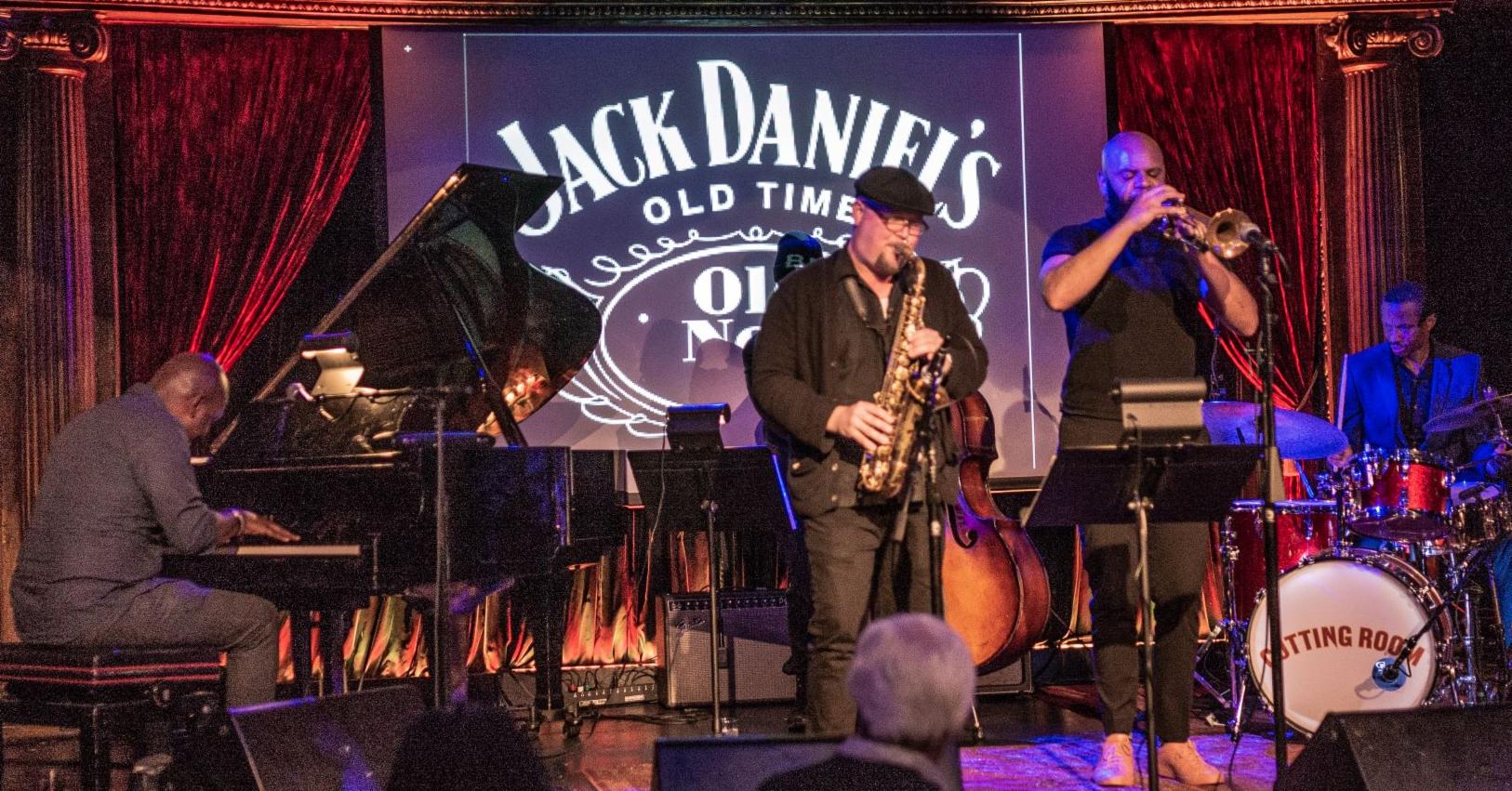 Jeff Moses @tneckjeffmoses
Presented by Jack Daniel's
Jack Daniel's doesn't just boast a storied legacy of making iconic Tennessee whiskey–the beloved brand also has deep and longstanding ties to the music industry. Just think of Jack's Sinatra Select whiskey series, inspired by Ol' Blue Eyes himself, who famously enjoyed drinking Jack on the rocks with Dean Martin and other high-roller Rat Pack pals. Then there's Keith Richards' devoted affection for swilling Jack during the legendarily hedonistic heyday of the Rolling Stones, and Van Halen's Michael Anthony demonstrating his love for Jack by playing a signature Jack Daniels bass onstage. 
Countless classic photos abound of Jimmy Page, Tom Petty, Slash from Guns 'N Roses, Mick Jagger, Ozzy Osbourne and other fun-loving rockers enjoying a sip (or two) of Jack backstage. And don't forget late Mötorhead frontman Lemmy Kilmister, the Jack Daniel's superfan who had such a loyal preference for Jack and Cokes that there was a bootleg Mötorhead tribute version of Single Barrel Select that quickly sold out in 2016. 
For as long as anyone can remember, Jack Daniel's and musicians have blended together better than the ingredients in an expertly-mixed cocktail. Dating all the back to the 1880s, when the Jack Daniel's Silver Cornet Band played tunes like "Amazing Grace," "Tennessee Waltz," and "Dixie" at Jack's two Lynchburg saloons, political rallies and funerals, Jack and music have gone hand in hand.
Jack Daniel's historic musical heritage has continued all the way up to the latest and most innovative musical acts of today. So it comes as no surprise that Jack is capitalizing on its legacy with Give A Jack, a unique fall concert series presented in partnership with New York City performing arts collective LAUNCH. The 10-concert series takes place at some of New York City's best live music venues, and runs through the end of the year. 
In many ways, Jack Daniel's is regarded as music's first independent label, so it makes perfect sense that the brand partnered with LAUNCH to present an original live music experience that encourages artists and fans to share why music is important to them, all while enjoying a specially curated lineup of dynamic, up-and-coming talent and savoring killer cocktails featured at each event. 
On October 29, jazz group The James Poyser Quintet performed the first Give a Jack show at The Cutting Room in New York City. "It's the circle of life," said Poyser of the kickoff event. "Show respect to the music, respect for the craft, respect to each other, and love. It's as simple as that. I don't give a 'Jack' about anything else. Just love."
Lauded acoustic duo Jennifer Hartswick and Nick Cassarino headlined the second show on November 6 with an intimate set at Lola in the East Village, and there's still eight more amazing shows yet to come in the Give a Jack concert series, which seeks to bring fans a unique experience that celebrates the power of community by supporting and showcasing great artists.
In the spirit of community, Give A Jack aims to use live concert settings as an opportunity to heighten concertgoers' sense of self-expression and encourage their voice. Attendees are encouraged to share photos on social media using #giveajack and let Jack Daniel's know why music is important to you, what you care about in your music community, your favorite new artists, best musical memories, and anything else you'd like to share about the power of music and the impact it has on your world.
By joining this conversation, fans also enter for a chance to win tickets, VIP artist experiences and exclusive Jack Daniel's prizes. (Click here to enjoy $5 off your first Drizzly order of Jack Daniel's during the October/November fall season.)
Jack Daniel's Give a Jack partner LAUNCH aims to present music in a bold new way by returning to its core values and how it benefits humanity and the magical shared experience of musicians connecting with a live audience. LAUNCH celebrates, encourages and supports art for art's sake.
For tickets, visit www.giveajack.com and don't forget to follow the concert series on Twitter, Facebook, and Instagram. 
Here's the full list of Give a Jack concert dates in NYC: