The Glenlivet's New Single Cask Collection Is A Rare Treat
If you like fine scotch, get your hands on this limited-edition hooch.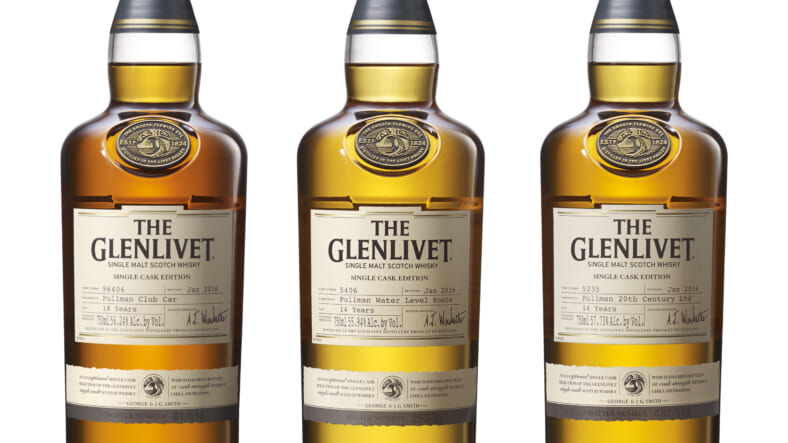 Any single malt worth its peat can put out a lust-worthy limited edition bottling. The Glenlivet, one of the best there is, just came out with three. 
The Single Cask Edition Pullman Train Collection is a homage to the era of luxury train travel as well as a celebration of the iconic distillery's ties to the Pullman Company, which basically invented it in the first place.
The Glenlivet was served in Pullman Club Cars for many years and the distillery's founder George Smith's great grandson personally came to America to negotiate the contracts that first provided it to passengers. 
"It's arguable that The Glenlivet's current success in the U.S. is in large part thanks to the Pullman connection as this made the product available to high-end consumers as well as spread its footprint across the continental United States," The Glenlivet notes.
Founded on "the three pillars of rarity, purity, and uniqueness," the new Single Cask Editions were hand-selected by The Glenlivet's Master Distiller Alan Winchester and bottled at the peak of maturity at cask strength without chill-filtration. 
The three precious whiskies are dubbed the Pullman Club Car, Pullman Twentieth Century Limited, and Pullman Water Level Route. The Collection will be available at selected retailers and on www.caskers.com at a suggested retail price of $349.99 per bottle.
Chosen for their exceptional quality and intense flavor, The Glenlivet Single Cask Edition releases retain the original flavor and character of the rare casks they were drawn from. Only a few hundred bottles were sourced from each cask, making them highly collectable, and sadly some will be stored in private cellars for the foreseeable future. 
So here's to the generous souls who know such things are made to be shared….