'God Of War' Is an Ultra-Addictive Trek Through Norse Mythology
The storied series reaches mind-bending new heights.
Credit: Playstation
Playstation has been hitting it out of the park with their exclusives lately, and Kratos' first outing on the 4K, HDR-enabled PS4 is as heavy on the gameplay as it is on the heartstrings. 
The simply titled God of War picks up with a dejected and isolated Kratos burying a wife and testing his fatherly mettle on a young son who's in desperate need of guidance. Their journey together is a wonderfully deep surprise, especially compared with prior games in the series. It nails emotional beats and conveys Kratos' inner turmoil between a gentleness that was never a part of his own Spartan upbringing and his attempt to instill toughness in a son who will face the brutality of a world he knows all too well. These moments often play out in cutscenes that are graphically dazzling, especially on the powerhouse PS4 Pro. Never have we cared so much for Kratos' story, nor have we ever seen it look this good.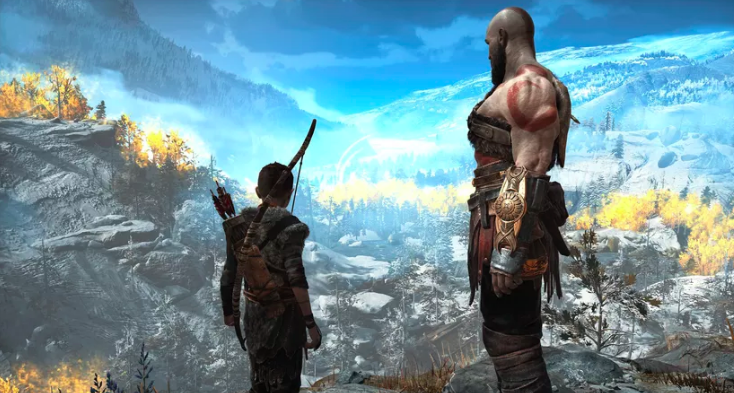 On the other end of God of War is the revamped gameplay and combat systems that are thoroughly evolved from previous God of War games. The stylistic change to an over-the-shoulder camera system makes every encounter feel infinitely more visceral than before. Combat feels genuinely raw here, and the switch between weapons and Kratos' bare hands make for a sufficient spectrum of variety to battling your way to new heights of your journey. There are also some fairly complex opportunities to level Kratos and his gear, done by exploring and collecting innumerable items around the world. 
There's a distinct payoff for properly scouring the environments that often twist and turn you into dead ends, but make up for it by encouraging faster power ups when you do wander off. Still, the fastest way to beef up Kratos is through combat with the many, many enemies, mini-bosses and proper nemeses to our tattooed, immortal hero. God of War marks a new era for a beloved Playstation icon and adds another notch in Sony's belt in terms of excellent console exclusives this generation. God of War joins the ranks of Horizon, Uncharted and Infamous as must-play games that you can only get on Playstation. (Buy)