Gronk's Cleavage and Booty-Filled Music Video Is Definitely the Gronkiest Thing You'll See All Day
BUTT SERIOUSLY.
There's been talk of Patriots Tight End and party monster Rob Gronkowski joining the WWE post-retirement. After all, if you watch him with The Rock, he seems like a natural. 
But in this video for 3LAU's "On My Mind," he demonstrates that in addition to being one of the most legendary football players to ever spike one after scoring for the Patriots, Gronk is a multi-talented man with surprising non-football-related skills. 
He can pick up hot chicks at the bar:
He can function as a sushi serving table for a gorgeous coven of witches or something when necessary:
And he's truly great at washing cars with swimsuit models and looking at their butts.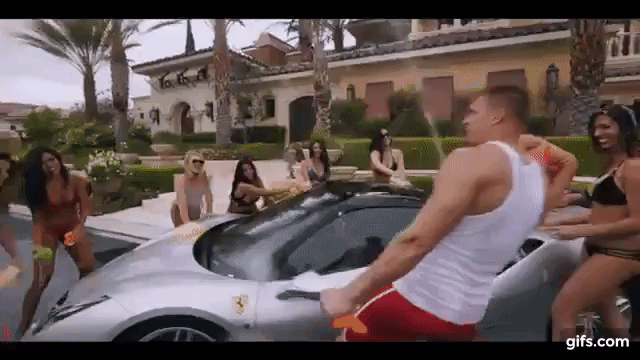 Seriously, though—3LAU is a Vegas-based DJ and it seems like he or whoever casts his music videos has an eye for how to make that shit go viral and maybe even—who knows?—become the song of summer. 
Even though Gronk has achieved his stardom on the snowy New England gridiron, he's totally at home in this sunny setting and also hilarious. 
If we were predicting what's next for the big man, this makes us think Dancing With the Stars. Or another Bachelor Party sequel, who knows? 
Whatever the case, Gronk has a future, regardless. The market for male athlete sushi platters is a small one and dude has it on lockdown.