'Guardians of the Galaxy' Stars Come to Defense of Director Fired for Offensive Tweets
Chris Pratt, Dave Bautista and Zoe Saldana are rallying behind James Gunn.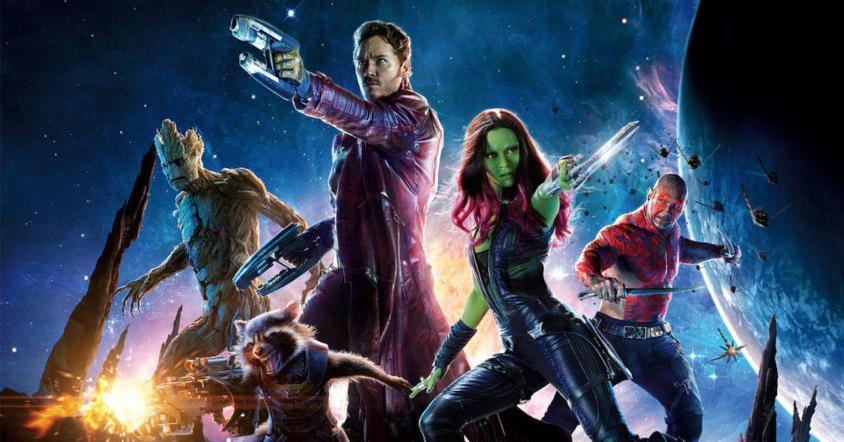 Marvel Studios
There's trouble brewing in the Marvel universe. 
Following Disney's firing of writer-director James Gunn from Guardians of the Galaxy Vol. 3, several of the hit superhero franchise's stars have come forward to support and defend the filmmaker. 
Disney's decision came after several decade-old tweets posted by Gunn resurfaced, the content of which included offensive jokes about rape and pedophilia. Gunn apologized in an official statement: 
"My words of nearly a decade ago were, at the time, totally failed and unfortunate efforts to be provocative. I have regretted them for many years since — not just because they were stupid, not at all funny, wildly insensitive, and certainly not provocative like I had hoped, but also because they don't reflect the person I am today or have been for some time."
Michael Rooker, who played Yondu, announced he was deactivating his Twitter account in a fiery statement. 
"This account will be inactive after today," Rooker wrote in a now-deleted tweet. "We're very tired & upset over the ongoing BULLS–T… neither I nor my rep will use Twitter again. Twitter sucks and I want nothing to do with it. Thank you to all who gave kind words & support. See you on Instagram."
Dave Bautista, who plays Drax, declared that he is "NOT ok" with Gunn's firing. 
I will have more to say but for right now all I will say is this..@JamesGunn is one of the most loving,caring,good natured people I have ever met. He's gentle and kind and cares deeply for people and animals. He's made mistakes. We all have. Im NOT ok with what's happening to him

— Vaxxed AF! #TeamPfizer Poor Kid Chasing Dreams. (@DaveBautista) July 21, 2018
Chris Pratt, who plays Star-Lord, showed support by tweeting a biblical proverb about judgment.
"Understand this, my dear brothers and sisters. Let every person be quick to listen, slow to speak, slow to anger."

JAMES 1:19
🙏♥️

— chris pratt (@prattprattpratt) July 22, 2018
Gamora actress Zoe Saldana and Nebula actress Karen Gillan both declared love for all of their "GOTG family."
It's been a challenging weekend I'm not gonna lie. I'm pausing myself to take everything in before I speak out of term. I just want everyone to know I love ALL members of my GOTG family. Always will.

— Zoe Saldana (@zoesaldana) July 22, 2018
Love to every single member of my GOTG family.

— Karen Gillan (@karengillan) July 23, 2018
Pom Klementieff, who plays Mantis, echoed Saldana and Gillan's sentiment in a video in which she writes a note that reads, "We are Groot. We are a family. We stand together."
Guardians of the Galaxy cast members aren't the only ones who are speaking out. Actress Selma Blair urged fans to sign a petition to bring Gunn back on board in a now-deleted tweet and thanked him for guidance in another. 
@JamesGunn I thank you for your talent, your decency and your evolution as a man. You propped me up when I was in a scary place, and guided me towards the decent and right thing to do. You have shown strength of character more than most anyone I know. You understood https://t.co/9kSf8Z1dP1

— Selma Blair (@SelmaBlair) July 22, 2018
Rick and Morty co-creator Justin Roiland called Gunn's firing "insane." 
This is insane to me. Is this real?! Jesus. Well there goes that R rated jar jar binks movie I've been working on. I QUIT, DISNEY! https://t.co/G9hu4mw3Iq

— Justin Roiland (@JustinRoiland) July 20, 2018
Yeah, I'm getting edjumicated on all this stuff I didn't know. And again, I want to be clear I'm not defending the jokes… shit I didn't even read most of them. It's just the idea of being fired for tweets made many years ago is wild and definitely a sign of the times.

— Justin Roiland (@JustinRoiland) July 20, 2018
But Roiland may have his own controversy to worry about. Dan Harmon, who is also credited as the Adult Swim cartoon's co-creator, recently deleted his Twitter account after a sketch in which his character appears to perform sexual acts on a baby doll surfaced on YouTube.
https://www.youtube.com/watch?v=omLYjlZaZWg
If you're thinking about tweeting a lewd joke, be ready to lose your job… in 2028.