Guinness Celebrates Two Centuries of Dark Beer Dominance With a New 200th Anniversary Export Stout
Here's to 200 more years of great Irish beer.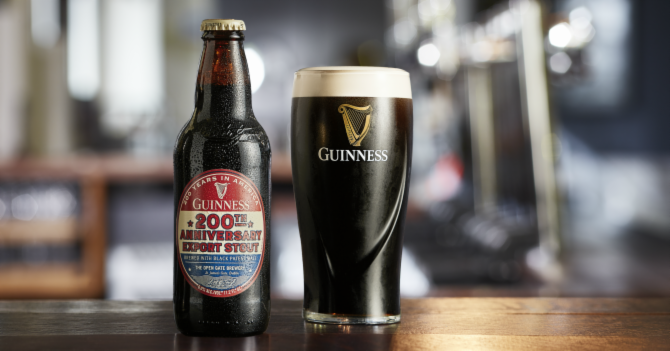 Photo: Guinness
As of this month, the Guinness brewery in Dublin, Ireland, has shipped delicious dark beer to the United States for 200 glorious years. To celebrate, they've created a limited-edition brew that's as rich as their stateside history.  
In the video below, Guinness archivist Eibhlin Colgan and beer specialist Ian Colgan explain what makes the 200th Anniversary Export Stout special. 
"This date of October, 1817 was a very seminal moment in Guinness history," Eibhlin explains. "Not just because it records our first export to the states, but actually lays down the foundations of how we brew Guinness today. 
The addition of black patent malt, a precursor to the roasted barley that gives Guinness Draught its unmistakable bold taste, is a nod to recipes used by ancestral brewers.
"It's the first time we have records of a darker, roasted grain being used."  Ian says. 
A rich flavor that packs a formidable 6 percent ABV makes this ultra-smooth stout one tasty piece of history.
You can pick up a 6-pack of 200th Anniversary Export Stout for $8.99 at your local beer retailer now. 
Here's to 200 more years of great Irish beer. 
h/t: Brewbound