10 Things That Make Hawaii Absolutely Amazing
Here's why the Aloha State is paradise on earth.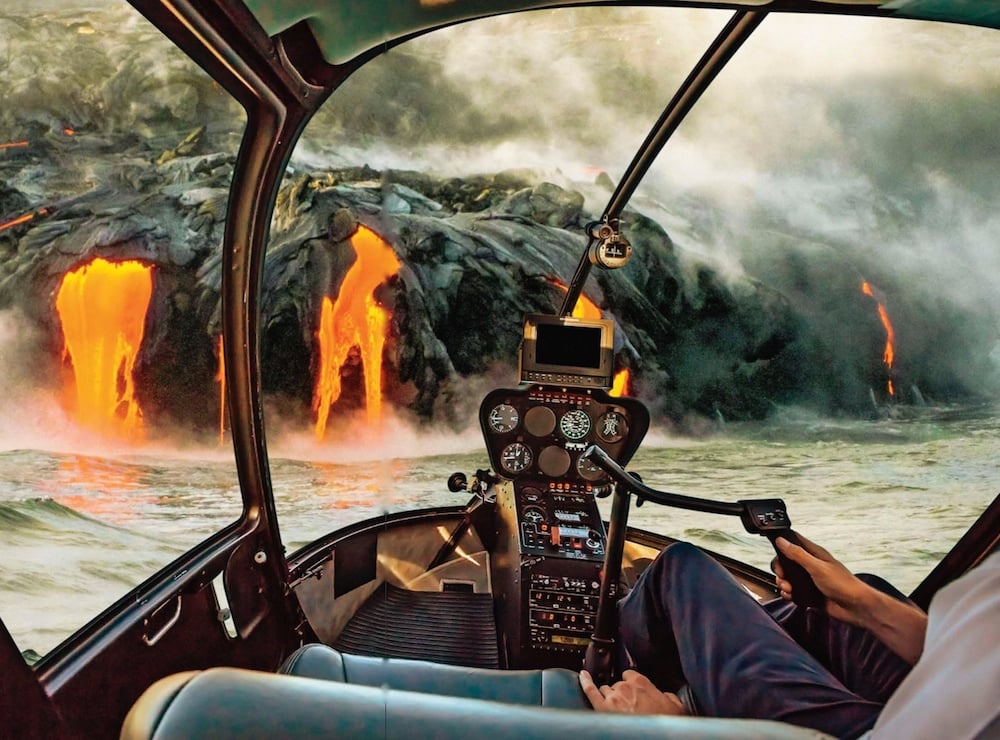 1. Up-Close Views of the Best Big-Wave Riders on the Planet
The surf gods were kind to Hawaii. The 50th state catches deep-water swells that hit the island chain's steep undersea slopes, forming towering waves that attract the world's best surfers.
If those epic breaks sound a little too intimidating to encounter on a board yourself, fear not: Hawaii is also heaven for surf spectating. (Just don't be one of those tourists; locals treasure and revere these waves, so be respectful.) Here are five top spots from which to catch a glimpse of the world's great riders.
Waimea Bay
This break on Oahu's North Shore has been considered the godfather of big-wave surfing since the sport was first filmed here in 1957. Its waves can exceed 40 feet. Less than an hour from Honolulu, the bay hosts the Quiksilver Eddie Aikau Big Wave Invitational (named for the late surfing legend) every few years.
Laniakea
This is one of Oahu's best surf spots, featuring swells that offer 10- to 15-foot faces during the peak season, from November to February. Laniakea is also known as Turtle Beach for the abundance of nesting green sea turtles; it's not uncommon for spectators to see a surfer ride a wave past the dark shadow of a large turtle using the same wave to come ashore. 
Honolua Bay 
Don't expect a beautiful beach or comfortable accommodations at this spot on Maui—the consistent elite surfing will have to do. When conditions are ripe, hundreds of surfers fight for rides on this legendary stretch of tubes. Find a place along the cliffs for great views, or carefully trek the slippery trail down to a cave along the waterfront. According to four-time world champion surfer Mark Richards, Honolua is home to "the ultimate wave; the best wave in the world."
Banzai Pipeline 
The world-famous reef break along Banzai Beach is as deadly as it is beautiful, having killed at least seven surfers since the 1980s. When big swells hit the shallow reef at Banzai, the waves jack up and form some of the most ridable and visually stunning tubes on the planet. While Bonzai's swells are not as tall as some of the other breaks, their consistency, shape, and relative accessibility make the Pipeline a mandatory spot for any surf aficionado.
Peahi 
Jaws. The Beast. The Monster. Call it whatever you want; Maui's biggest surfing break was until recently tow-in only: Surfers needed a Jet Ski to lead them into waves, because they were too powerful. The waters are tranquil much of the year, but when the right conditions hit, waves can grow to 59 feet. And they're fast. A Maui local's secret: Trekking to the viewing spot means a long hike down a private dirt road just to reach the cliffs. It's worth the trip. 
— Keith Gordon
2. John John Florence, a Surf Legend in the Making 
Get ready to add another name to the list of the world's best big-wave riders, alongside the likes of Laird Hamilton and Ian Walsh. John John Florence, who turns 25 this month, is the current World Surf League champion and an ascending star in the sport. Raised mere steps from the world-famous Banzai Pipeline, Florence has established a reputation as both a technical competition surfer and a big-wave conqueror, tackling 50- and 60-foot faces from Hawaii to Australia, Tahiti to California. 
It was in his own backyard, at the Banzai Pipeline, that Florence broke his back in 2011. But he recovered to climb the professional ranks, culminating with the 2016 world championship and a victory at the 2016 Quiksilver Big Wave Invitational, a.k.a. "the Eddie," named for late Hawaiian surf legend Eddie Aikau. The world's premier big-wave contest, it requires specific conditions (enormous waves) and hadn't been held in seven years. Florence's win there might be a once-in-a-career opportunity. 
As fellow competitor Mitch Crews says of Florence, "He makes it look stupidly easy no matter how big or small the wave is. He is the man out there. He rules the lineup and makes everyone look silly."
— Keith Gordon
3. Honolulu: Hawaii's Unsung Capital
Here's a secret the wider world is just starting to figure out: These days, Honolulu is so much more than beaches, megaresorts, and luaus. Hawaii's capital has a thriving food scene, an abundance of culture, and, well, the beaches are pretty awesome. Don't even think about skipping the city on your next Hawaiian vacation.
Waikiki is Honolulu's tourist district, pitched between the Ala Wai Canal, an artificial waterway, and the Pacific Ocean and chock-full of hotels, shopping—for goods both luxe and locally made—dining, and nightlife. Stay at the Surfjack Hotel & Swim Club, where models sip drinks at Hawaiian chef Ed Kenney's in-house Mahina & Sun's. The Insta-worthy lobby pool is packed day and night. When the sun sets, hit up SKY Waikiki, an open-air lounge atop a 19-story building, where the drinks are inspired by legendary surf spots on Oahu.
For dinner head to Chinatown and get a table at the upscale but still totally Hawaiian Senia. Per Se alums Chris Kajioka and Anthony Rush work in an open kitchen making bone marrow with Hawaiian sweet bread and charred-cabbage Caesar salad for a packed dining room.
Beer Lab HI is a local brewery founded by a trio of Pearl Harbor nuclear engineers. Taps & Apps offers 36 craft-beer taps, some of which are produced in-house. Craft cocktails are the thing at Bevy, the brainchild of award-winning "bar chef" Christian Self. Inspired by '20s- and '30s-era Prohibition, the vibe is old meets new: Think premium scotch spiked with barrel-aged bitters, with locally sourced garnishes and ingredients. For a bit of history, head to Village Bottle Shop & Tasting Room in downtown Honolulu, the first dedicated craft-beer bottle shop and beer café in the state.
https://www.instagram.com/p/BExGeI3tA_K
Honolulu's got nature, too. Hike up the 1,200-meter Manoa Falls, lush with local botanicals that give it a Jurassic Park vibe. (In fact, scenes from the first and fourth installments of the movie franchise were filmed here.) Watch out for the wild pigs. Check Outrigger Waikiki Beach Resort for pro surf lessons. The hotel is all about an authentic Hawaiian experience, and there's a rotation of island-inspired events all day long: ukulele lessons, outrigger canoe rides, surf lessons, and, yes, lei making.
— Fabiana Santana
4. Awesome Private Getaways
Located just 17 miles off Kauai's west coast is Hawaii's "Forbidden Island." At 72 square miles, Niihau is the smallest of the state's inhabited islands. With fewer than 30 residents, you're likely to see more wildlife than people. It has no roads, no cars, no shopping, no internet, and no easy access. You can only reach it via helicopter, and once there you won't likely be able to communicate with local residents, who only speak native Hawaiian.
Purchased by the wealthy Sinclair family in 1864, the island is committed to maintaining Hawaiian culture and nature. It can be viewed on a sanctioned guided tour that starts in the air and ends on a remote beach with lunch and snorkeling; a hunting safari (starting at around $2,000 per person); or a daylong snorkel and dive trip to Lehua Crater, a volcanic cone to the north of Niihau. Ready to turn in? Well, you don't have to go home but you can't stay here: The island has no hotels.
There are beds, however, on Lanai, the island owned by Oracle founder Larry Ellison. In 2016, the Four Seasons Resort Lanai reopened after a multimillion-dollar renovation, undertaken when Ellison bought 97 percent of the island. The resort is as secluded as it gets, situated atop a red lava cliff and bordering a marine preserve. 
The 1,100-foot white sand beach at Hulopoe Bay is public, but a portion is serviced by Four Seasons staff. Guests are guided to a variety of ocean activities, or can opt for a game on the world-class golf course nearby. The resort features spectacular gardens, stables, clay shooting, an archery range, stunning countryside views, and of course, white glove service.
You might not expect a private getaway on Oahu, but there is one. The Kahala Hotel & Resort is Honolulu's legendary luxury hideaway. A favorite of VIPs (think royalty and visiting celebs), the resort is set on a crescent-shaped secluded beach and includes its own 26,000-square-foot, dolphin-filled lagoon.
If you want the amenities of Maui hotels but prefer a more private experience, check out the Wailea Beach Villas Resort, featuring two- and four-bedroom villas with private entrances and several pools, including an infinity edge. The resort offers private card access to some of Maui's world-class dining, shopping, and art.
The luxurious oceanside bungalows at Mauna Lani Bay Hotel and Bungalows on the Big Island are as exclusive as it gets without owning the island yourself. The 4,000-square- foot bungalows have their own gated driveway and private beach access, with a private swimming pool, hot tub, and barbecue outside. Your concierge can arrange private chef-prepared meals, golf, and in-suite spa treatments.
— Fabiana Santana
5. Luxurious Resorts
When it comes to blissful accommodations in Hawaii, where to begin? Of all Hawaii's stunning islands, Oahu is the one place where you can channel your inner Patrick Swayze and ride gnarly waves before hopping on a private chopper to your penthouse suite right after. (Plus, it's where the biggest airport is.)
Waikiki, on Oahu's south shore, is most famous for its beaches, and The Royal Hawaiian, a beachfront luxury hotel, helped make that happen. The Mai Tai cocktail was first served here in 1953, and the original recipe is still offered at the Mai Tai Bar, best sipped observing the breathtaking views of Diamond Head (one of the island's volcanic craters) and the Pacific Ocean. Built in 1927, the iconic "Pink Palace of the Pacific" is easily the most recognizable hotel on Oahu. Royal suite guests are offered concierge assistance with limo service to get out and about, accommodations near a private beach, and a private cocktail party with the general manager.
https://www.instagram.com/p/BahPSuZBYjr
The chic 353-room Modern Honolulu caters to the club kids (with cash) who have grown up a little. The sleek outdoor pools have no shortage of obvious and hidden lounge areas, perfect for those looking for a more discreet stay. The Modern is home to the popular library-themed bar the Study, which opens into Addiction, Waikiki's hottest nightclub.
If you want to be close to the action but not in the middle of it, rent a car and escape to Ko Olina—a peaceful haven on the western coast of Oahu—and check into the Four Seasons O'ahu at Ko Olina, which opened last year and is one of only a handful of properties on the island. Featuring a $17,000-per-night penthouse and two-bedroom villas with private screening rooms and service kitchens, the hotel offers deluxe butler-serviced pool cabanas at an adults-only infinity pool. 
It also offers megayacht charters and private-helicopter volcano flyover adventures. The helis are also available for guests who want to island-hop in style, or for those who want to get a view of the picture-perfect sacred site of Palehua, a trailhead located at the end of a six-mile private road.
For more of a honeymoon vibe, hit up Kauai, the fourth largest of the Hawaiian islands. The view of Hanalei Bay at the St. Regis Princeville is almost impossible to beat. Here, personal butlers handle everything from arranging private beachfront massages to pressing your tuxedo—a must for their formal dinner dress code.
Harkening back to the Hawaii that once was, the Hualalai Four Seasons on Hawaii Island (better known as Big Island) is home to 243 spacious guest rooms and suites, many of which are housed within intimate low-slung bungalows with ocean views. An extensive collection of native Hawaiian art can be seen throughout, along with nature-inspired decor and outdoor living areas that offer stellar views of the Kona-Kohala Coast. Villa guests have access to the Hualalai Golf Course, a Jack Nicklaus–designed course set within black lava fields along the coast.
If you're into a more laid-back vibe, Lanai (home to two Four Seasons properties) and Maui are ideal. The Ritz Carlton Hotel, on Maui in Kapalua, is the most exclusive resort but worth the challenge of booking here (VIPs take over in high season). It is separated from ocean cliffs by an ancient Hawaiian burial site and sits in isolation atop an amazing cliff soaring above Molokai Island. 
The tiered swimming pools are connected by waterfalls and surrounded by beach bars. You can get your golf game on here, too. The resort houses a premier practice facility, and the Arnold Palmer–codesigned Bay Course. Once you're feeling confident, head to the nearby Plantation Course at Kapalua, one of the first projects by the team of Bill Coore and Ben Crenshaw and the home of the PGA Tour's tournament of champions.
The Grand Wailea, a Waldorf Astoria Resort, is another of Maui's most stunning properties. It starts with cascading waterfalls at the entrance and also boasts the world's only "water elevator," emerging from a volcano in the pool. That volcano sits right beside a giant multilevel pool area with water slides, rope swings, more waterfalls, and a river that connects its nine pools. An incredible private art collection is on grand display indoors, where suites are equipped with private lounges, luxury kitchens, and hidden interior elevators. The Spa Grande uses local ingredients like Hawaiian macadamia nuts, coconut milk and cream, and pineapple for its signature treatments.
— Fabiana Santana
6. Hitting the Water
Surfing—"the sport of kings"—was born off Hawaii's sacred shores. Experts head straight to famous breaks like Jaws and Waimea, but beginners start out with a little help from Surf Hawaii-Surf School. Located on Oahu's North Shore, the school focuses on small groups (three to five students, max), migrating up and down the shore to find the perfect waves for their skill level. A lesson starts at a reasonable $85 for two hours, including gear and instruction from owner/big-wave surfer Edison de Paula and his team.
There's also an abundance of great scuba diving and snorkeling sites to explore. The novice-friendly Hawaii Eco Divers is located on Oahu but hits dive sites throughout the islands. Its three-day PADI Open Water Certification costs $675 per person. For a more extreme experience, Ocean Ramsey's One Ocean Diving lets you swim with sharks.
Kiteboarding School of Maui's Discovery package ($95 per person) is a one-to-four-person intro to the sport, while the Elite ($920) is an expert nine-hour one-on-one lesson for adrenaline junkies. For more relaxed water outings off the Big Island, Ocean Safaris Kayak Adventures has everything from guided kayak tours of stunning sea cliffs to paddleboarding lessons (starting at $79). Looking for luxury at sea? Mana Cruises offers a 46-foot catamaran ideal for group outings; chartering its flagship runs $600 per hour. The Captain's Sunset & Tasting cruise ($195 per person) provides an unforgettable dinner on the water as the sun sets over the Pacific horizon.
From November through April, Hawaii is home to migrating humpback whales. Book a whale-watching tour with Pride of Maui. The outfit's ship features luxury amenities, a barbecue lunch, and a crew that includes expert naturalists.
— Keith Gordon
7. Incredible Food Scene
Contrary to popular belief, adding pineapple to a dish doesn't make it Hawaiian. Fresh flavors, local traditions, and culinary innovation are the forces driving the blossoming Hawaiian food scene today. And some of the best of it can be found on Oahu, where the state's most ambitious chefs set up shop to showcase what they can do. Local cuisine here is all about farm-to-table—or in Oahu's case, line-to-table.
Tuna is the main fish of Hawaiian cuisine, and ahi the most popular. At Fish House, the seafood-focused beachfront restaurant at the Four Seasons O'ahu at Ko Olina, chefs work directly with island fishermen and farmers along the Waianae coast to source quality ingredients mere miles from the resort. Chef Ray German, a 15-year Four Seasons vet, serves up ahi poke bowls, elaborate seafood towers, buckets of iced fresh catch, Hawaiian-style lobster and clambakes, impressive whole fish, and steak specials. Wash it down with a local draft beer created exclusively for the resort. On Sundays, a three-hour- long food extravaganza features inspired dishes like lilikoi pancakes and lobster chilaquiles. The Fish House Bloody Mary is enhanced with spicy grilled shellfish and pickled vegetables.
https://www.instagram.com/p/BU7kszxjOi2
The fare at local chef Ed Kenney's Mud Hen Water, located in the inland town of Kaimuki, is equally impressive. The food here is what you might find on family tables back in the day, with subtle modern twists. The opah—Hawaiian moonfish—is buried in coals and then served with steamed green banana and tilapia-skin salad with silken tofu and Maui onions. Don't miss the baked bananas stuffed with bacon, chopped eggs, and coconut and brushed with curry butter.
More casual dining can be found at Michelin-starred chef Michael Mina's The Street, a market-style eatery where diners can sample dishes from more than 13 chef-driven concept restaurants inside the International Market Place. 
They include folks like Adam Sobel, a.k.a. the King of Porc, who serves up homestyle Italian cuisine inspired by his grandmother at Adam's Nana Lu; Ayesha Curry (NBA superstar Stephen Curry's wife), offering upscale BBQ at International Smoke; and Michelin-starred chef David Varley, creator of Maui Onion Burger, the island's answer to In-N-Out. Hit up Aloha Ice by Michelle Karr-Ueoka, a three-time James Beard Foundation Award semifinalist and Per Se alum. Her ice blocks are shaved and topped with seasonal fruit—she uses no artificial syrups— accented with ingredients like Tokachi azuki beans and lime-and-mint tapioca. Head two floors up to Roy Yamaguchi's Eating House 1849 for a sit-down meal.
The Pig & the Lady by Andrew Le, a two-time James Beard Chef of the Year semifinalist, rules Oahu's Chinatown neighborhood. Pig started as a pop-up and farmers' market stand serving contemporary Vietnamese food with global accents. The crowds kept coming and seats soon became necessary. Le's pho earned him the Restaurateur of the Year award from Honolulu Magazine, thanks to its free-range duck, 12-hour-roasted brisket French dip, and bone marrow. A communal menu called the Primal Feast features Balinese-style roasted porchetta, an international spin on one of Hawaii's most celebrated dishes. Le's offshoot venue, Piggy Smalls in Ward Village—Honolulu's hottest up-and-coming neighborhood—offers more eclectic fare, like smoked duck carbonara and grilled pork jowl with Hanoi-style cold noodles.
For a Hawaiian brunch, hit up chef Lee Anne Wong's bustling Koko Head Café, where the queue starts as early as 7:30 a.m. The Top Chef alum envisioned the café as a casual brunch spot that pays homage to the traditional island breakfast, with dishes like Volcano Eggs: baked eggs drowning in a spicy sauce with North Shore vegetables and Portuguese sausage; and Koko Moco, a Maui Cattle Co. beef patty with a sunny-side-up egg and tempura kimchi. Order a kimchi bacon cheddar scone to go with a Morning Milkshake spiked with Maker's Mark and garnished with brown-sugar-coated bacon so rich Wong refers to it as "billionaire's bacon."
— Fabiana Santana
8. Epic Volcanoes and Lava Flows 
The Big Island is getting bigger all the time. While volcanic activity has long ceased on most of the Hawaiian archipelago, Big Island is still home to one of the most active and spectacular eruptions on earth. The island is nearly twice as large as the rest of the isles combined, and it's not done growing yet. The lava is constantly creating new land; since 1994 the island has grown by about 500 acres. 
Mount Kilauea sits in Hawaii Volcanoes National Park. Stop at the Thomas A. Jaggar Museum's observation point overlooking Kilauea's Halemaumau Crater. Within the crater lies a lava lake that rises and falls several yards each day, depending on conditions; come at night to best observe the crater's entrancing orange glow. 
Meanwhile, lava streams away from the crater, either aboveground in lava flows or below-ground through tunnels known as lava tubes. The best way to view the flows is from a helicopter. Check out Blue Hawaiian Helicopter's Circle of Fire Plus Waterfalls Tour (starting at $259) for unparalleled views of the volcano's current activity and the natural splendor of Big Island.
Lava also flows from underground tubes along the sea cliffs on Big Island's southeast coast. Currently, the lava is pouring into the Pacific at Kamokuna ocean entry. To get to the flow, tourists must cross a vast lava field. The otherworldly landscape is dotted with recently constructed houses as residents whose original homes were destroyed by the lava try to reclaim the land. 
Again, the best views are at night. Start your hike (or bike) across the lava field's dirt trail at least an hour or so before sundown to catch the perfect view. But whatever you do, follow all posted signs and park rangers' warnings; the freshly formed lava sheets are unpredictable, with large masses of volcanic bench collapsing into the ocean at random. 
For a different angle on the flows, Lava Ocean Tours pilots a 40-foot custom boat as close as possible to the lava, providing unsurpassed access to this act of nature (starting at $180 during the day; $250 around dusk).
While Mount Kilauea has been erupting since 1983, it doesn't behave with any consistency. Visitors need to check ahead with the National Park Service, as the lava flows can shift or even cease for long periods of time. And don't put off a visit for the future; the current three-decade-long eruption could end at any time, putting a temporary end to one of nature's most impressive shows. 
— Keith Gordon
9. Inhumans Star and Hawaii Native Sonya Balmores
They say you can't go home again, but that's not the case for Sonya Balmores. A few years after moving to Los Angeles to pursue an acting career, Balmores was cast in Marvel's Inhumans, which was filmed in her native Hawaii, as well as the upcoming action thriller Den of Thieves. Balmores tells Maxim about her experiences shooting on her home turf, and offers a few local recommendations, too.
How exciting is it to have a major network show like Inhumans filmed in Hawaii?
It was a dream come true. I moved out to L.A. to be closer to the entertainment industry, and it was very hard to move away from paradise, so learning I booked [Inhumans] was amazing. I was in my element, surrounded by crew members that I've known for over ten years.
Do you share any similarities with your character, Auran?
Auran is way more fearless and serious [than I am]. At first I didn't have much in common with her, but slowly she started rubbing off on me. One night after filming I witnessed a man beat up a woman in a parking lot of my hotel, and I was enraged. I ran out to kick his ass, but when I got down to the parking lot I realized he was huge. So I just stood there yelling at him and screaming at the cops to do something. Auran would have broken his arm.
Tell us a bit about your experience filming Den of Thieves.
Den of Thieves is an action-packed, testosterone-filled movie—and so was the set! No, really; it was super chill. [Writer-director] Christian Gudegast is so laid-back, and it was incredible meeting Gerard Butler and Curtis Jackson. It was hilarious hearing the crew call [Jackson] "Fifty"; they'd enunciate way too properly. I feel like if you're going to say that name, you gotta say it right: Fi-dee. With attitude.
What was it like growing up in Hawaii?
It was the best. We didn't need a lot to have fun—just a way to get to the beach. Before my friends could drive we'd either walk through the sugarcane fields, hitchhike, or skate down. I also played soccer and danced hula and learned Tahitian. Kauai has so many different environments, hot and dry on the west side, lush and green on the North Shore. It's definitely a paradise.
Any insider tips for Hawaii? 
My best tip when traveling to Hawaii is don't be in a rush. You'll be so much happier if you consciously remind yourself to slow down. In Hawaii, if you smile and respect the locals and the land, you will have a great time.
Honolulu is nicknamed the Gathering Place; that's where the scene is: food, art, music, nightlife. Waikiki is so classic; the North Shore is amazing in the wintertime to see the big surf. Maui is super gorgeous: quieter than Oahu. Big Island is even more laid-back; lots of pasture land and volcano action. The farther you get from Honolulu, the more mellow it gets. Kauai is nicknamed the Garden Isle, great for people who love the outdoors, fishing, surfing, hiking, kayaking. It's magical—and also where everyone goes for their honeymoon, so I call it honeymoon island. You'll get the best sleep of your life there—or make a baby…it's a very fertile place!
Where to eat, drink, stay, and play: Sonya's Picks
Oahu 
If you're super adventurous, there are really cool shark tours on the North Shore of Oahu, and the Islandview Hawaii tour is dope. When I go to Waikiki I love staying at the Royal Hawaiian or the Moana Surfrider: so much history and great food and drinks right there on the beach.
Waikiki 
The best for surf lessons. For hotels, the Surfjack, the Modern Honolulu, and the Laylow are cute (and Instagramable!) places, but if I want to stay off the busy tourist strip, I like the Lotus Honolulu at Diamond Head. It's way more chill and it's walkable and bikable to the Kapiolani Farmers Market and the yummy eats and coffee on Monsarrat Ave.: ARS Cafe, Pioneer Saloon, Diamond Head Cove Health Bar, and Banán.
Kauai 
For food, I love Koloa and Kilauea Fish Markets and Wailua Shave Ice, and Spam musubi from the Hanalei Liquor Store. My favorite places to take first-timers are Hanalei Pier, Ke'e Beach, and any of the hiking trails in Koke'e and Waimea Canyon. I love the Anara Spa at the Grand Hyatt. The beach, Shipwreck, has a cliff you can jump from, but they don't have a lifeguard over there, so proceed at your own risk. I definitely recommend doing a helicopter tour and a sunset boat cruise of the Napali Coast. If you're into fishing, there are a lot of ahi to catch in the summertime. We have some of the best surfers and surf spots in the world on Kauai…but I won't be allowed home if I tell you where our favorite spots are.
— Maxim Staff
10. Breathtaking Natural Beauty
Less than an hour away from Waikiki, the Windward Coast of Oahu boasts some of the best beaches, valleys, forests, and natural beauty anywhere in Hawaii.
Halona Point is ideal for a casual hike. Walk down the lava cliffs to take in the ocean views and wait for the active Halona Blowhole to erupt. Created by lava that flowed into the ocean thousands of years ago, ocean water flows into the "blowhole" and gushes out up to 30 feet into the air.
Kualoa Private Nature Reserve, a 4,000-acre natural park as well as a working cattle ranch, offers nature tours (films and TV series like 50 First Dates, Jurassic Park, and Lost were shot here) and jungle adventure in the form of private ATV rides, ziplining, or horseback rides over terrain that changes from dense rain forest and broad open valleys to white sand beaches and high mountain cliffs.
A hike up to the top of Makapuu Lighthouse Trail at dawn provides some of the best views of the iconic Hawaiian sunrise as well as the inside of Koko Crater, a tuff cone rising 1,208 feet into the air and one of the most popular landmarks on Oahu's south shore. Get closer to it by hiking the Koko Crater Trail, a more challenging 1.9-mile climb involving 1,048 "stairs," railroad ties put there during World War II.
One of the island's most rewarding hikes is Diamond Head, situated on the eastern edge of Waikiki's coastline. This is a switchback trail up the side of an extinct volcano, with a mountain on one side, a railing on the other. Considered an easy to moderate trail, Diamond Head is a steep upward ascent that involves a series of tunnels and a 100-step climb to reach the 763-foot summit, which leads to a WWII bunker and a picture-perfect view of Waikiki.
— Fabiana Santana