Here's What Happened When I Ate a $100 24-Karat Gold Donut
Say hello to the most bourgeois bakery treat in the world.
We are entering the era of edible excess. There's been a rising tide of insane and luxurious food challenges over the last few years: It was only months ago that a regular Brooklyn eatery offered patrons the chance to earn a 10% stake in the restaurant if they scarfed down a 30 pound burrito (and ghost pepper margarita) in under an hour. While that may sound delicious, I tried it and the only thing I got was two-day long heartburn. Even so, I was excited to learn of a new novelty food craze that focuses on opulence and quality rather than sheer live-ruining volume. 

Yes, I'm talking about the $100 donut. 

No, this isn't just your typical run-of-the-mill Dunkin' Donuts pastry. We're talking a purple yam donut, made with French pâte à choux, doused in rich Cristal icing, stuffed with an ube mousse and some champagne jelly, before being carefully decorated with 24-karat gold flakes. Pretty casual, right?
The geniuses over at Manila Social Club, a Filipino restaurant in Williamsburg, Brooklyn, concocted this bourgeois bakery item as a marketing stunt (it worked, obviously) with no idea the craze it would inspire. After hearing about this extravagant morsel for days, I had to see what all the fuss was about.
Let me start off by saying that while I'm a huge donut fan, I've never consumed any sort of gold in my entire life. The idea of topping a dish with gold flakes is in my mind the equivalent to shoveling caviar into your mouth with a tiny little spoon: I make fun of people who do it, and I most definitely do not consider myself someone worthy of this extravagant privilege. But in any case, I jumped at the opportunity to sample this delicacy immediately because a) who doesn't love a good donut, no matter what the situation, b) I don't have to pay for it, and c) this would make for a great Instagram.
The donut arrived at the Maxim offices in a box that a middle-aged woman would probably leave Bergdorf's with on a Sunday afternoon, decked out with both matching yellow-tinted tissue paper and a purple ribbon. The second I lifted the lid, the pastry glimmered in the fluorescent light of our office. It's beautiful and almost intimidating for a donut, to say the least. The delicate French pastry had been loaded up with so many gold flakes it almost smelled expensive. Although it looked dense, the donut was surprisingly dainty and extremely light. I stared at it for a little while, entranced before acknowledging that I would actually have to do my journalistic duty and pop this bad boy in my mouth. I just didn't want to say goodbye.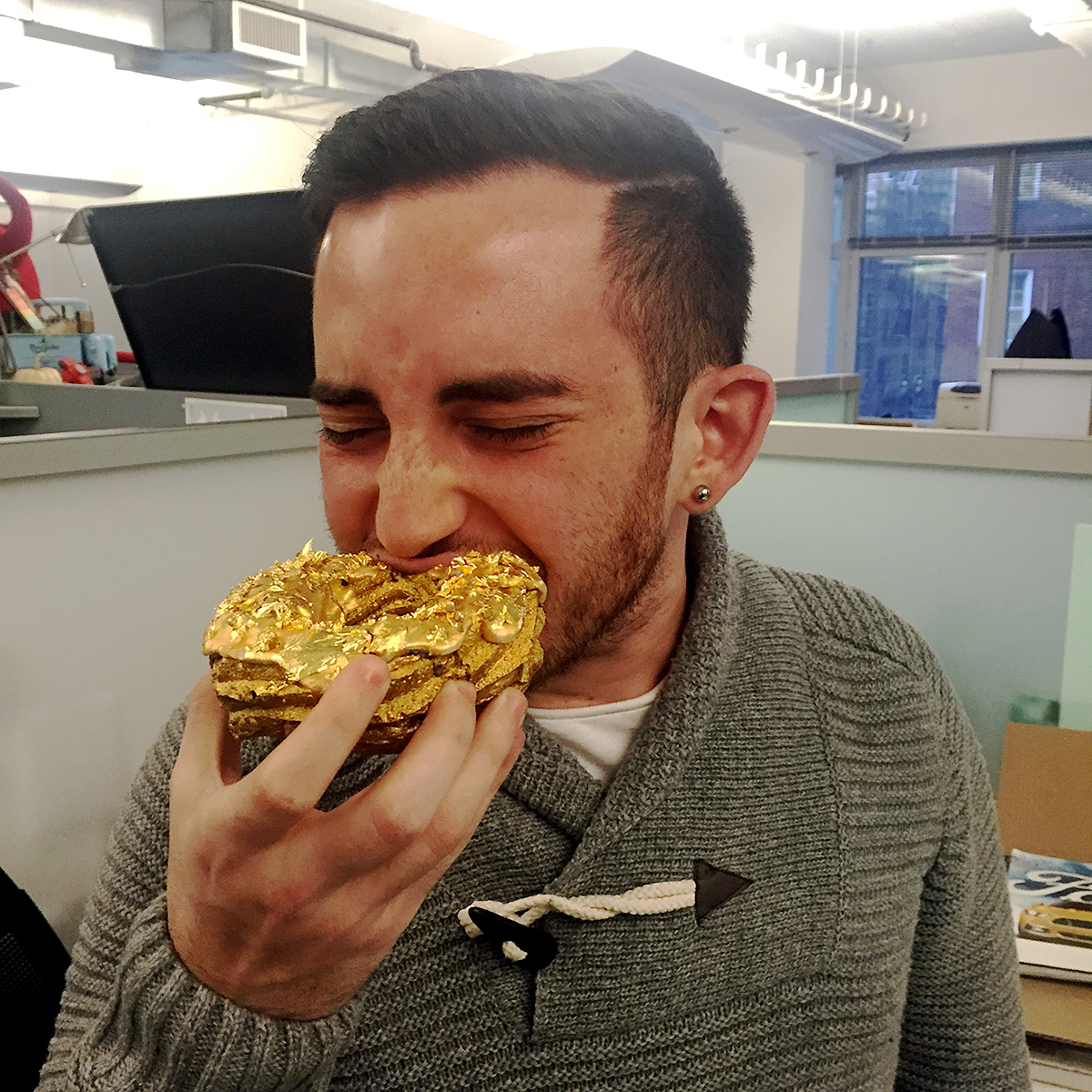 When I first slice inside this gorgeous creature, I'm greeted with a purple substance that looks like it belongs inside Barney the Purple Dinosaur. That's the ube, a Filipino sweet potato. The minute I start handling this purple-and-gold monster, it slowly oozes a seductive Cristal jelly. 

I take my first bite. The second it touches my tongue, my immediate response is not the best: "Mother of God, what the fuck is this?" I wonder as I'm hit with a maelstrom of unusual flavors. Eventually, I get over my shock and accept the pieces of exotic pastry rolling around in my mouth. The icing is pretty sweet, the donut itself crisp and moist, and I pray there's enough Cristal here that I'll feel a nice buzz by the time I'm done. Did I mention I'm eating gold? This thing really isn't half bad, I suppose.

Before I know it, I'm licking every last piece of gold flake out of the box it came in. The donut of my dreams has come and gone. I'd be lying if I said I didn't wish I had another one, but would I pay the steep $100 for a second morsel? Probably not. 
It's safe to say that my golden donut experience was an absolute success despite my bank account's inability to support this bourgeois addiction. But here's the thing: the donut itself was pretty damn good, even without the gold flakes. Next time you're strolling around the streets of Williamsburg in search of something to satisfy your sweet tooth, Manila Social Club is for you — just don't get too greedy.