Here's the Boozy Origin Story of the First Beer Made to Be Paired with Scotch
A master distiller is taking this iconic beer and shot combo to the next level.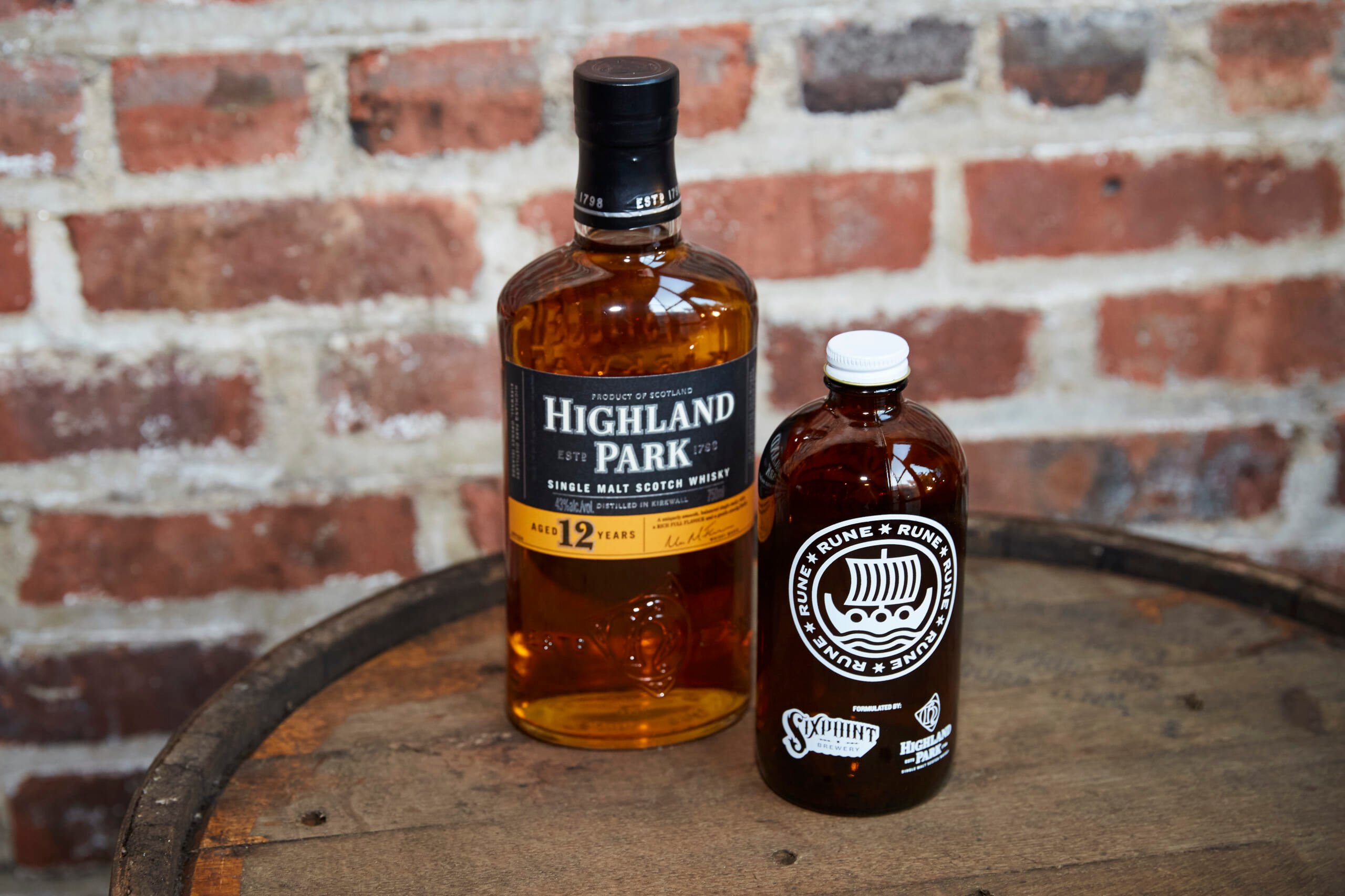 Scottish single malt whisky distiller Highland Park first started gaining international fame when their superb—but at the time relatively unknown—18-Year Old expression won the Gold Medal at the 2005 San Francisco World Spirits Competition. The same year the Spirit Journal's F. Paul Pacult named it the "Best Spirit in the World." From there, Highland Park's various scotch expressions started flying off the shelves of humble state stores and fine spirit shops alike.
Now the lauded Orkney Island-based whisky distiller has teamed up with Sixpoint Brewery, based in Brooklyn, for a pair of limited-edition beers specifically imagined to be enjoyed side-by-side with their scotch. Rune is a golden oat ale made to be sipped with their 12-Year Old expression, and Sköll is a roasty ale to be paired with a relatively new variant called Dark Origins.
We sat down with Highland Park's esteemed Master Whisky Maker Gordon Motion to discuss the collaboration. Having shepherded the distillery's much scrutinized single malt whiskies since they've begun their explosive growth, Motion has a cool origin story himself. Studying computer science at college when he was but a wee lad, he and a friend plotted out a distillery tour in the summer between his third and fourth year of college. After seeing the inner workings of distillery life, Motion found himself comparing that career to one of a computer scientist… and he quickly realized his destiny.
"I didn't want to end up a computer scientist," he recalls wistfully of his career crossroads. "I mean, who wouldn't want to get paid for sniffing whisky for a living?"
How did the idea to make a beer that pairs specifically with scotch first come about?
It's something we've done in the U.K. for a number of years: Highland Park has paired off with a regional brewer back in Scotland for about 10 years ago now. We've supplied them with some empty casks, and they've matured some of their beer in them. So that was the start of it. Then in Denmark last year we teamed up with another brewer who's taken our Highland Park 12-Year and put it into his beer, and sold it with a piggyback miniature.
There's been a huge boost in the number of craft breweries in the U.K. and the U.S., and a growing trend of people wanting to get a little more flavor in their beer. And that's the same for malt whisky: you want to give people a flavor experience.
It's also to introduce a new category of people to malt whisky; it just seems a nice tie-up to get people who appreciate really good, full-flavor beer. They appreciate the same thing as we do with malt whiskey.   
What was the appeal of working with Brooklyn's Sixpoint? 
One of their head brewers is from Scotland, Keir Hamilton, and he's got the same ethos as us. He'll go to the malt fields, check the hops, buy them direct from the supplier rather than just buying them in the stock markets. And we have a similar process for our casks—they're hugely important for the flavor of scotch whisky. We source our sherry casks from Spain, have them built for us at a huge cost. But it's worth it, as they impart a sweet, dried fruit character to the whisky.
What does sherry add to the profile of Highland Park?
What the sherry does is flush out some of the flavors that are too strong for scotch whisky. Being a lower strength wine, it will actually leave in flavors, so you get a lot more flavors in a sherry cask. They are hugely expensive for us, but it's something that we've done for a long time—for over 100 years our aging has been done in sherry casks.
Any plans to use casks from other spirits? Like how The Balvenie does, playing around with casks of Caribbean rum, Madeira and port?
Sherry is our main cask type, but we're always looking at experimentation, so never say never. I can't tell you any specifics but we may have something to hide.
Tell us about the development of the two new Sixpoint beers.
Keir [Hamilton] has developed two beers to go with two of our key Highland Park expressions: the 12-Year Old is our principal Highland Park variant, and another one is called Dark Origins. With Dark Origins we've dialed up the use of sherry cask, so it's got a real sweet, rich, oily, dried fruit character.
One of the beers is called Rune that goes with the 12-Year Old, and another's called Sköll which will go with the Dark Origins. One of the key flavors in Highland Park derives from our use of peat from Orkney to dry our malt.
You guys are the most northern distillery, correct?
It's the most northern scotch whisky distillery in the world, same latitude as Anchorage Alaska. There's nothing between Orkney and America except the Atlantic, so it can be extremely windy, and as a consequence very, very few trees grow. So the peat—which is basically one stage off of coal—has been made up with low-growing shrubs and heathers. It's a completely different mixture of organic matter than the peat in the rest of Scotland. So when you burn it you get a completely different character. It gives a floral, more smoky character to the malt.
I wasn't aware the peat for Highland Park was so different from everyone else.
Highland Park is the only distillery in the world to use Orkney peat to dry its malt, and consequently that comes through in the flavor. It's a medium-peated whisky; it's not really smoky—it's got a nice floral character to it as well.
And that's a point Keir's really picked up on for Rune. He's taken the hop content down on Rune a little bit, to let the honey malt come through to mix with the malt whisky. But also, at the last point, he's added heather bells to it. You're familiar with the Scottish mountains, yes? The reason they're purple is because of the heather. He's put a small amount of these heather bells into it to give a slightly floral character to it to match with the floral notes from the peat.
I've always noted that Highland Park has a very distinct type of peatiness. It's peaty, but in a different way than, say, the famous scotches from Islay.
Absolutely different. Islay has really strong, phenolic, PCP medicinal notes. Whereas Orkney peat gets you a much more floral character to it.


Tell us about the two beers. How are they made to complement the specific scotch they've been developed for?
The other beer that Sixpoint's produced is Sköll, and Dark Origins uses a lot more first fill sherry casks for a much darker, richer whisky. Again, sort of dried fruit character's coming through from the sherry. And Keir's tried to match that with a much darker beer.
He uses chocolate and black malt to get the color, but one of the risks of using that is that you end up with a bitter stout character to the beer. So to balance that he's put sweet cherries to get that sort of dried fruit character to the end of it. And both of those go really well together.
Where did the idea for these pairings come?
It's a been a tradition in Scotland for centuries, it's called "A wee malt, and a malt pint." Which is a small—OK, it's a large scotch—and a half-pint of beer. Probably akin to your boilermakers over here. But we're trying to get away from it being a swift drink [i.e. "shot"] to actually appreciating the flavors.
You want to have a sip of the beer, let the flavors develop. Have a sip of the whisky, let the flavors develop. And go back to sip the beer again you'll find that the flavors interact, and you'll get a different taste to the beer the second time. So it's really about appreciating the flavors and the effort that's gone into making both the beer and the whisky.
The pleasure is in the nuance. So what you're saying is it's not like an Irish Car Bomb, where you just slam them together and chug?
No, we prefer you taste it. Slowly.