How Phil Knight Built Nike Into a $100 Billion Global Empire
Find out Nike's high-flying founder became the Sultan of Swoosh.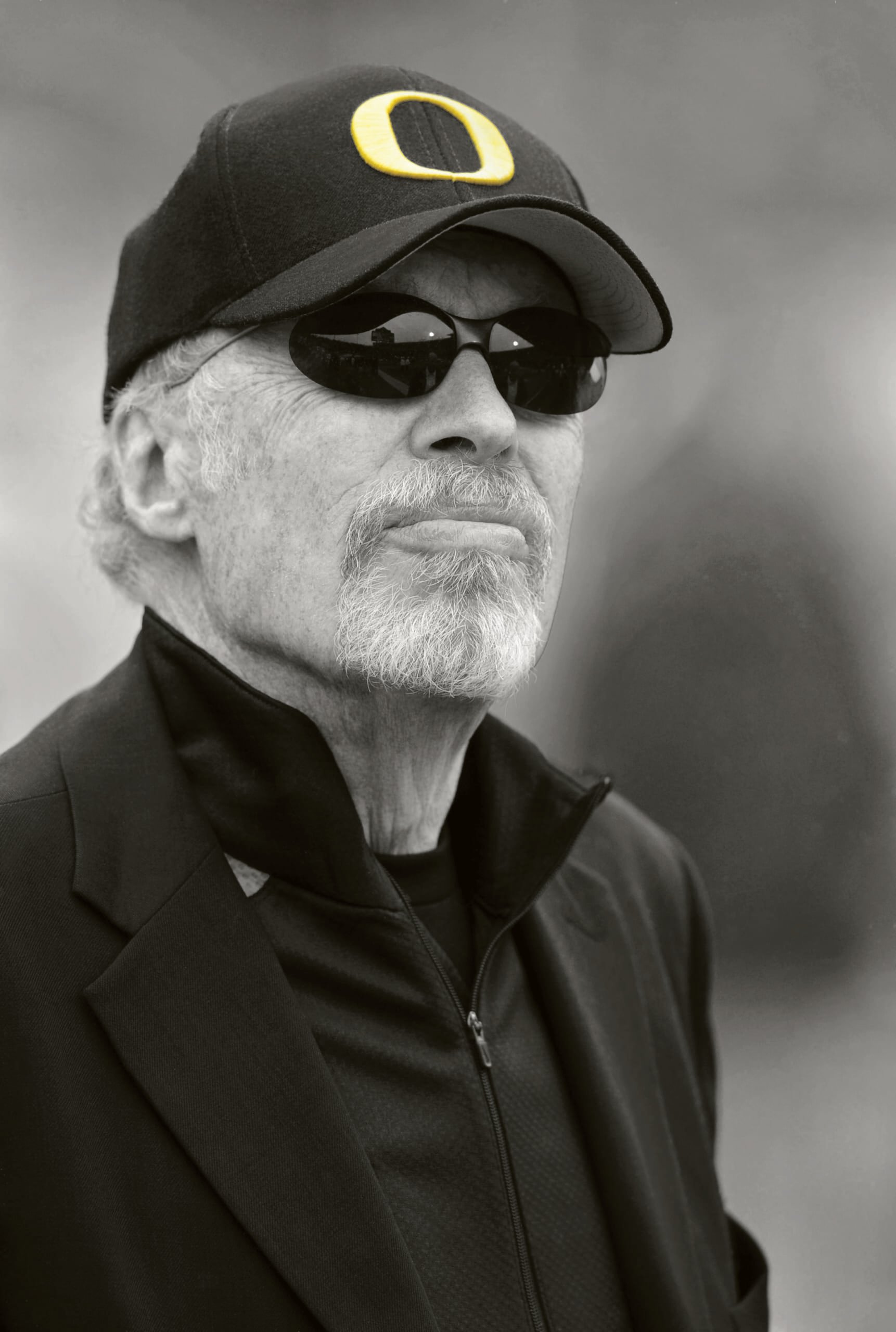 Do you know who won the most medals at the Rio Olympics? It wasn't the United States. It was Nike, whose athletes worldwide won more than 200 total medals and all 32 of the U.S. track and field golds. It wasn't always this way. If you roll the tape back to, say, the 1964 games in Tokyo, you can watch Bob Hayes win the 100-meter sprint in 10 seconds flat wearing the three bands of Adidas, the dominant, and dominating, athletic shoe company in the world at that time. Same thing again in 1968 in Mexico City, when Bob Beamon destroyed the long jump record in Adidas. 
One of the avid fans of those Games was a middle-distance runner named Phil Knight—Buck, to his family—who once raced for the vaunted University of Oregon Ducks track team. Knight never won an Olympic medal in Adidas shoes—or anybody else's, for that matter. Instead, he would, with his iconoclastic college coach Bill Bowerman, create the shoes and the brand that would later demolish Adidas in the marketplace and supplant the German outfit as the world's top athletic shoe company. With that No. 1 status would come the attendant challenges and headaches of having gone from the cool challenger brand to the corporate colossus of footwear. Last year's sales line: Nike, $32.4 billion; Adidas, $19.2 billion.
Knight would build Nike—known first as Blue Ribbon Sports—with the help of the oddest collection of shoe warriors you could possibly
assemble. And he wouldn't feel insulted being included in that description. They simply wouldn't let the young company die, despite having their local bank yank their credit line without warning. "Even though we knew we could fail—the odds were we probably would fail—none of the early Nike group doubted that we would succeed," Knight told Maxim. "We reinforced each other. A total David vs. Goliath mentality."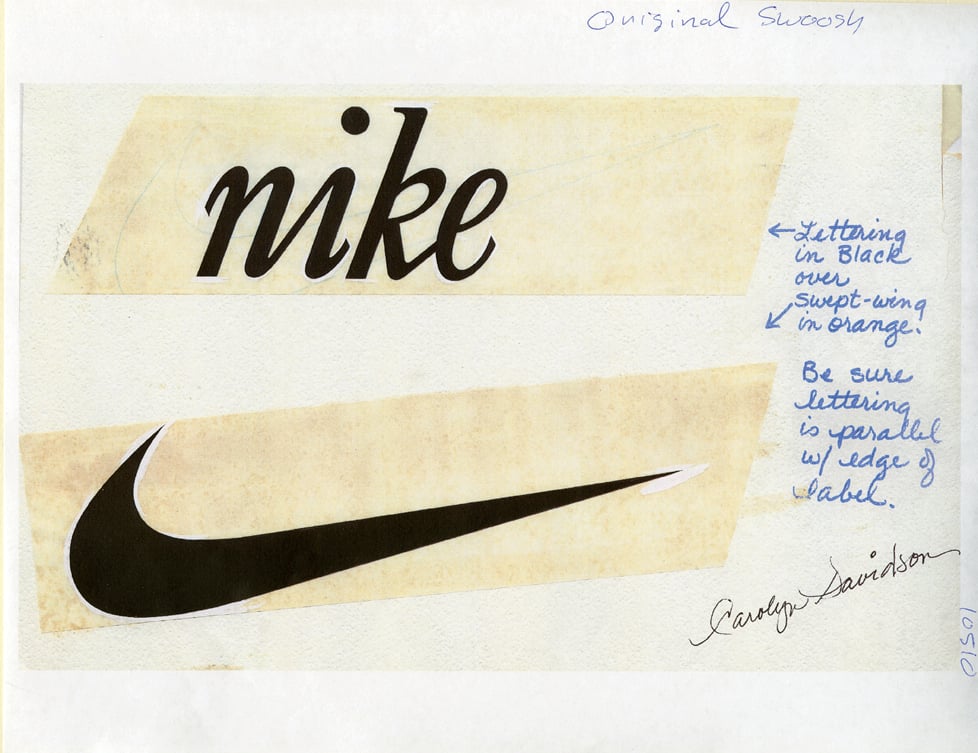 If you ever wanted to create a model for an entrepreneur in that most visible of businesses, sports, it might not be Buck Knight. An introverted accountant (I know, redundant), he views the world from behind his trademark sunglasses, wearing them like a windshield to protect him from the distractions of the outside environment. As the public face of a public company, his zeal for self-promotion is zero—give him the choice of spending time with the media or getting a molar filled and you'd be advised to bet on the molar. He developed the company as a sidelight to his day job at Price Waterhouse in Portland, Oregon. He could have continued to climb that accounting ladder and lived happily ever after. It's just that the crazy idea would not let go.
The crazy idea. As he writes in his best-selling memoir, Shoe Dog, it was something Knight had conceived for a Stanford Graduate School of Business class in 1962. Every entrepreneur has them, and some are indeed just that. Knight's idea was as simple as it was audacious. There were no major competitors to Adidas in the United States. The strategy was to create one using track shoes imported from Japan, just the way the Japanese had cut into the German photography and lens industry. 
After graduation, he decided to have a final youthful fling, an around-the-world trip—financed by his father, a newspaper publisher—with a plan to drop in on Onitsuka Co. Ltd., in Kobe, Japan, the manufacturer of Tiger athletic shoes (you know them now as Asics), a product he thought had the best chance of breaking the German lock. He showed up for a meeting with Onitsuka wearing the only suit he owned, his corporate assets at the time consisting of the airline ticket in his pocket. Onitsuka was looking to expand, and its management was suitably impressed by the thoughtful plan of the American business "tycoon." Onitsuka agreed to sell him 15 pairs of Tiger samples and signed him as its West Coast distributor of Tiger footwear.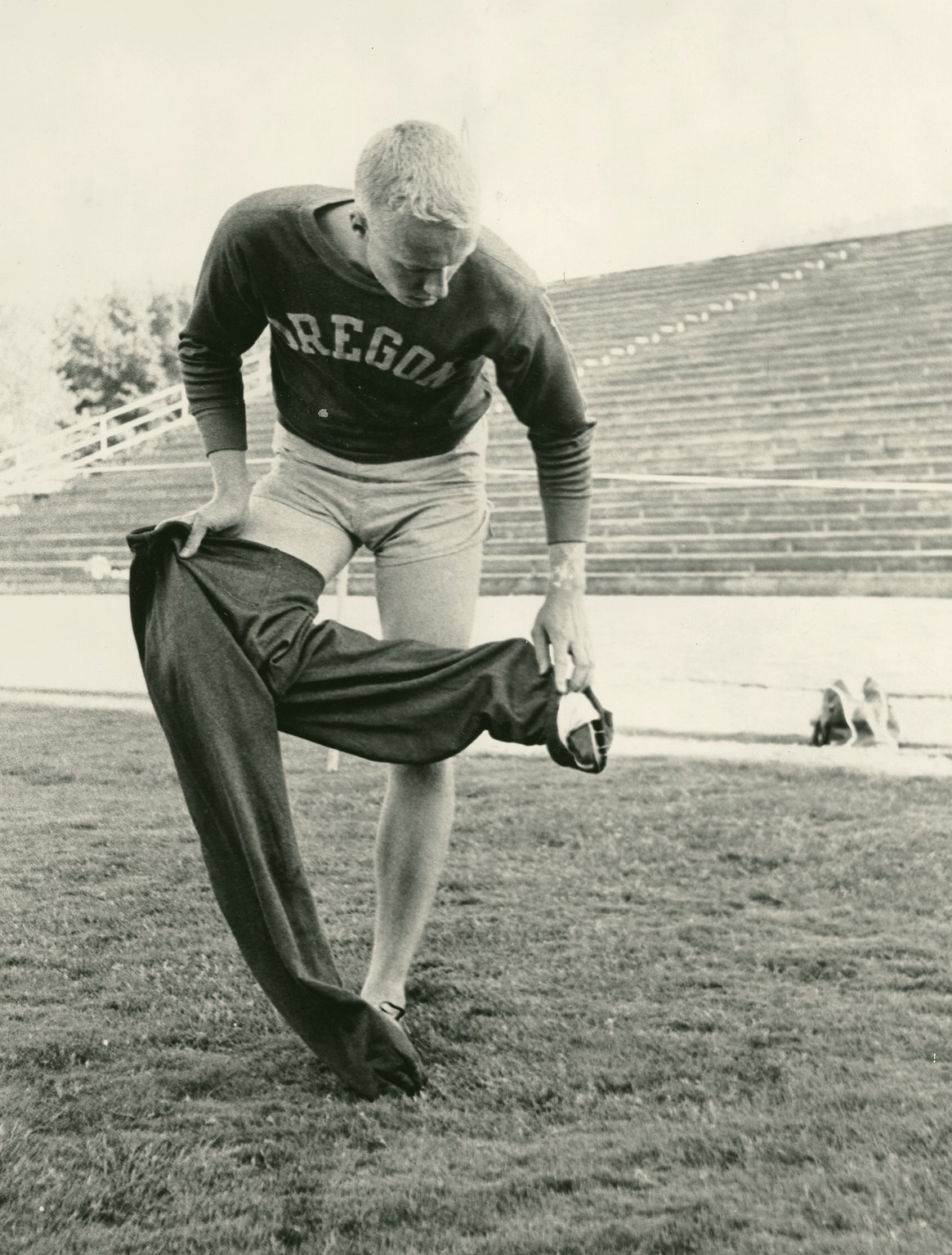 When the samples arrived—14 months later—he showed them to his old coach Bowerman, who was given to constantly tweaking his runners' shoes to give them an edge. He saw so much potential in the Tigers that he immediately asked to be made a 50/50 partner with his former charge. There was no saying no to Bill Bowerman. For $500, the coach got his wish. It would eventually make him wealthy beyond his dreams. First year sales: $8,000.
For six years, Knight worked two jobs. "In 1964, my life got busy. By day I was a CPA for Price Waterhouse. My Army Reserve requirement took up two Tuesdays a month and one Sunday, plus two weeks in the summer. Dating was a mixed success. And all along my real love was that little company that Bowerman and I had started," he told Stanford MBA grads in 2014. On free weekends, he would load up his Plymouth Valiant with Tigers and hawk them at high school and college track meets.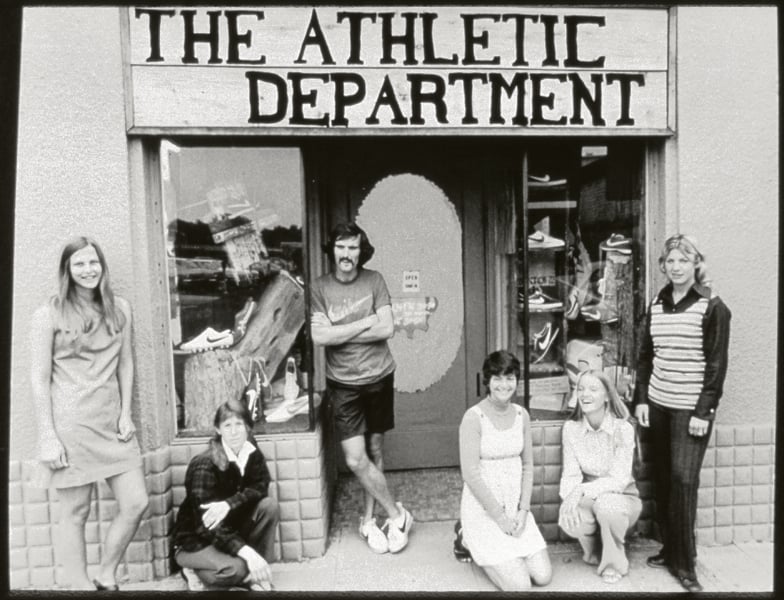 To help him run Blue Ribbon, Knight began assembling a curious stable of talent. This included running geeks, of course, (and in the early 1960s, that, too, was redundant) such as Jeff Johnson, hired as the company's first full-time sales rep in Los Angeles. An obsessive worker, Johnson kept comprehensive files on customers' likes, and he would write a letter a day to Knight for years, advising him on styles, sales, his marital difficulties—all manner of things. The silent Knight didn't answer a single one of them. Geoff Hollister was still a student and track star at Oregon when Knight hired him to sell shoes in the state. 
Another early hire, who would later become president and chief operating officer, was Bob Woodell, an Oregon athlete who became wheelchair-bound as a result of a freak accident. Knight would haul Woodell up and down stairs in those days, before there was an Americans with Disabilities Act. Two others, Rob Strasser, an outside lawyer who would become an insider and eventually run marketing, and Del Hayes, his former drinking buddy at Price Waterhouse who took on manufacturing, were so beefy that the track guys could have run laps around them for training. 
The group would engage in off-site meetings that were very Japanese in style: Get sufficiently greased at the bar, and then use that lubrication to unleash creativity, uncensored criticism and far-fetched ideas. They called themselves the Buttheads. By the time of Nike's IPO in 1980, the Buttheads would all become rich, with Knight's net worth notching $178 million; today it's more like $25 billion.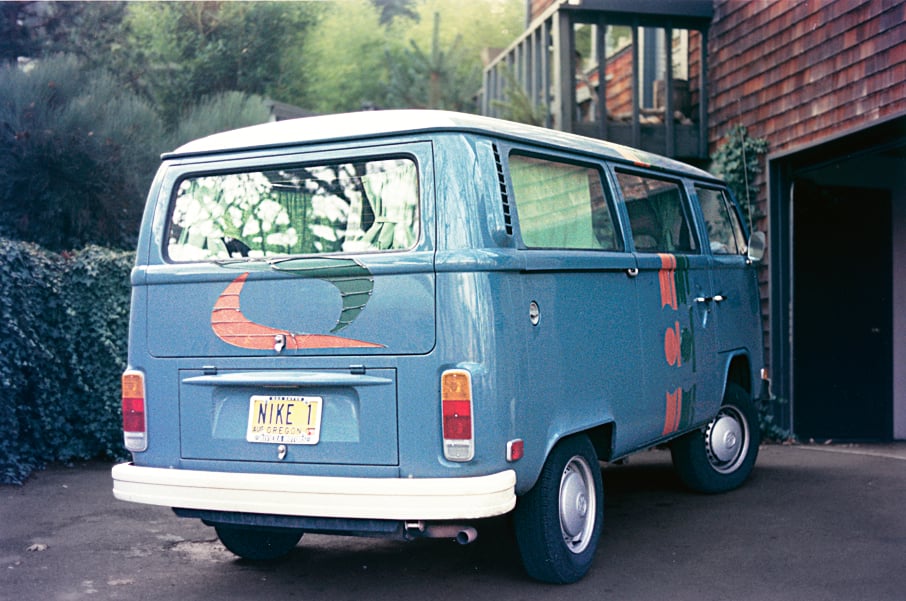 The company called Nike became Nike out of desperation in 1978,
after Onitsuka decided to nullify Blue Ribbon's distribution agreement
because Knight refused to sell a majority interest to the Japanese firm. That meant Blue Ribbon would have to find some outfit to manufacture its shoes—assuming it could create a shoe on its own. "The company, my company, born from nothing and now finishing 1971 with sales of $1.3 million, was on life support," he writes in Shoe Dog, which covers the company's struggles through its first 20 years. 
It was Johnson who would eventually come up with the name Nike, after the Greek goddess of victory. Knight didn't much like it, but he didn't have anything better, and the factory they'd hired in Mexico needed a name for the footwear it was producing—a badly made shoe that was designed for soccer and football but didn't work in either market. The Swoosh logo? Created by an art student who was paid all of $35.
The patient pulled through thanks in part to Dr. Bowerman. The inveterate tinkerer had already created his popular, padded trainer, the Cortez, which Nike wrested back from Onitsuka following dueling lawsuits in which Nike prevailed. Another bolt from Bowerman changed everything. First using his wife's waffle iron before moving on to more industrial-scale appliances, the mad-genius coach came up with the waffle trainer—a shoe that offered unprecedented cushioning for all types of runners. The Waffle Trainer, released in 1974, was a smash hit. Sales began to ramp up. 
Knight wasn't just a runner. He appreciated great athletes. Nike's growth would explode as Knight recognized the value of celebrity—and of celebrating athletes and athleticism—by signing endorsement deals with the planet's greatest jocks. Those running, jumping, human billboards would, in turn, drive serious athletes, weekend warriors and couch potatoes alike to retail stores demanding the Swoosh brand, creating an expanding pyramid of sales. In the lingo, it's called pull marketing. "The general principles still apply," Knight told me, long after Nike had achieved jock supremacy. "The creative use of great athletes, building shoes and clothes around those athletes, and advertising it in a creative way." The advertising, from Wieden + Kennedy, the firm Knight hired in 1982, was as great as the sneakers: "Just Do It." "Bo Knows." "There Is No Finish Line." Spike Lee's beyond-clever Jordan spots.
Running was paramount, of course, because Knight was an elite runner and it was the sport he created the company around. But Nike's first shoe ambassador and Cortez endorser, Steve "Pre" Prefontaine—the glorious rising sun at the dawn of the running boom and, like Knight, an Oregon man—died tragically young in 1975, another blow to the young company.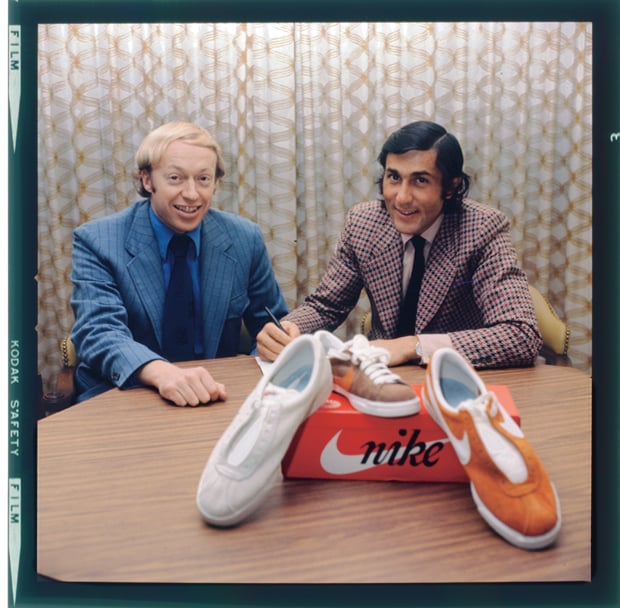 Knight began adding athletes as endorsers, starting with tennis star and court jester Ilie Năstase, but in 1984 he signed the ultimate hero, a hoops player out of North Carolina named Michael Jordan, for what was then an outrageous $500,000 plus stock options. Air Jordans would establish the sneakerhead culture globally and turn athletic shoes and apparel into fashion, in some ways making runways and clubs as important as the sports arena. Artists like Drake (Nike) and Kanye (formerly Nike, now Adidas) are fought over today as though they were star ballers. 
Knight kept signing, particularly after Reebok nearly stole the company's thunder in the mid-1980s. Nike's roster included the brashest and the best, including athletes who sometimes ran off the rails: John McEnroe, Alberto Salazar, Andre Agassi, Pete Sampras, Michael Johnson, Jerry Rice, Mia Hamm, Bo Jackson, Charles Barkley, Tiger Woods, Wayne Gretzky, Nolan Ryan, Bode Miller, Lance Armstrong, Ken Griffey Jr., Serena Williams, Kobe Bryant, Rory McIlroy. Among the latest and greatest are LeBron James and Cristiano Ronaldo—King James and CR7—the sovereigns of
basketball and soccer, the world's most important sports in terms of sales. 
"I stay in touch with most of them in varying degrees," Knight told me. "And see the greatest of them every day—in the form of buildings." Yes, the buildings at Nike's sports pantheon campus in Beaverton, Oregon, are each named for a Nike god: Johnny Mac, MJ, Tiger. And the runners— Pre, Alberto Salazar, Joan Benoit Samuelson, Michael Johnson. There are more than 20 of them.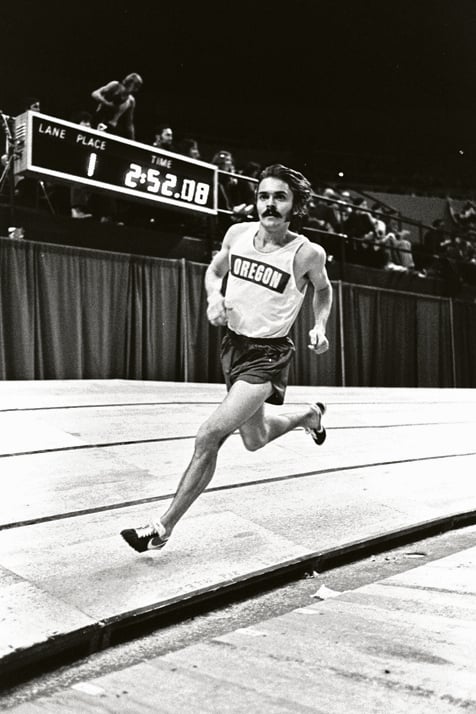 Although Knight may have an edifice complex at work, it does not extend to his private life. He has lived in relatively modest homes in the Portland area, and recently bought a five-bedroom home in a La Quinta, California, golf club community, moving from another place he maintained there. His one great indulgence: the $65 million Gulfstream G650 he keeps in a hangar he had specially built for it. The jet's tail and wings feature the feathers of his beloved Oregon Ducks. 
Working or not, Knight's life still revolves around sports. He always has the best seats in the house. He can watch the NBA finals and then discuss them with LeBron afterward. Yet he owns no sports teams, and he's the athletic world's least likely to show up at a press conference. He's been married to Penelope, "Penny," since 1968. They met when she was an accounting student at Portland State; he was the teacher. Infatuated, he hired her to work at the office, then dated her, then married her. They have one surviving son, Travis, having tragically lost their other son, Matthew, in a scuba diving accident in 2004.  
It would be easy to pass off Knight as the guy who brought a cool running shoe to market, and then had the foresight to sign Jordan for basketball and coast on the advertising. In fact, Knight changed the entire supply chain of the athletic goods industry, anticipating in 1964 the globalization that would envelop the world by the mid-1980s. He first sourced shoes from low-cost factories in Japan, then moved on with the economics to Taiwan and South Korea and later China and Vietnam. To avoid the trap of being unable to finance inventory, he implemented the revolutionary "futures" system that shifted some of the risk to retailers by locking in their orders. And as nations such as China developed their own consumer economies, Knight and Co. invested early, and enormously, to take advantage of it.
Having dodged the banks, the suppliers and even the U.S. government, which hit Nike with a massive $27 million import tariff in 1977, Knight brought the company public only
to face a series of hurdles in the 1980s and 1990s that could have sunk it. The first was a Massachusetts firm called Reebok. "We saw in the late 1970s what we thought was the running revolution, but it wasn't," Knight said in 1987. "It was the first shot of a fitness revolution." The advent of aerobics, and Nike's lack of a competitive leather aerobics shoe that could match Reebok's, caused Knight's first management crisis. By this time, he had decided to move out of the CEO's chair and concentrate on developing the promising China business. In true Knight fashion, he detached himself from the company, even physically moving his office, and communicated with COO Woodell every couple of weeks. It proved disastrous.
Stuck with massive amounts of inventory and an intimate management structure that no longer worked for a multibillion dollar company, he eventually parted ways with Strasser and moved Woodell aside. It was the first in a number of restructurings the company would undertake as it grew, the harsh price of progress. "As any company goes through its growth curve, it has to adjust its management style, approach—and people—to meet the new demands. There is no such thing as a perfect manager, or perfect management team, so the organization must find ways to fill in the gaps," he says.
In the late 1990s, Nike would reap the downside of globalization—and confront the concept of reputational risk—when human rights activists and the media seized on harsh conditions and low wages in some of its contract shoe factories in China, Indonesia and Vietnam. By now, all the major shoe companies were manufacturing in Asia, sometimes sharing the same facilities, but Nike was the one that had to answer for it. At first, Knight distanced the company from the problem on the basis that these were contract manufacturers—and in any event, wherever Nike set up shop, living standards for factory workers rose. But that wouldn't wash with the activists or with the college students whose teams wore Nike uniforms or the public at large. "Our culture and our style is to be a rebel, and we sort of enjoy doing that," Knight told me at the time. "But there's a fine line between being a rebel and being a bully. And yeah, we have to walk that line."
So he took ownership of the problem and embarked on a complete overhaul of Nike's code of conduct for its foreign contract factories, forcing them to pay higher-than-minimum wages, run environmentally safe plants and generally improve working conditions. It didn't please all the critics, but Nike would again be raising incomes, living standards and working conditions for factory workers, especially women, around the world. He announced the new code at a speech to the National Press Club in Washington in 1998. "I figured that I'd just come out and let you journalists have a look at the great Satan up close and personal," he noted wryly. The company would continue to focus on women's issues as it moved forward. And it would have its shares of hits and misses. Most recently, it quit the golf club manufacturing business, one created for and around Tiger Woods. Despite the loss of golf—and tougher competition from a resurgent Adidas and a Steph Curry–powered Under Armour—CEO Mark Parker has set an ambitious goal of $50 billion in sales by 2020.
Knight moved on to the role of chairman emeritus earlier this year, handing the chair to Parker, but he still attends board meetings and his presence looms large over the Nike campus. In recent years, he's redoubled his commitment to the University of Oregon's athletic department, where he first claimed fame as a varsity athlete. The Nike-clad Ducks have risen to national prominence in football on a wild playbook and Knight's checkbook. He's donated more than $300 million to give the school new football and basketball facilities, a lacrosse field, a weight room and an academic center. One goal is to make the Ducks national champions in football. They reached the final game last year. Before Knight, even getting that far would have been considered unthinkable—just another crazy idea.
This article first appeared in Maxim's October 2016 issue. Subscribe here.