Here's Why All 'Star Wars' Dark Side Lightsabers Are Red
It all makes perfect sense now.
With Rogue One: A Star Wars Story set for release in just a few months, the desire to know every little intergalactic detail about the new movie and the series' previous installments is at an all-time high. 
Geeked-out Star Wars forums—as well as a deep study of the original trilogy—may provide some insight as far as what's to come in November, but one of the greatest source of information nowadays comes from Star Wars novels, providing background information to beloved characters that didn't make it into a movie's final runtime.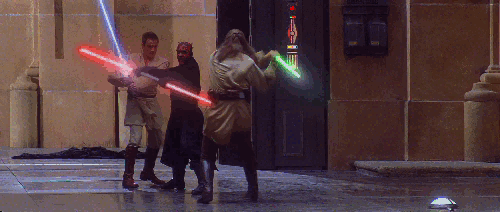 The latest bit of arcane Star Wars info, revealed in E.K. Johnston's new novel Ahsoka, tells just how those flesh-slicing lightsabers obtain their colors. As it turns out, a kybar crystal, after discovered by someone gifted with The Force, gives the saber its color, ranging from blue, to green, to purple. For those on the Dark Side, the only way to obtain a kybar crystal is to steal it, causing the crystal to "bleed", which then imbues all Dark Side sabers with a blood-filled red hue. 
In case you're in hot pursuit of a kybar crystal, you'll be happy to know that they can be found all around the galaxy. Jedha, an area featured throughout the Rogue One trailers, is also known to house them, so there's a good chance this'll come up in between Felicity Jones's dangerous mission against the Death Star.
h/t Uproxx