Why The UFC Is Going to Be Absolutely Bananas For the Next Few Months
From Brock Lesnar's return to McGregor-Diaz II, the UFC has got its groove back.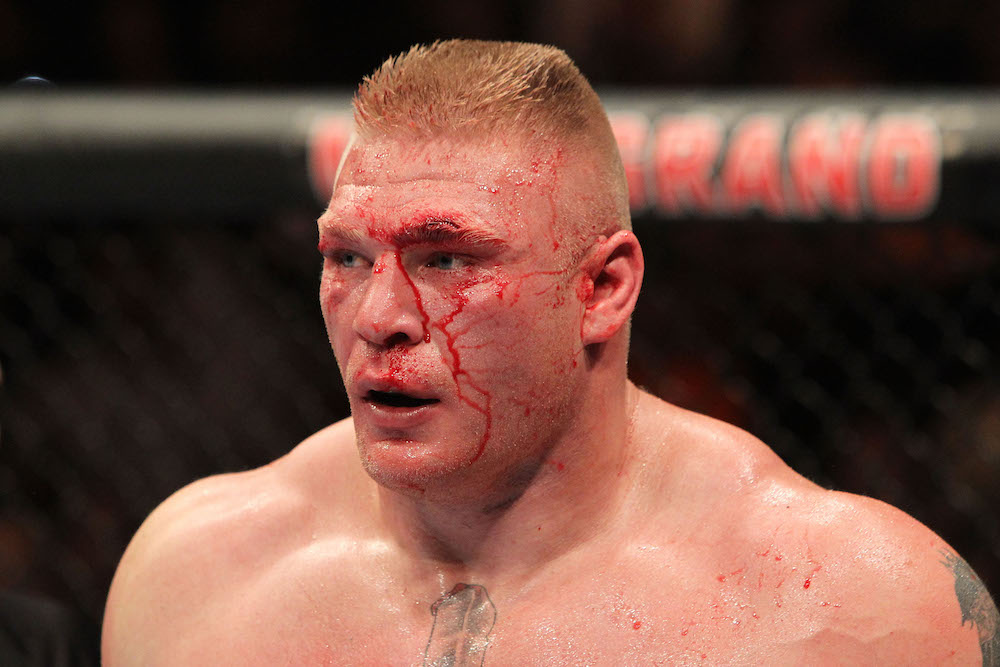 It would hardly be an understatement to say that the UFC's past couple months completely sucked. UFC 196, on March 5, was supposed to be a triumphant night for Conor McGregor, the promotion's biggest star, and Holly Holm, the woman who had just knocked off it's other biggest star, Ronda Rousey.
But both fighters lost, setting off a series of events that left UFC president Dana White scrambling to restore order. First, McGregor's planned rematch with Nate Diaz at UFC 200 was scuttled after the Irish superstar refused to participate in pre-fight promotional events. 
Then McGregor began a bizarre flirtation with boxing's retired pound-for-pound king Floyd Mayweather. It was dumb and an obvious PR stunt, but it overshadowed the UFC, something that surely didn't sit well with White, who watched UFC 200 approach with a pedestrian fight card. Meanwhile, White was locked in a financial dispute with Diaz and the idea Rousey getting her revenge on Holm began to see less and less likely. 
And then, on Saturday, things began to turn around. UFC 199 was a rousing success and, more importantly, White ensured that the next few months of UFC action will be hotly anticipated.
First, there's the return of Brock Lesnar. The 38-year-old hasn't fought in the UFC since losing to Alistair Overeem in December 2011. His struggles with a digestive disease made MMA impossible and he returned to wrestling. Now, the man who once ruled the UFC's heavyweight division and was the promotion's biggest draw, will return to the cage.
When the UFC broke the news of Lesnar's return Saturday night, fans flipped. And when his opponent was announced, there was even more reason to be excited. Lesnar will fight power puncher Mark Hunt on July 9 in Las Vegas. Hunt is a 260-pound New Zealander who's 12-10-1 record and huge gut belies his skills in the cage. Lesnar may be the bigger name, but the oddsmakers like Hunt in this one. 
Exciting as the Lesnar news was, the bigger announcement on Saturday night concerned UFC 202, which will take place August 20 in Las Vegas. Five months after Diaz submitted McGregor in the second round of their first fight, The Notorious will get another shot.
The announcement marks a detente in the battle between White and McGregor and puts an end to the ridiculous rumors that McGregor would fight Floyd Mayweather. Hopefully it'll end the terrible mock up posters too.
White has clearly settled up with Diaz as well. The 31-year-old butted heads with White during negotiations for his rematch with McGregor. He wanted a raise from their initial fight and White responded with a pretty public slap to Diaz's face, telling reporters he's "not a needle mover." Diaz returned the favor with a slap of his own on Saturday.
https://www.instagram.com/p/BGQJYQVOPpo
After months of turmoil, the UFC is now primed for an exciting summer. UFC 200 promises to be huge with Lesnar's return and the hype train will soon start rolling for UFC 202. Still, not everything is rosy in the UFC, especially for the women. 
White announced last Thursday that Rousey, the brightest star in the UFC until not very long ago, recently had minor knee surgery and won't fight until December, at the earliest. Given how often her return to the ring has been pushed back, it wouldn't be smart to bet on that though.
Meanwhile, in the strawweight division, White's hand-picked star of the future, Paige VanZant, is getting courted by Hollywood. After her second place finish on Dancing with the Stars, upcoming acting gig and interest from the WWE, one wonders if she has any more reason to get back in the cage. 
Now that he's done settling the drama with the UFC's men, White can get to work on her.