'Idiocracy' Is Coming Back to Theaters for Its 10th Anniversary
Most prophetic movie ever?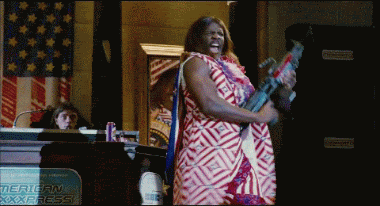 It's almost as if Mike Judge was a prophet. The Beavis & Butthead creator's Idiocracy had a rough go of it in theaters in 2006 and seemed destined to disappear from film history. But over time Judge's satirical take on a 21st century man (Luke Wilson as "Average Joe" Bauers) confronting a bizarro future world consumed with advertising and reality TV where he is the smartest person alive became a cult hit—one that some might say a bizarrely accurate look at the future. So naturally, Idiocracy is coming to the movie house again.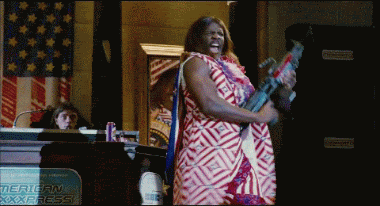 For the comedy's 10th anniversary, it will be re-released for one night only in Alamo Drafthouse, Art House Convergence theaters and local chapters of the League of Women Voters across the country. Fans lucky enough to make it to the Aero Theatre in Santa Monica, CA will also hear Mike Judge as well as star Maya Rudolph discuss the film after the screening.
Don't worry if you can't find an affiliated movie house, though. IndieWire reports there will be streaming as well:
For those that can't make it to an Alamo Drafthouse or Art House Convergence theater, fear not, you can watch the film on the platform of your choice, press play exactly at 7pm PT, and then tune into Facebook Live for the post-movie conversation at 8:25pm PST. Questions will be taken from the live audience in Santa Monica, but also from the live-stream and Facebook Live audiences via Twitter using the hashtag #IdiocracyToday.
A special Idiocracy tee shirt will also be available via Mondo Tees. IndieWire reports that some of the profits from screenings and merchandise will go to the League of Women Voters in an effort to support their efforts in voter education and registration.
So see if you can find some Brawndo to mutilate your thirst and get ready: Idiocracy makes its timely one-time return on October 4, 2016. 
h/t IndieWire