'Jean-Michel Basquiat: King Pleasure' Is A Massive Tribute To Art World Icon
Featuring rarely-seen paintings, drawings, ephemera and artifacts from Jean-Michel Basquiat's private estate.
Meet Basquiat with fresh eyes this month at the Starrett-Lehigh building in Manhattan's Chelsea neighborhood. The recently opened Jean-Michel Basquiat: King Pleasure is an immersive exhibition of more than 200 rarely seen paintings, drawings, ephemera and artifacts from the artist's private estate organized, for the first time, by his actual family.
Since Basquiat's tragic passing in 1988, his sisters Lisanne Basquiat and Jeanine Heriveux have managed his finite legacy of approximately 1,200 drawings, sketchbooks, prints and paintings.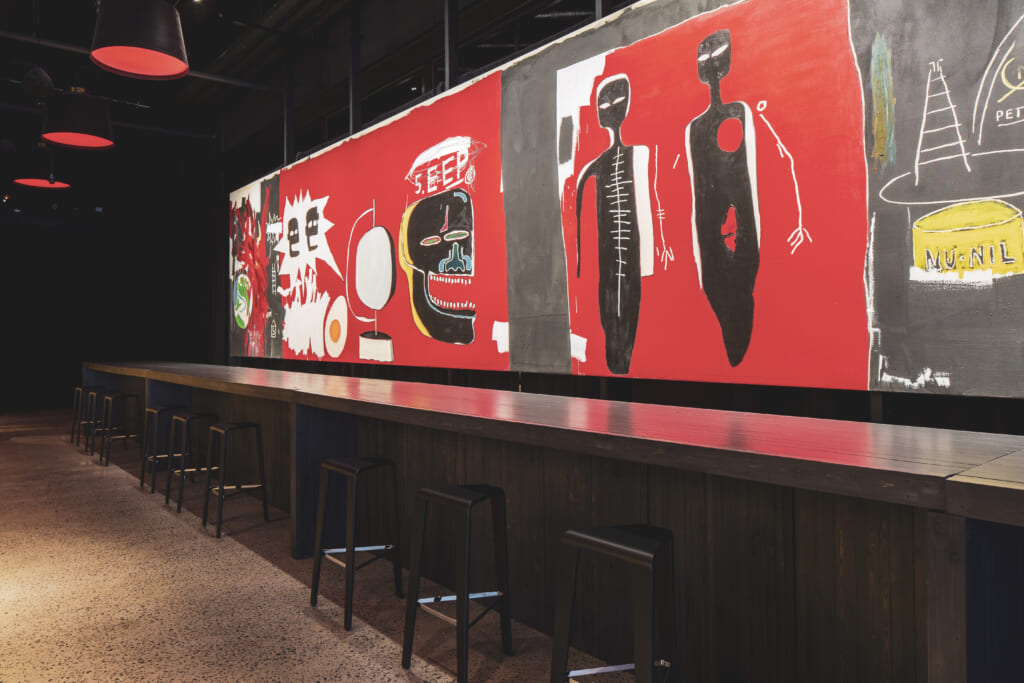 They joined forces with stepmother Nora Fitzpatrick, along with family friends and art world icons like Jeffrey Deitch and Annina Nosei to "to give an intimate and multidimensional portrait of Jean-Michel that can only be told by his family," as the show's press release explains.
King Pleasure guides viewers through seven chronological sections that share Basquiat's life story over 15,000 square feet. The tales starts with an introduction to Basquiat's Brooklyn childhood in the 1960s, including film footage of the talent as a toddler in Prospect Park.
Jeanine and Lisanne's voices warmly welcome viewers to the show in an acoustically optimized hallway that opens into Kings County, a section focused on the artist's early adolescence. Family friends share stories of childhood mischief in filmed interviews, priming viewers to enter a full-scale recreation of the Basquiat family home in Brooklyn's Boerum Hill–with real furniture culled from the family's private heirlooms.
King Pleasure stands apart from other art extravaganzas honoring legends like Banksy and Van Gogh with a focus on its central figure's humanity first and foremost. Today's art market can regard Basquiat more like a commodity than a person, speculating on the substantial figures his remaining oeuvre fetches on the auction block and harnessing his iconic style to hawk jewelry, notebooks, and more. The authentic wicker chairs and old school TV set of Basquiat's upbringing bring fans back to the boy himself.
World Famous illustrates his rise to art world royalty with foundational fine art works from the early 1980s, immediately recognizable in their style but entirely new to public eyes. The section called "Ideal" takes its title from a brand logo that shows up throughout Basquiat's artwork, but centers around his fabled 1983 studio at 57 Great Jones Street in NoMad.
Personal affects like books and VHS tapes intermingle massive unstretched canvases spread across the floor, actual works in progress arranged as if they might be completed someday. Here, the artist's absence is most sorely felt.
Three thematically organized art galleries follow, offering the bulk of new artwork for die hard art fans here to witness the true treasures. "So much of what Jean-Michel created was both social study and subjective exploration," reads info in one gallery titled Irony of Negro Policeman. "People often ask members of our family to opine on what Jean-Michel may have thought about certain topics, but one only needs to go to his work."
King Pleasure closes with a heartfelt film homage to Basquiat's legacy, delivered simultaneously on three screens in a plushly carpeted room that creates an intimate feel.
Before hitting the King Pleasure Emporium, a chic gift shop also curated entirely by the artist's family, viewers step into a full-scale rendition of the long-gone Palladium night club's VIP area, the Michael Todd Room, where Basquiat partied and installed commissioned paintings.
"I think we've made this look easier than it really has been," Lisanne Basquiat tells Maxim about their experience assembling the landmark retrospective. "This has been a tremendous effort for us and for our family." Heriveux adds that she hopes viewers take "Inspiration, encouragement and support" from the show. "And celebration, because this is a celebration of a person's life."
Basquiat has earned his rightful, permanent place in art history's pantheon of greatness. King Pleasure offers a necessary recentering, an opportunity to remember the spirit at the heart of the zeitgeist.
It's not just scarcity that fetches monumental prices for Basquiat artworks at auction. It's also pure soul. King Pleasure prioritizes the story behind Basquiat's unforgettable spirit.