Inside Mister Cartoon's First L.A. Gallery Show
The famed tattoo artist favored by Travis Barker and Eminem celebrates L.A. street culture with black-and-white paintings and an airbrushed Chevrolet Master Deluxe.
(Willie T.)
Mister Cartoon has grown into an artistic icon of his hometown of Los Angeles. Perhaps best known as a sought-after celebrity tattoo artist, Cartoon got his start writing graffiti and working as a sign painter, two facets of his origin story that underpin his Just My Imagination at Control Gallery in Hollywood.
Although his work has already achieved global acclaim—he's tattooed the likes of Travis Barker and Eminem and his coveted Nike Air Force 1 collabs sell for thousands—this show marks Mister Cartoon's long-overdue L.A. gallery debut.
On view through July 16, the exhibition is the culmination of a year and a half-long effort. It's the largest series yet by Mister Cartoon, spanning 20 paintings and works on paper, a 1939 Chevrolet Master Deluxe airbrushed with body lines, and a tattoo shop installation.
Altogether, Just My Imagination offers both an exhaustive survey of the artist's wide-ranging practice and his first opportunity to overtake a fine art gallery in its entirety. He's a very busy working artist, after all.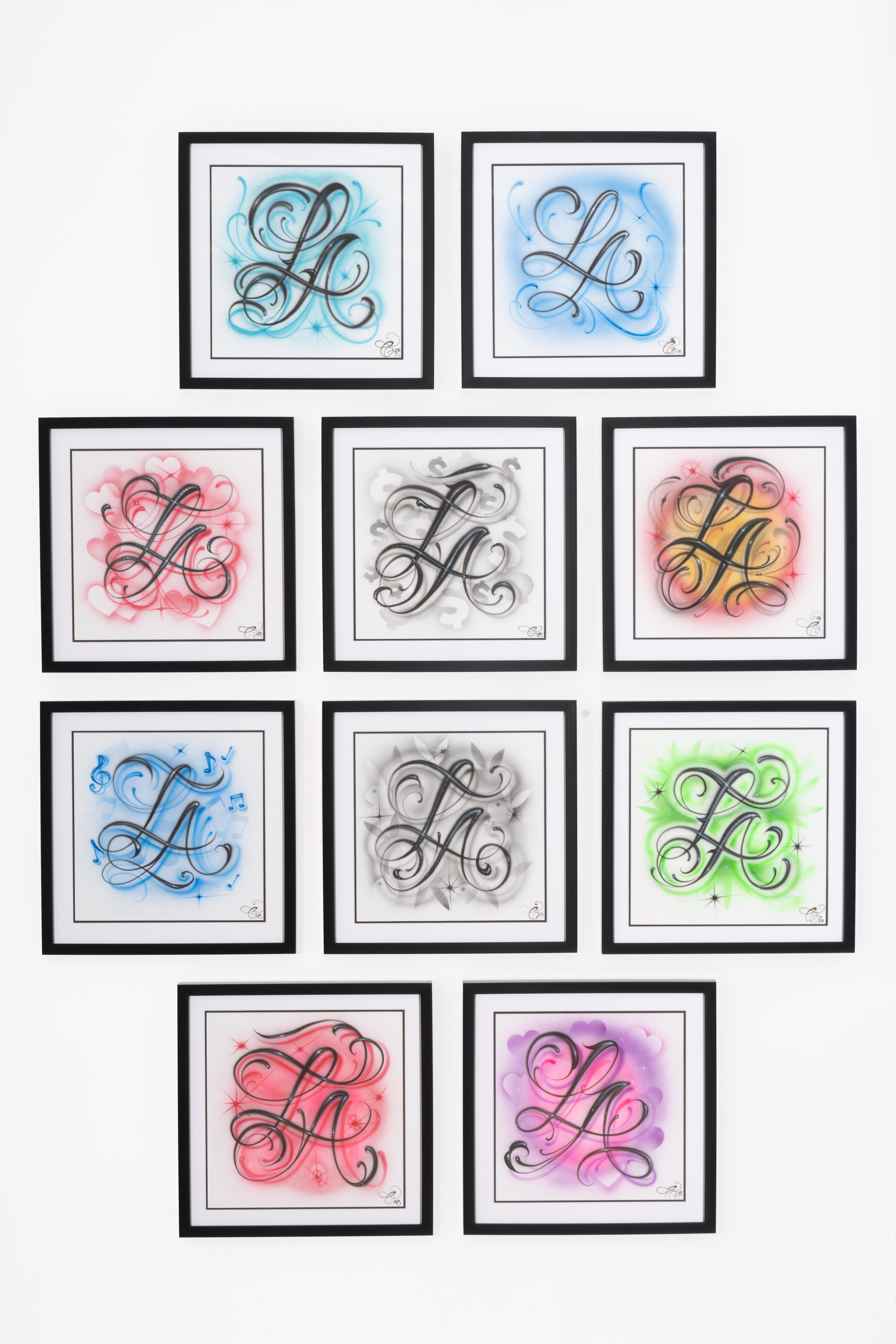 The show's a long time coming, too. "When we opened the gallery this past year it finally gave us the proper space to host this show in the way it deserved to be exhibited," says Control Gallery founder Roger Gastman, a famed "protector" of the culture so fierce he chewed me out two summers ago for Instagramming a photo of a birthday cake he bought graffiti artist Taki 183.
"We're honored to be able to share these works with Los Angeles and remind the world of the impact Mister Cartoon has made on the art world, and Chicano culture as a whole," Gastman continued.
Over 800 fans—including local stars like Shepard Fairey, better known by his moniker Obey— attended the opening to celebrate Mister Cartoon's milestone, meet the artist, and savor this new series of black and white engravings, which complement enamel paintings honoring lowrider culture.
No DJs were present, but Mister Cartoon, who listens to the Temptations while working in his San Fernando Valley studio, curated a Motown playlist to score the show during its full run. Although the industrial truck he painted is most likely no longer parked outside Control Gallery, new merchandise and a monograph still remain on offer in the gift shop.
Los Angeles Times notes the intimacy across Just My Imagination, a heartfelt peek into the superstar's own psyche—he's set childhood memories amongst motifs from Mexican culture, and L.A. scenery like liquor stores and high rises crowned by varying clouds.
The city itself helped raise the blue collar artist, since his parents worked long days in their print shop to make ends meet. Characters abound, identified by tattoos. One work is painted on the trunk lid of a 1964 Impala.
"This is my opportunity to say what I want to say and hopefully make other people identify or share the experience also," Mister Cartoon remarks of his gallery debut. "It's a collage of my dreams, memories and experiences."