An Interview With Arianny Celeste
The sexy Octagon Girl talks turn-ons, beatdowns, and how to get a kiss under the mistletoe.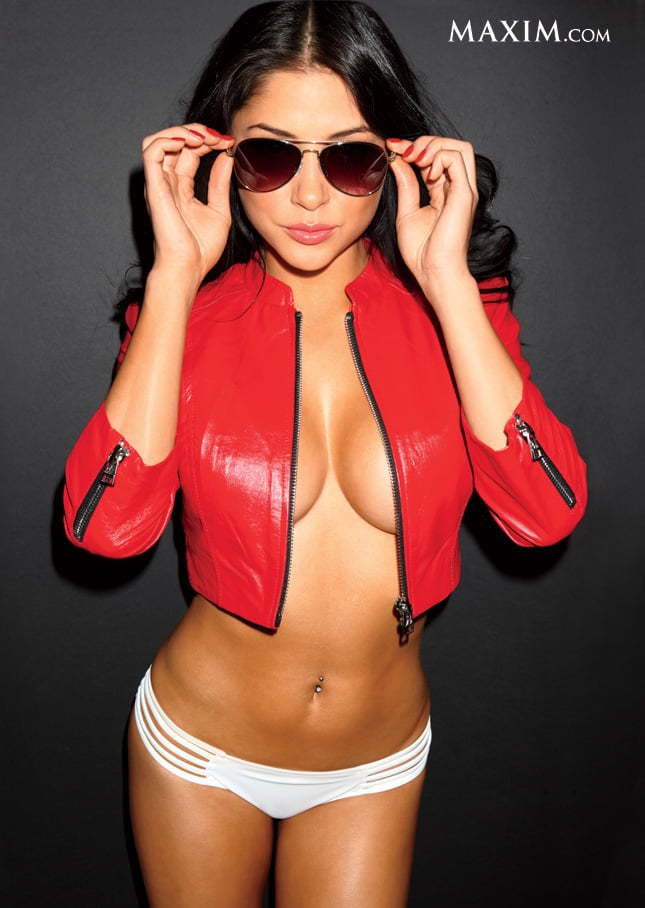 (Photo: Maxim)
What raises your heart rate higher than seeing two guys beating the crap out of each other inside a metal cage? Octagon Girl Arianny Celeste. Since making her debut six years ago, the sexy Las Vegas native has become a fixture at UFC events, driving fans crazy across the globe. Listen in as Arianny talks turn-ons, beatdowns, and how to get a kiss under the mistletoe.

Check out Arianny Celeste's Maxim Gallery! 

This is your second Maxim cover, and you were once a Hometown Hottie. You must really like us!


I've always admired the girls in Maxim. When I started modeling, posing for the magazine was a big goal.

How was this shoot compared to the first one?


It was even more awesome, because this time I had the other UFC girls with me and we had a great car involved. My first Maxim cover was playful and girly, but this one is a lot sexier and darker.

Do the Octagon Girls get into cat fights?


No! We hang out, but there aren't any pillow fights.

Dang, a lot of guys may be disappointed to hear that.


Well, in the dressing room we do walk around in our thongs and look each other over to make sure we're all bronzed up and looking perfect for TV.

Let's move into the Octagon. How has the UFC changed since you started 2006?


It's blown up! First I thought MMA was kind of scary, but seeing what the fighters go through, I have total respect for what they do.

Got any favorite fighters?


I love Anderson Silva. He lives up to his nickname, the Spider, because he waits for the perfect moment to strike, and then he's just incredible.

Do you have a nickname?


I'm too girly to get into the ring, but in normal life it would be the Silent Killer, because when I get mad you never know when I'm going to pounce!

What's the biggest perk of being an Octagon Girl?


Traveling. I loved Brazil and Sydney. If I'm by the water, in a bikini, I'm happy.

As are we. How do UFC fans react when they see you in person?


I've gotten proposals! It's cute, but I have to decline.

So what's your favorite part of the holidays?


Everything. I love the candy, the decorations, and cooking with my huge family.

What about cheesy Christmas music?


I get into it, but I love house music. I have a song on iTunes, "Top of the World," with Manufactured Superstars.

What can we do for a kiss under the mistletoe?


Just a kiss? Good breath and good teeth. But to really get me in the mood, I need candles and a massage.

So have you been naughty or nice this year?


A mixture of both, but more on the naughty side. I like to keep things interesting.

Check out Arianny Celeste's Maxim Gallery! 

See more Girls of the UFC.