Here's Everything We Know About the 'IT' Sequel
Pennywise is back.
(Photo: Warner Bros.)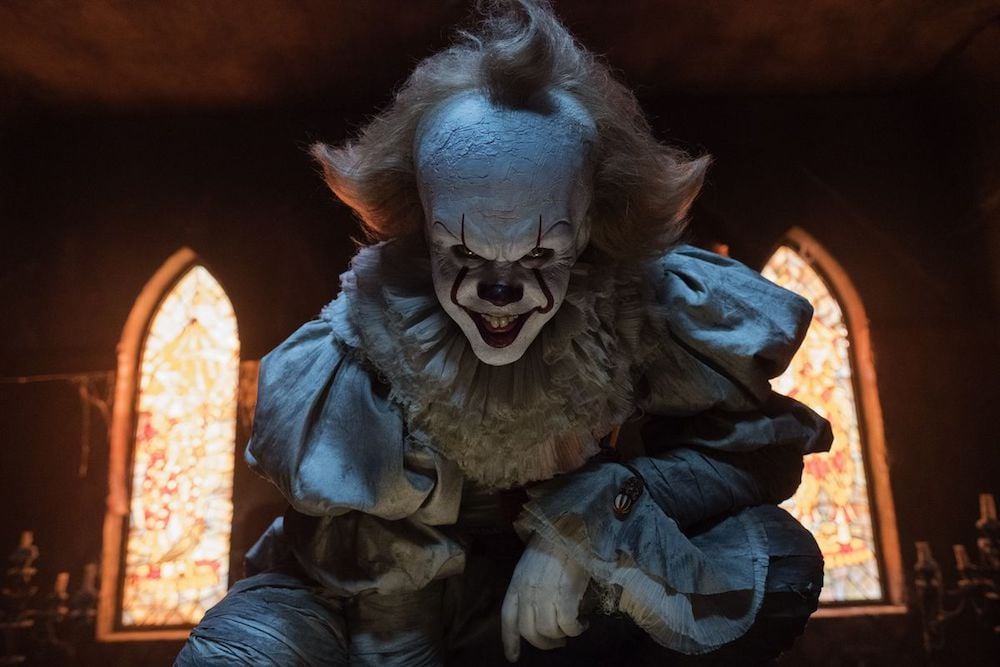 That there would be a sequel to 2017's horror smash hit IT was a sure thing. 
The movie earned a "fresh" 85% approval rating on Rotten Tomatoes and earned $700.4 million worldwide. 
What may remain unknown is just how great the sequel, based on one half of the source novel from Stephen King, is shaping up to be.
Here, eight things we know about IT: Chapter Two. 
1. An all-star cast, including the Old Spice Guy, will play the Loser's Club as adults
Muschietti made the call to split Stephen King's decade-spanning tomb into two movies, the first following the Loser's Club as kids and the second as adults. We knew that if the first was a success, the sequel would vie for an A-list cast, like the star-studded 1990 miniseries. 
The cast is perhaps even better than we expected. Oscar nominee Jessica Chastian has been cast as Beverly Marsh, James McAvoy as Bill Denbrough, SNL alum Bill Hader as Richie Tozier, Jay Ryan as Ben Hanscom, James Ransone as Eddie Kaspbrak and, lastly, Isaiah Mustafa (The Old Spice Guy) as Mike Hanlon. Teach Grant (Altered Carbon) will play bully Henry Bowers as an adult.
Despite the fact that they're all seemingly hot movie stars now, the Loser's Club will fulfill their pact to return to Derry should Pennywise ever return.
" tml-embed-width="480″ tml-embed-height="270″ tml-render-layout="inline
2. The sequel will take place in 2016
Stephen King's novel was contemporary when it was released in 1986, setting the Loser's Club's run in with Pennywise in 1957 and then later in 1984. Pennywise is said to emerge from the sewers to stalk the children of Derry every 27 years.
Muschietti bumped up the action to the summer of 1989 so that the sequel would take place in the current day. That move actually worked for the movie, seeing that all the '80s pop culture present were a bit more accessible, including that bit about Ben being a secret New Kids on the Block super-fan. But it means the sequel will be sapped of any nostalgia factor.
" tml-embed-width="480″ tml-embed-height="352″ tml-render-layout="inline
3. The original director and screenwriter are returning
Director Andy Muschietti quickly announced his return after the success of the first, and one of the co-screenwriters of the original, Gary Dauberman, has been tasked with writing the script.
Producers Seth Grahame-Smith and David Katzenberg revealed to Slashfilm that a script was already near completion around the release date of the first movie.
"We are locked and loaded and ready to jump in the minute they say 'go.' The script is not done, but the script is being worked on. Obviously, all of the filmmakers are chomping at the bit to get started, and we have a very exciting shape, and Gary's working away. I feel somewhat optimistic that we'll get to make it, but there's been no official decision."
" tml-embed-width="480″ tml-embed-height="186″ tml-render-layout="inline
4. IT is already filming
Filming officially began on June 19 and is set to conclude on October 20, 2018, with shoots taking place around Port Hope and Toronto, Canada. 
James McAvoy confirmed the news on Instagram with a shot from Day One of filming… and a cheesy joke about the name of the town, Derry.
https://www.instagram.com/p/BkOSl0_HUqv
5. A hate crime will mark Pennywise's return
In another piece of all-star casting, it was announced that indie actor and director Xavier Dolan has been cast as Adrian Mellon, a character from King's original novel you missed in the 1990 miniseries.
Adrian Mellon is a gay man living in Derry who "becomes the victim of the local bullies," according to Den of Geek!. It adds that a crime committed against him by said bullies "will lead to the discovery of Pennywise's return to the town."
So you can likely add "homophobic" to Pennywise's laundry list of disreputable qualities.
https://twitter.com/JacobQKnight/status/1009862187031105538
6. There will be more freaky elements from King's novel
Splitting the novel into two left more room for the narrative to breathe, and for Muschietti to fill in more details from King's novel. Den of Geek! added that the sequel will include a few important details left out of or glossed over in the 1990 miniseries. 
"The second movie will open with a flashback of The Black Spot and the night Mike's parents were killed in a fire. The movie will also feature some of the novel's crazier cosmological stuff such as the Macroverse and the Turtle."
" tml-embed-width="480″ tml-embed-height="201″ tml-render-layout="inline
7. The sequel will be darker
Audiences were delighted by just how funny the first movie was, with the Loser's Club offering up some much-needed levity in between the scares. It made sense for a movie about kids, but the sequel, following emotionally damaged adults, will play out more like a dark drama with lots of real terror.
"It won't be a comedy," Muschietti told MTV. "If the second movie happens, I really want to recover the dialogue between the two timelines that the book had."
" tml-embed-width="480″ tml-embed-height="202″ tml-render-layout="inline
8. IT returns on September 6, 2019
Get excited.