Jay Hernandez From 'Friday Night Lights' Lands Lead Role in 'Magnum P.I.' Reboot
Let's hope he can grow a mustache.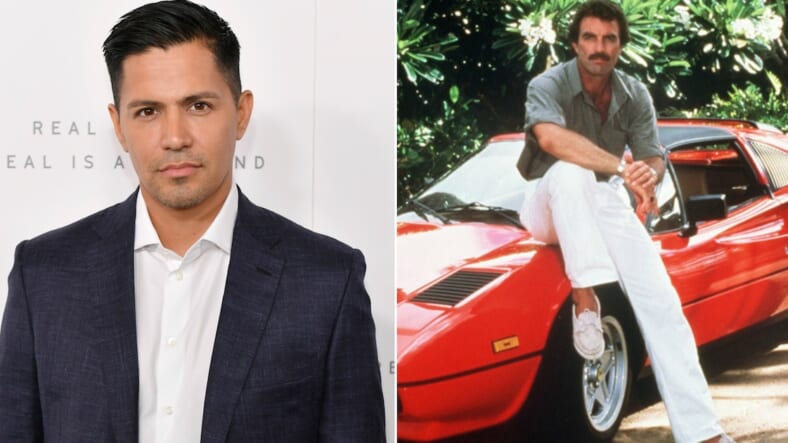 We hope Friday Night Lights actor Jay Hernandez looks good with a 'stache.
Because he's just been cast as Thomas Magnum, iconically played by a mustached Tom Selleck, in a CBS pilot of a Magnum P.I. reboot.
The original show aired on CBS from 1980 to 1988 and made stars out of Tom Selleck's facial hair and red Ferrari.
An plot offered by The Hollywood Reporter suggests the new show will be more serious in tone than its jokey '80s predecessor. 
The new Magnum P.I. is described as an update of the original. It follows Thomas Magnum (Selleck's former role), a decorated ex-Navy SEAL (also like the original) who, upon returning home from Afghanistan, repurposes his military skills to become a private investigator. With help from fellow vets Theodore "TC" Calvin and Orville "Rick" Wright, as well as that of disavowed former MI:6 agent Juliet Higgins, Magnum takes on the cases no one else will, helping those who have no one else to turn to. Action, adventure and comedy aside, the new Magnum P.I. will also explore a brotherhood forged by the trauma of combat, what it means to return home an ex-soldier and a commitment to continuing to serve while in the private sector.   
You've seen Hernandez before, most recently in the comedy Bad Moms alongside Mila Kunis and Kristen Bell, but never in a starring role of this caliber.
CBS is on a nostalgia rampage as of late. The network recently ordered to pilot revivals of Cagney & Lacey and Murphy Brown as well as a TV adaption of L.A. Confidential.