Jeff Bridges Teased a New 'Big Lebowski' Project, and the Internet Is Losing It
"Can't be living in the past, man."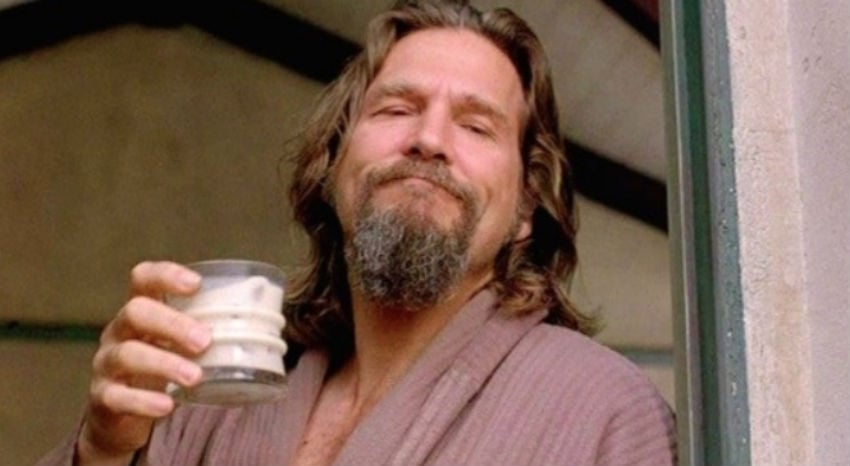 Polygram
https://twitter.com/TheJeffBridges/status/1088481555582996480
The Big Lebowski is a movie that really means something to a lot of people, man. The eternally chill Dude is possibly Jeff Bridges' signature role, and he's never shied away from it either. 
Still, the tweet he posted Thursday couldn't have been a bigger surprise, judging by social media reaction. Watch the brief video above.
It's just a grubby scene, possibly out in the street, then The Dude enters the frame. He's older, but still unmistakable. He lowers his glasses, laughs, walks away. Then a freakin' tumbleweed rolls by followed by the date 2-3-19.
That's it. 
The "what the hell just happened" factor on this revelation that Bridges has taken part in some kind of Big Lebowski-related project cannot be underestimated. February 3 is Super Bowl Sunday, so it could be anything: a full trailer for some kind of sequel, The Dude selling some kind of branded White Russian in a funky commercial, who knows?
Everyone has their own idea. Some of the Twitter reactions, negative and positive:
IT'S A SUNDAY BC WALTER DOESN'T ROLL ON SHABBOS

— The Volatile Mermaid (@OhNoSheTwitnt) January 24, 2019
Seeing entirely too many people tricked into thinking that LEBOWSKI thing is for a sequel just one year after y'all fell for the CROCODILE DUNDEE thing

— Salem's Thot™ (@ScottWamplerBMD) January 24, 2019
Scott Wampler is the editor of Birth.Movies.Death, and he has a point. Last year a full-on trailer promoting a Danny McBride movie in which he played Crocodile Dundee's long-lost son fooled everyone into thinking some top-secret project was about to be revealed. 
It was really just an ad for Australian tourism. Still, people want to believe when it comes to Lebowski.
Given the reveal date (2/3), assuming this is a Super Bowl commercial rather than a top secret Big Lebowski sequel, but holy shit THE DUDE IS BACK! https://t.co/OfOCIqtSkG

— John Squires (@FreddyInSpace) January 24, 2019
"The Big Lebowski 2: The Dude in No Way Abides by the Laws of Comedy Sequels"

— Ben Johnson, CFA (@MstarETFUS) January 24, 2019
We're in the "it's a Super Bowl ad" camp until proven wrong. 
But if Jeff Bridges was willing to abide a while as The Dude again, no one would complain.