Jerry Seinfeld Shot Guns at an 'Anti-Terror Fantasy Camp' in the West Bank, And Lots of People Are Mad About It
"What's the DEAL with the Israeli-Palestinian conflict?"
It's like a famous comedian can't even go to Israel and visit a paramilitary camp some consider a symbol of apartheid without getting grief from fans anymore. 
In other words, no one wants to see Jerry Seinfeld standing in an IDF "Anti-Terror Fantasy Camp" located on the extremely controversial West Bank—Palestinians consider it an illegal occupation—and palling around with elite Israeli soldiers.
The camp Seinfeld visited is called Caliber 3. This is how the Jerusalem Post describes it:
Caliber 3 was founded in 2003 by IDF Col. (Res.) Sharon Gat and provides "top security solutions, high threat protection, intelligence operations and tactical training to military, law enforcement, government agencies and commercial clients around the globe.

"
While courses tend to be geared toward professional military and security personnel, Caliber 3 is part of the growing "military tourism" trend in Israel and offers packages geared towards tourists and celebrities, with survival training, self-defense/ Krav Maga classes or clay target shooting. It also offers simulations of suicide bombings and other terrorist attacks.
Caliber 3 posted the news of Seinfeld's visit on its Facebook page, writing that along with his family, Seinfeld "came to us for a special and exciting activity with displays of combat, Krav Maga, assault dogs and lots of Zionism. It was great."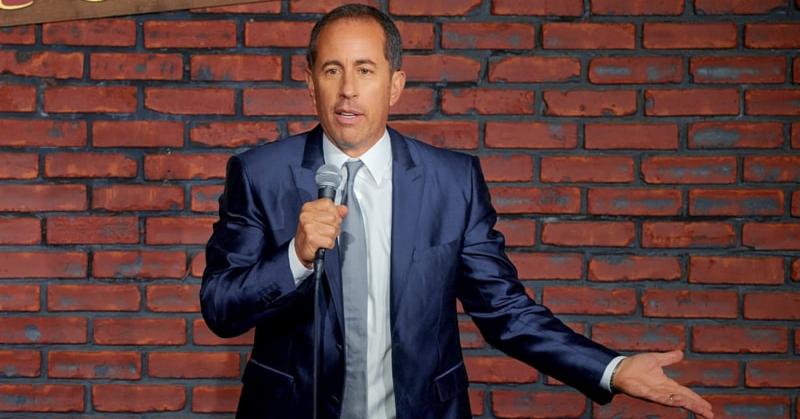 Maybe it was a great experience for Caliber 3 and the Seinfelds, but some social media users found it the opposite of great.
Jerry Seinfeld took his kids to play war games with the IDF. So cute, right? Now imagine the reaction if, say, Bella Hadid posed with the PFLP or DJ Khaled (brandishing a machine gun) hung out with Hamas. pic.twitter.com/NUl5oGSfse

— Steven Salaita (@stevesalaita) January 9, 2018
Jerry Seinfeld and his family play fascists in the West Bank. Indoctrinating his young children to murder Palestinians and steal land. There is nothing funny about apartheid, occupation, settlement expansion, and executing occupied Palestinians. https://t.co/hypj7NLmwd

— Remi Kanazi (@Remroum) January 8, 2018
https://twitter.com/rayyoosheh/status/951083180353904641
NOT FUNNY JERRY 👎
American Comedian Jerry Seinfeld and his family visited an illegal Israeli settlement in the occupied West Bank and participated in an Israeli military tourist training camp !#Palestine pic.twitter.com/zKDimvTh7P

— Palestine Social (@PalestineSocial) January 10, 2018
Seinfeld visited other military installations while in Israel as well, but none of them were in such a volatile location.
As of Wednesday afternoon Seinfeld had not addressed the issue. Caliber 3, reported the Jerusalem Post, removed evidence of the comedian's visit from its Facebook page with no explanation. 
It might be unfair to come down so hard on a comedian whose career has been resolutely apolitical—but perhaps he just made it extremely political without even trying that hard. 
We're wondering if Seinfeld was trained in Krav Maga. He could really steer attention away from this snafu by finding Newman and kicking his ass.