Inside 'Jersey Shore' Star Mike 'The Situation' Sorrentino's $1.8 Million, 10,000-Square Foot Mansion
After eight months in prison, the MTV reality star has moved from the Big House to a VERY big house.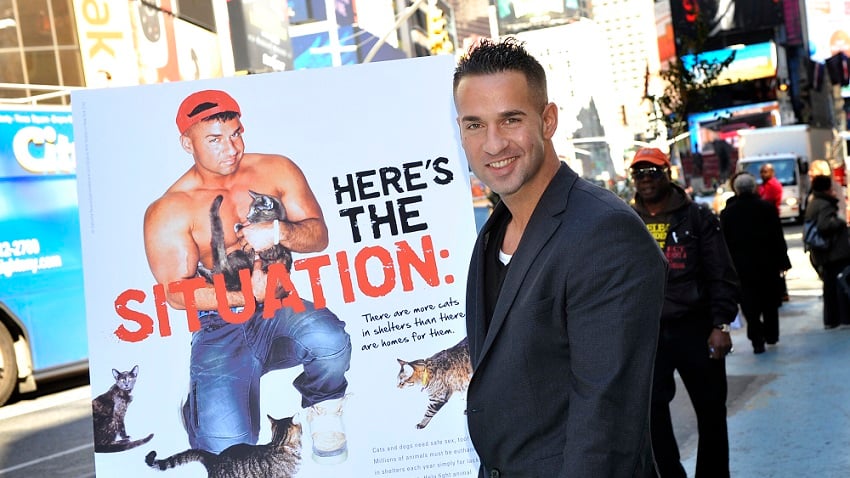 Last we heard from "The Situation"–aka former Jersey Shore star Mike Sorrentino–his situation wasn't so great. After he and his brother were indicted for tax fraud in 2014 he eventually went to prison for 8 months and was forced to pay thousands in fines as restitution. 
With his purchase of a 7-bedroom, 10-bath mansion for the low-low price of $1.8 million, The Situation gets 10,000 square feet of luxury, which is probably 9,950 more square feet than he had in the penitentiary.
" tml-render-layout="inline
Calling it "a Guido's dream home," E! News has more details:
While the mansion is seemingly on the minimalistic side from its interior, it's still quite luxurious. The 4-story home in Holmdel, New Jersey was originally designed by prominent and award-winning architect Rui A. Ponte.

The Sorrentino's new beautiful home is graced with a lot of natural light from its various tall windows and they also get a top-notch view of the Manhattan skyline from the top floor observation deck. The home also seems to be in a quiet area, secluded from the bustle of city life and surrounded by nature. 
E! also reports that the home has "a mother-in-law bedroom suite" and is located "in prime proximity from New York City."
" tml-render-layout="inline
The Situation's new home reportedly "has the perfect access to schools" as well, according to E!, because "the happy couple has mentioned in the past that they're ready to start to a family."
Baby Situations need a lot of room to flex in. 
Sorrentino's wife Lauren has been proudly posting pics from their Christmas there. The couple has been married just over a year but given his prison time are probably still more like newlyweds.
As for The Situation: He told Us Weekly that he managed to get in the best shape of his life on the inside, working out constantly, and he also celebrated four years sober in December.
If you're curious to know more, Mike and Lauren Sorrentino have their own Youtube channel, Eating Our Best Life, where they, uh, eat stuff on video. 
It looks like surviving both reality TV stardom and prison has been, well, good for the Jersey Shore star after all.