Jimmy Buffett Is Opening 'Margaritaville' Retirement Communities Across America
The "55 and Better" set can get wasted away again at a $1 billion compound in Daytona Beach.
Aging Jimmy Buffett fans now have the perfect place to party away their golden years now that the laid-back rocker is opening a veritable empire of "Margaritaville"-themed compounds for the "55 and better" set.
Buffett has announced plans to open a string of retirement communities across America in the hopes of catering to Parrotheads nationwide who are looking to enjoy a "Cheeseburger in Paradise" in a Buffett-branded abode. The first billion-dollar center, dubbed the Latitude Margaritaville, will open in Daytona Beach, Florida sometime in 2017.
"Inspired by the legendary music and lifestyle of singer, songwriter and best-selling author Jimmy Buffett, your new home in paradise features exciting recreation, unmatched dining and FINtastic nightlife," Latitude Margaritaville promises on its website, beckoning retirees to a glorious twilight of eternal sunshine and free-flowing cocktails.
When completed, the massive project will reportedly create 7,000 homes as well as fitness centers, pools, spas, beachfront access and plenty of bars. Two to three-bedroom homes will start in the low $200,000s to $350,000.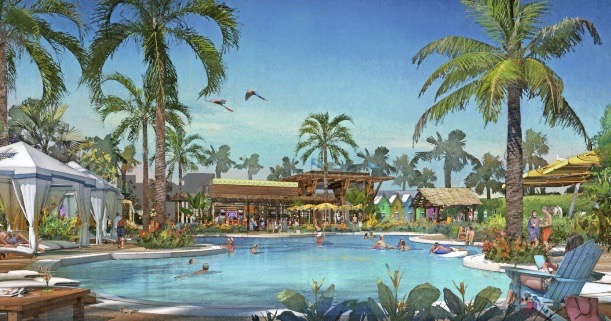 The 55 and ups are already clamoring to get into the place, with 10,000 registrations in the two weeks since the project was announced.
Buffett's massively popular 1977 tune "Margaritaville" won't leave our cultural consciousness anytime soon. His Margaritaville Holdings already counts a number of hotels, casual restaurants and casinos across the Western Hemisphere. 
 Rolling Stone has more details here:
Since announcing Latitude Margaritaville two weeks ago, the property has already received over 10,000 registrations, Minto senior vice president Bill Bullock told Good Morning America.
"It's going to be a very fun place," Bullock added. "We expect our first residents to be living in the community by late summer of 2018."
The Daytona Beach branch's sales office will open in late 2017, with model homes opening in early 2018.
2018 is shaping up to a busy year for Buffett as the singer's greatest hits will serve as the inspiration for a Broadway musical titled Escape to Margaritaville.

"While the musical won't arrive on Broadway until spring 2018, the show will debut this May with a six-week run at La Jolla, California's La Jolla Playhouse.