John Turturro's 'The Big Lebowski' Spinoff 'Going Places' Is Almost Finished
The actor/director says the "much more sexual" follow-up "shows how stupid men are."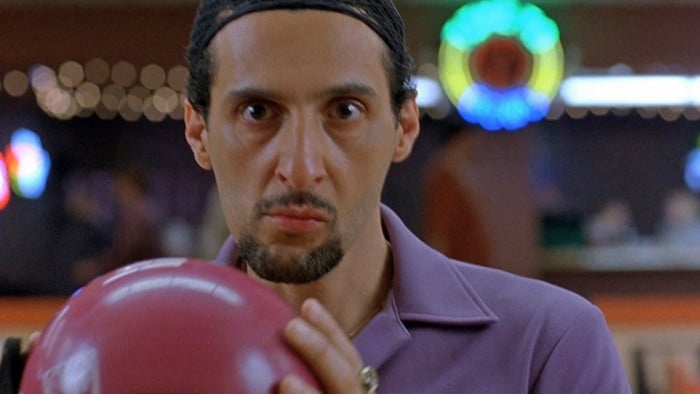 Gramercy Pictures
Looks like it's about time to see if anyone has effed with "the Jesus" in the 20-plus years since The Big Lebowski was released.
Jesus Quintana, John Turturro's colorful character from the 1998 cult classic, is making his triumphant return in a new feature film called Going Places.
Turturro spoke with The Independent about the movie in an article focused on a new feature, Gloria Bell, in which he co-stars with fellow Lebowski actor Julianne Moore.
Regarding Going Places—well, it's about ready to go, and Lebowski fans will appreciate it. Also, the Coen brothers were down with the whole project:
Turturro's next projects are mostly intimate, character-driven affairs, none of which are more anticipated than Going Places, The Big Lebowski spin-off he's writing, directing and starring in, reprising his role as Jesus Quintana from the Coens' 1998 hit.

"It's a bit of a racy movie. It shows how stupid men are. That's what the movie is kinda about – the women are the stronger, more together characters," he teases.

"I had to tweak it a little bit but now I feel really good about it. It's basically an exploration of Jesus getting out of jail. It's a comedy but a very human comedy," he says, adding that the Coens have totally given their blessing.

"They're my friends, close friends, and were supportive when I said I wanna explore this character more. They said, you gotta do it cos we're not doing it! If I have something to show, I show it to them if they're around."
The plot to Going Places is apparently based on a 1974 French movie with the same title, which IMDB says is about "Two whimsical, aimless thugs" who "harass and assault women, steal, murder, and alternately charm, fight, or sprint their way out of trouble." 
Eventually, reads the synopsis, "Marie-Ange, a jaded, passive hairdresser, joins them as lover, cook, and mother confessor. She's on her own search for seemingly unattainable sexual pleasure."
It's a good bet Turturro's movie may be more tame than that breakdown sounds, even if it is "more sexual" than Lebowski.
John Turturro's Going Places also stars Bobby Cannavale and Audrey Tatou and is expected in theaters some time in 2020.