Johnny Manziel Parties at Outrageous Villa in Cabo Before Trying To Get Sober
You've got to see this place to believe it.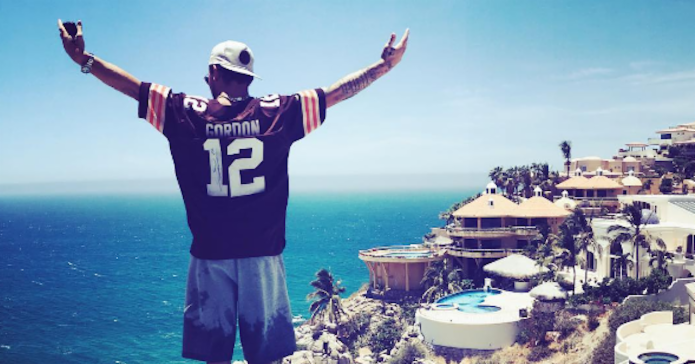 Starting this Friday, Johnny Manziel is getting clean. No drinking, no smoking, no partying, and lots of working out in an attempt to make an NFL comeback. That, at least, is what he's telling TMZ. But before the party ends, Manziel has flown to Cabo to get lit one last time.
https://www.instagram.com/p/BHNnhzFgBBg
The former NFL quarterback and current free agent is reportedly staying with 19 friends and strangers at a swanky $3,900-a-night villa that comes with a full-time chef and house bartender. If this is truly Manziel's last hurrah, then he's picked a hell of a place for it. 
Here are some pics of the property from Luxury Retreats, via For the Win.
But let's be real, no one expects Manziel to get his shit together. He's been the same dude for too long. The odds that he can just decide to sober up and get in NFL shape are the same as the odds that he makes it back onto the field this year—zilch. 
Even his own father thinks he needs some hardcore intervention to get on track. Here's what he told ESPN's Josina Anderson:
He's a druggie. It's not a secret that he's a druggie. I don't know what to say other than my son is a druggie and he needs help. He just hasn't seeked it yet. Hopefully he doesn't die before he comes to his senses. That's about all you can say. I don't know what else to say. I hate to say it but I hope he goes to jail. I mean, that would be the best place for him. So we'll see.
Papa Manziel's claim that his son is a "druggie" was all but confirmed earlier this week when the younger Manziel's lawyer accidentally sent a text to the AP implying that his client would be in trouble after a recent hit-and-run if asked to "pee in a bottle." Attorney Bob Hinton quit the case on Monday. 
Now, according to his latest Instagram post, Manziel is back in the states, which is a victory in of itself. Each morning he wakes up alive, Manziel is defying the odds.