Keanu Reeves Says 'Bill and Ted 3' Might Not Happen After All
Totally bogus.
Bill and Ted/Interscope
Whoa. Remember that time Alex Winter (Bill S. Preston, Esq.) and Keanu Reeves (Ted "Theodore" Logan) were like, 'Bill and Ted 3 is totally happening, brah?' Yeah, maybe not so fast.
In an interview with Yahoo promoting his new movie Siberia, Keanu Reeves was frank about some issues that might prevent making the third installment in the timeless saga that put him on the map. 
"I don't know if [Bill and Ted 3] is a reality," Reeves told Yahoo, "We've been trying for a long time to get that film made, and it still has its challenges."
We thought the only challenge might be accepting John Wick/Neo returning to his radically different role as a slightly dim SoCal surfer dude, but apparently that's not even an issue. Reeves reportedly said he loves the characters and he thinks the story is good. But part of the problem is "show business stuff — financing, rights, deals. Nothing creatively." 
If he does get to slip into Ted "Theodore" Logan's vans again, Reeves said "It'll be interesting to see what that's like … There'd be a lot about him that would be the same, I'm sure; his kind of optimistic naïveté in the face of the darkness will still be there. He has a child now, so I'm sure he's matured."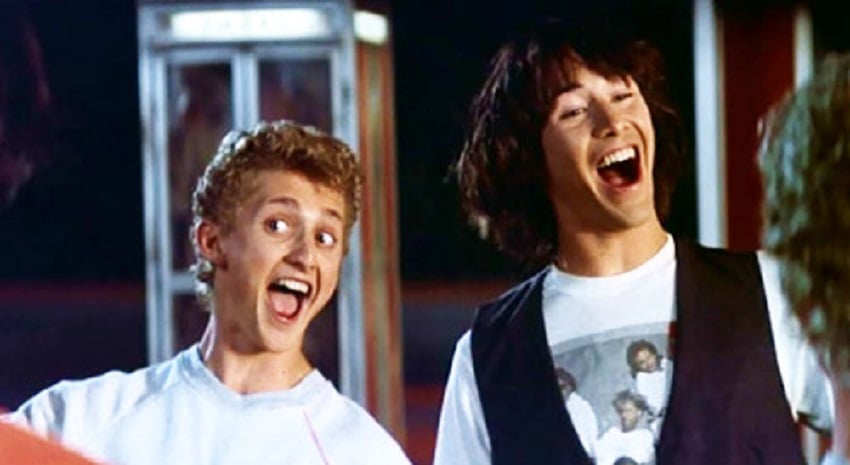 So, Ted has a kid in whatever script for the movie is kicking around Hollywood right now. We know that. 
It's really kind of ridiculous that a movie franchise which has only grown in popularity—one fronted by an actor who's a major star today—might have any trouble making it to the big screen.
Somebody start a GoFundMe. That's apparently the only way to really get it done these days.
[Yahoo]