Ken Griffey Jr. Was Better Than You Remember Him
The Kid is now in the Hall of Fame.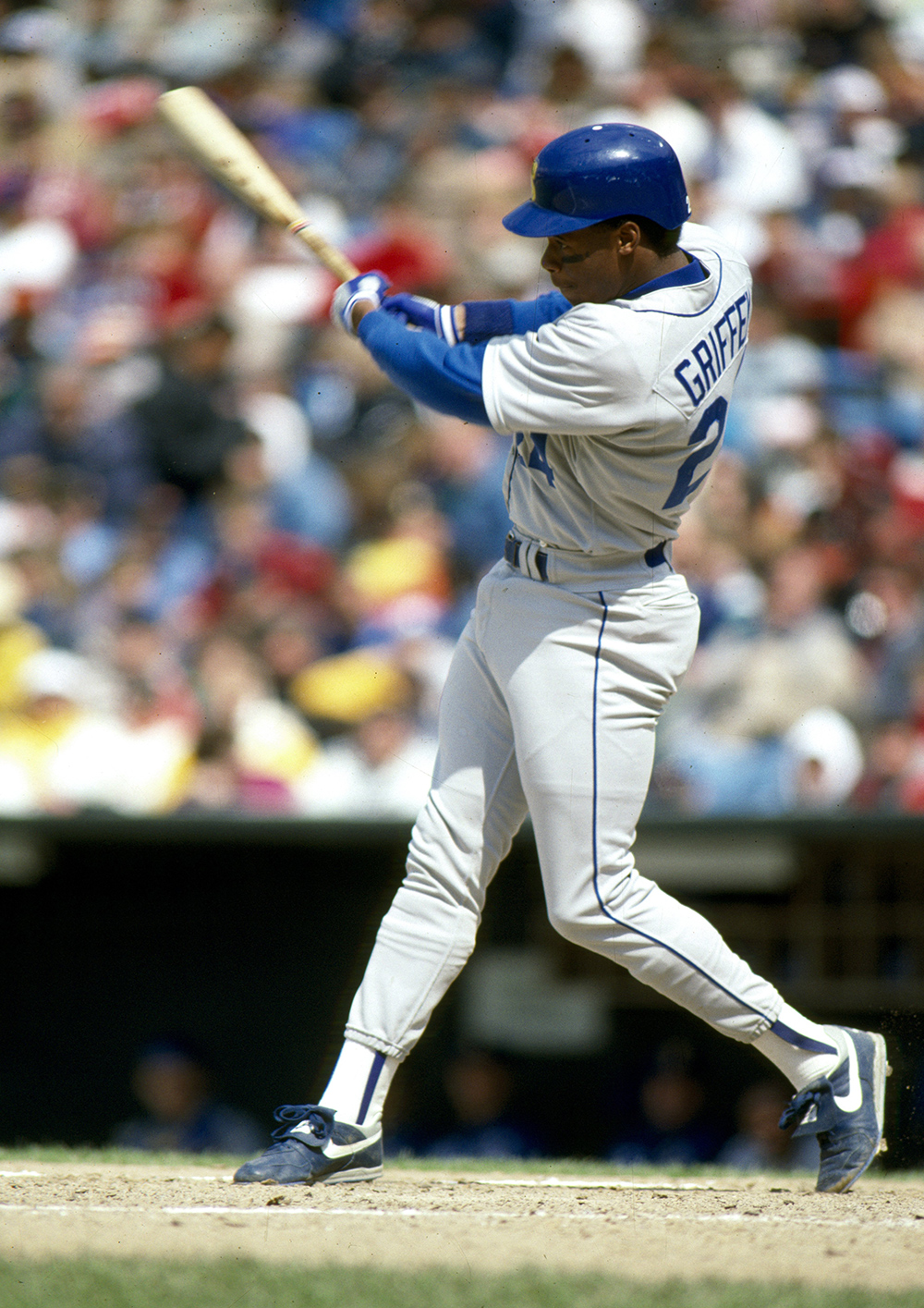 When it comes to Hall of Fame no-brainers, baseball hasn't seen a power hitter like Ken Griffey Jr. in ages. Not only does he have an astounding 630 home runs, good for sixth all-time, but he's never been linked to performance-enhancing drugs despite playing right through the game's steroid era. And he always looked cool as hell in a backwards hat. 
Junior debuted in the majors in 1989 as 19-year-old phenom. He represented a new generation of baseball player, in part because he was the son of a MLB veteran who was still in the league, but also because he dared make bold fashion statements, like wearing his hat backwards. That seems small, but it drew criticism from old-timers and signaled something to the kids—Junior wasn't your dad's superstar. By the time he turned 25, Griffey was as five time All-Star and a pop culture icon. He was mocked on The Simpsons, featured on the cover of video games, invited to cameo on The Fresh Prince and granted his own shoe from Nike, a rarity for baseball players.
" tml-embed-width="600″ tml-embed-height="315″ tml-render-layout="inline
On the field, Junior was a defensive whiz. He played centerfield with an athleticism not often seen in baseball. Junior had the speed to chase balls down, the hops to bring them back from over the fence, and the reckless abandon to dive wherever necessary, sometimes to his own detriment. His highlight reel is like a bump of booger sugar for baseball fans. 
" tml-embed-width="600″ tml-embed-height="315″ tml-render-layout="inline" tml-embed-width="600″ tml-embed-height="315″ tml-render-layout="inline
As age and injury caught up with Junior, his defensive abilities faded. But his swing never left. Sure, his numbers weren't as gaudy into his 30s, though he did hit 250 home runs after hitting that milestone, but the visual beauty of his stroke remained unaltered. When people talk about Junior, they always talk most about the swing. It was balletic—so graceful, so smooth and still capable of generating so much raw power. 
One odd thing about Junior getting inducted into the Hall of Fame is going to be seeing him all over the news again. He's a 46-year-old man regularly referred to as Junior or The Kid and remembered by millions that way. It's always hard to watch your heroes age. Reminders of out own mortality suck. Sports heroes inevitably fade, but highlights are forever.
" tml-embed-width="600″ tml-embed-height="315″ tml-render-layout="inline