Kevin Hart Wants to Be His Generation's Eddie Murphy
The comedy megastar talks pocket pussies, Crossfitting with Conan O'Brien and why he'll be Hollywood's next big action star.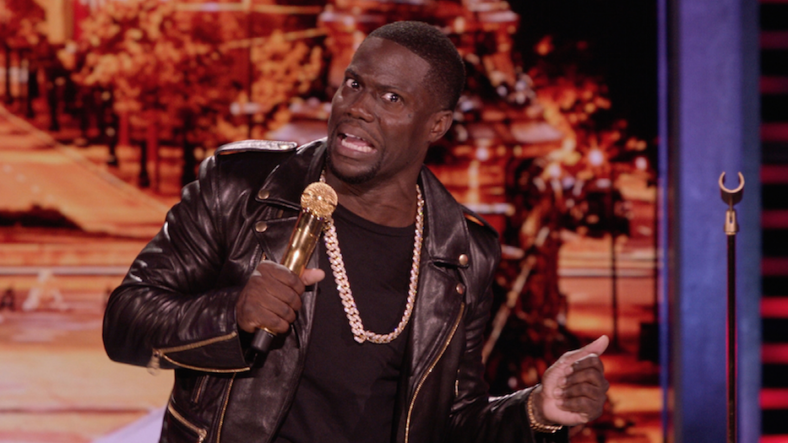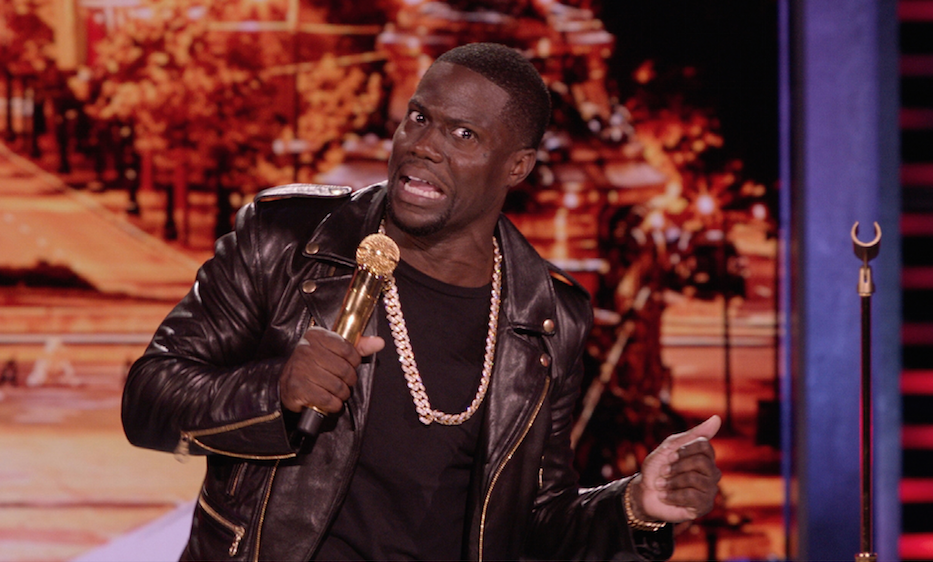 Kevin Hart has been having a good week. He shot an instant classic clip with Conan O'Brien, was named by Forbes as the highest-paid comedian of 2016 (taking in a jaw-dropping $87.5 million), and his Comedy Central show Kevin Hart Presents: Hart of the City premiered on Sunday. Got all that?
Somehow, he was also able to find the time to speak with Maxim about his new stand-up film, Kevin Hart: What Now? (in theaters October 14). In typically animated fashion, Hart tackles subjects ranging from killer raccoons to violent ping-pong matches to, yes, pocket pussies. His performance is bookended by a James Bond-inspired, Halle Berry-starring mini movie that shows off the actor's formidable action chops.
"You gotta switch it up," he told us. "You want people not to know what to expect with a Kevin Hart project, because he always brings something different." Mission accomplished.
Why did you shoot the concert in your hometown of Philly?
We did it at the Lincoln Financial football stadium in Philadelphia because I felt like if I was going to attempt to make history, it was best to do it in the city that I grew up in. Why not bring that moment and that attention to where I was born and raised?
How did you make history?
I'm the first comedian to ever sell out a football stadium. I was just trying to do something big and make a name for myself in a way that no one has in my generation.
That's where the Eagles play, are you a fan? They look pretty good so far?
Don't even jinx this, don't talk about it.
Did you see Carson Wentz was out hunting on his bye week? He posted a pic with a deer he shot on Twitter.
Ha, no I don't follow him. I'm gonna go check it out.
So you sold out the stadium. You're saying Conan was wrong when he said there weren't really 53,000 fans there?
Ha, yeah. Me and Conan are really good friends, great chemistry. That was us literally just going to the gym and ping-ponging off of one another, man. You don't get a dull moment with him. When you look at the track record of the things we've done together, all of these things are always going viral. It's because of the grounded level of reality that we both bring to comedy. That video there shows, it was good. It's not forced.
You also made history by being the highest-paid comedian of the year.
Listen, I'm blessed. I'm very excited and happy to be in the position that I'm in, but I'm not content. It's not like, "OK, I've made it." It's, "How do I keep it going? How can I continue? How will 2017 be? How will 2018 be?" You know, I got my eyes on the prize.
Did you buy anything totally nuts? Like "I deserve it, I had a good year"?
No. I mean I'm grown now, so you kind of get over that as you get older. It's about stability and it's about family. It's about replenishing the funds I put into the production. You're looking at a guy who loves to own things. With What Now?, you're looking at a movie that I funded, I paid for, I own. There will be more projects like that where I take on the bulk of the costs and gamble on myself. Nobody knows me better than me.
The James Bond-like intro to What Now? is awesome. There's some really funny Don Cheadle in there.
He was amazing. You know, he did a favor for me. It's got him, Halle Berry, Ed Helms… The goal was to make that opening just massive. How do I make it big, how do I set the tone and do something that hasn't been done.
Well, not to give away any spoilers, but I'm very sad that you never got to kiss Halle Berry.
Oh yeah, it would've taken the funny away. The funny was it not happening.
Is there a straight-up action flick in your future?
That was the point of doing that teaser, it was to give people a glimpse of what's to come. We're developing things now that are gonna put me in that light. You'll get to see the big Kevin Hart action star slowly grow into reality. I've been doing the action comedies for a minute, so now it'll be steps up above it to where I'm doing action. Just trying to add some flair to it, that's all.
There's so much physicality in your standup.
Of course, that's a part of my act that defines me. I love to engage, be physical, be authentic, be real, but also be passionate. If you display that, your audience in just right there with you because they can feel how much you are involved with your performance. I'm not a guy who just coasts. I don't like to coast. I give it 110% every night.
And in What Now?, you get into lots of personal stuff. Your house, your family…
It's true stuff. You try to paint a picture for your audience to see, that they can relate to. The best way to do that is to talk about you. There's no huge difference between me and others. At the end of the day I'm a person, I'm an individual. I go through things just like everybody else, and I'm not afraid to speak about those things. I'm an open book, and it's worked for me so far. If it's not broke, you don't try to fix it.
Even the bit about the pocket pussy is true?
That's one of my favorite jokes, haha, it's all true.
You say some great words at the end of What Now? where you talk about how diverse your audience is, and how laughter brings people together.
I'm big on positivity, and comedy does bring people closer together. I feel like I was put on this earth for a reason, and I'm using my gifts at the highest level. I don't plan on stopping anytime soon. I want to take it to the highest level that I can, and in doing so help people understand why laughing, why loving, and why living together as one is just a better thing.
Yeah, especially these days, we need more Kevin Harts in the world to bring people together.
I think so too. I plan on giving as much as I can.
Before you were the world's highest paid comedian, what was the shittiest place you ever performed?
A bowling alley. You could hear the strikes right in the middle of a punchline.
And now you're selling out football stadiums and shooting high-budget concert films.
It's the road that you take to get there. You can't appreciate a high level of success if you don't have a road that was hard that got you there. For me, it was going through all that shit that made me the man that I am today. I don't take it for granted in any way, shape or form.
Out of every comedian ever, who was your biggest inspiration?
Eddie Murphy. He's forever a legend, and I will always hold him at the highest level. He was a comedic rock star. When he was in his prime, you're looking at a guy who was the definition of stand-up comedy. He made comedy shows events, he was dressed to the nines, and it was all about going to see him, to hear what he had to say. I want to do that—become that for this generation.
'Kevin Hart: What Now?' hits theaters October 14, and 'Kevin Hart Presents: Hart of the City' airs Sundays on Comedy Central at 11:30pm.