'Game of Thrones' Dragon Has Huge Crush on Khaleesi, Confirms Show Staffer
"Drogon is like her lover. He's whistling at her all the time, he's looking at her butt and going 'ooh, baby.'"
There's a reason Drogon the dragon on Game of Thrones seems so smitten with the Queen of Dragons Daenerys Targaryen, a.k.a. Khaleesi.
The HBO megahit's sound designer Paula Fairfield told WNYC's Radiolab that because Daenerys sees her biggest and most badass dragon as an extension of her late husband Khal Drogo, they designed the dragon's noises and movements to seem distinctly flirtatious.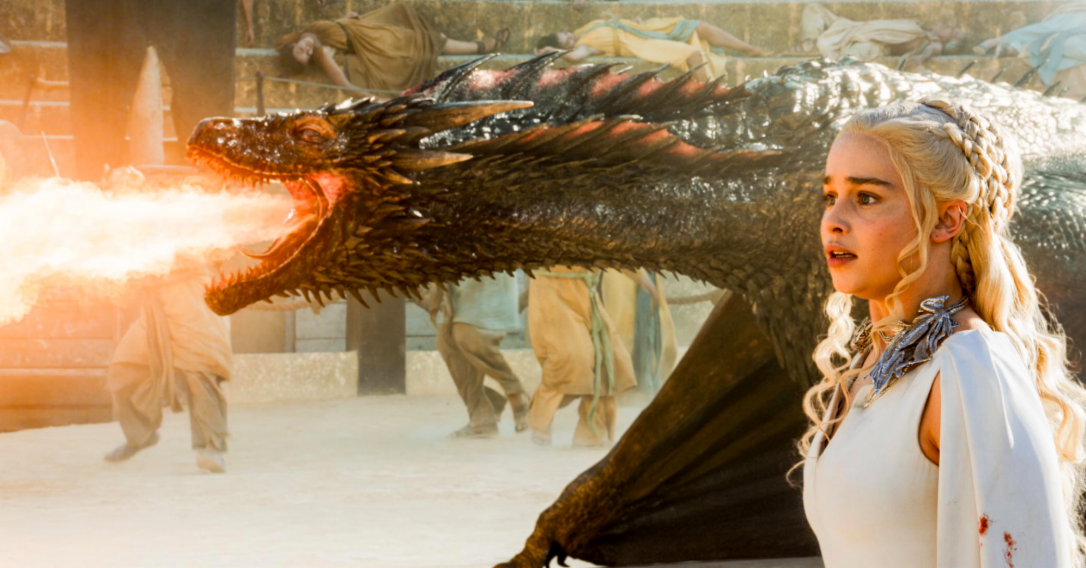 "I have sounds I might choose simply by certain personality traits that I want to put forward. So in the case of Drogon—she named that dragon after Khal Drogo, her hot, late husband—and so Drogon is like her lover. He's whistling at her all the time, he's looking at her butt and going 'ooh, baby.'"
https://www.youtube.com/watch?v=dQ-LIOFXzgM
As Drogon has grown from a wee dragon to the biggest and baddest of Daenerys' three dragons, his flirtatious sounds have evolved from playful chirps to more sensual and sonorous purrs.
"The groan of the male actually became—with some work and adjustments and stuff—the source for Drogon's purr with Daenerys. The funny thing about the purr with Drogon was watching people watching [the show] and giggling when they heard it, but not really knowing why. To me it's because it had that essence—that kind of sensual, sexual essence."
The sexual dynamics on Game of Thrones, whose eighth and final season won't premiere until 2019, just got a whole lot weirder.
https://www.youtube.com/watch?v=24e_JTp0UEs